In previous editions of BC Disease News, we have discussed the issues that arise when a claimant submits an application for default judgment, under CPR 12.3(2)(a), for the opposing party's failure to file their Defence within 28 days of the Particulars of Claim having been served – see CPR 15.4.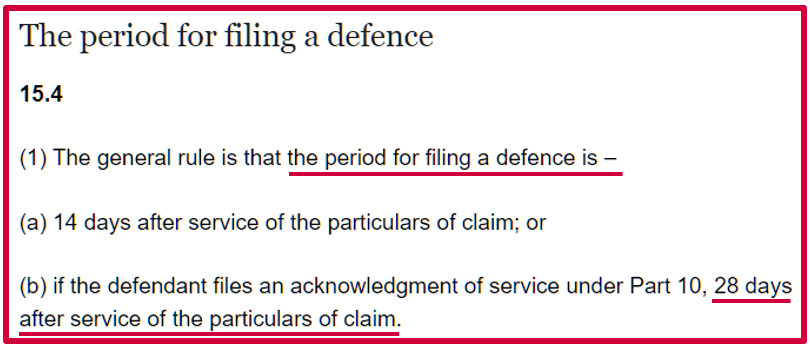 At application hearings, defendants will ordinarily cross-apply for an (retrospective) extension of time for filing their Defence, belatedly.
Logically, the matter for determination is: at what point in time is a Defence deemed to have 'not been filed', for the purposes of CPR 12.3?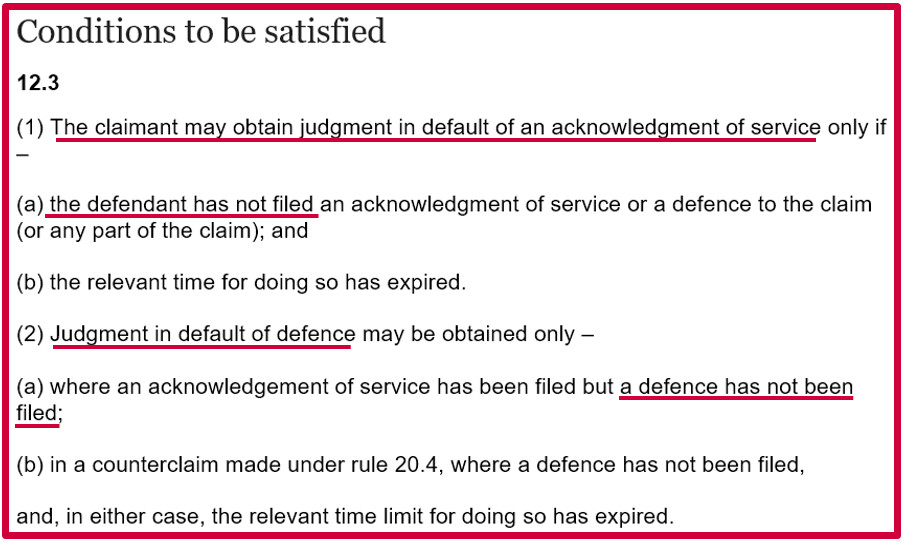 We covered this topic when we undertook a preliminary examination of Billington v Davies [2016] EWHC 1919 (Ch), in edition 155 (here). Following publication of the official full text judgment on BAILII, we re-analysed the court ruling, in edition 245 (here). Here, the defendant served its Defence 1-day before the application hearing, with Master Pickering having reasoned that:
'Where a Defence is served late, unless and until an extension has been granted, a document purporting to be a Defence is not in fact a Defence for the purposes of CPR 12.3(2)(a)'.
Juxtapose the Master's strict reading, in Billington, against the factually similar High Court case of Smith v Berrymans Lace Mawer Service Co. & Anor [2019] EWHC 1904 (QB) (the Defence was served 5-days before the application hearing), reported in edition 284 (here), wherein Master McCloud construed more flexibly:
The language of CPR 12.3(1) naturally conveys ... that the court may not enter judgment if filing has taken place prior to entry of judgment. The way in which the rule is structured means that it is not relevant when the time for doing so expired, if the court finds (as is the case here) that a Defence was filed ... A late filed Defence is in my judgment not by reason of its lateness alone fall to be treated as if not validly filed. A Defence, within rule 12.3, does not have to be a timely Defence.
... Default judgment can be a useful and proper device where claims are not disputed, but in my judgment an overly strict reading which would tend to shut out genuinely defended cases simply for lateness of Defence would be disproportionate if it was relied on as a species of "encouragement" to comply with court rules'.
On 6 April 2020, The Civil Procedure (Amendment) Rules 2020 will enter into force.
A significant amendment, contained within this Statutory Instrument, usefully alters the wording of CPR 12.3.
Assimilating these amendments, the reworked rule will pronounce, as follows: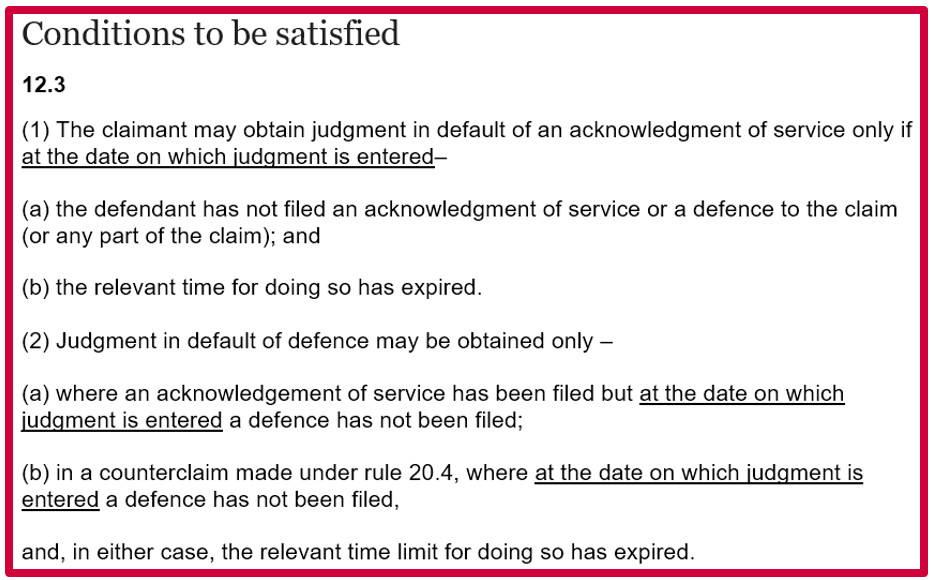 Accordingly, the modified rule makes clear that filing an Acknowledgment of Service or a Defence before judgment in default is entered has the effect of invalidating the entry of judgment in default.
Interestingly, when Master McCloud was drafting her judgment in Smith, the procedural amendment was 'only a potential one', i.e. there was scope for her to hear applications for permission to appeal.
Indeed, last week, Gordon Exall posted that barrister colleague, David Platt QC, would soon be appearing at the Court of Appeal, on behalf of the respondents in Smith, where the Lord Justices will reach their conclusion on whether default judgment, entered after a Defence has been served, is rightly characterised as a 'regular judgment'.[i]
[i] Gordon Exall, 'JUDGMENT IN DEFAULT – AFTER DEFENCE IS DUE BUT WHEN DEFENCE IS FILED LATE: ISSUE TO BE DETERMINED BY THE COURT OF APPEAL' (5 February 2020 Civil Litigation Brief) <https://www.civillitigationbrief.com/2020/02/05/judgment-in-default-after-defence-is-due-but-when-defence-is-filed-late-issue-to-be-determined-by-the-court-of-appeal/> accessed 7 February 2020.