The Telegraph, this week, reported that trustees for The Jeff Astle Foundation will be lobbying the Industrial Injuries Advisory Council (IIAC) to have dementia in footballers recognised as an industrial disease, which would allow sufferers to claim industrial injuries disablement benefit (IIDB).[i]
The charity was commemoratively launched in 2015, after Consultant Neuropathologist, Dr. Willie Stewart, observed clumping of tau protein in the brain of deceased ex-professional footballer, Jeff Astle, and diagnosed chronic traumatic encephalopathy (CTE) – a dementia sub-type.
N.B. Tau protein is associated with progressive nerve damage and is a defining feature of the condition, which commonly affects boxers and American football (NFL) players. Hence, CTE (or dementia pugilistica) is also known as 'punch drunk syndrome'.
Years prior to Dr. Stewart's diagnosis, at the inquest into Mr. Astle's death, Andrew Haigh, the appointed Coroner, concluded that his passing was the result of an 'industrial disease', brought about by the cumulative, sub-concussive trauma of heading footballs.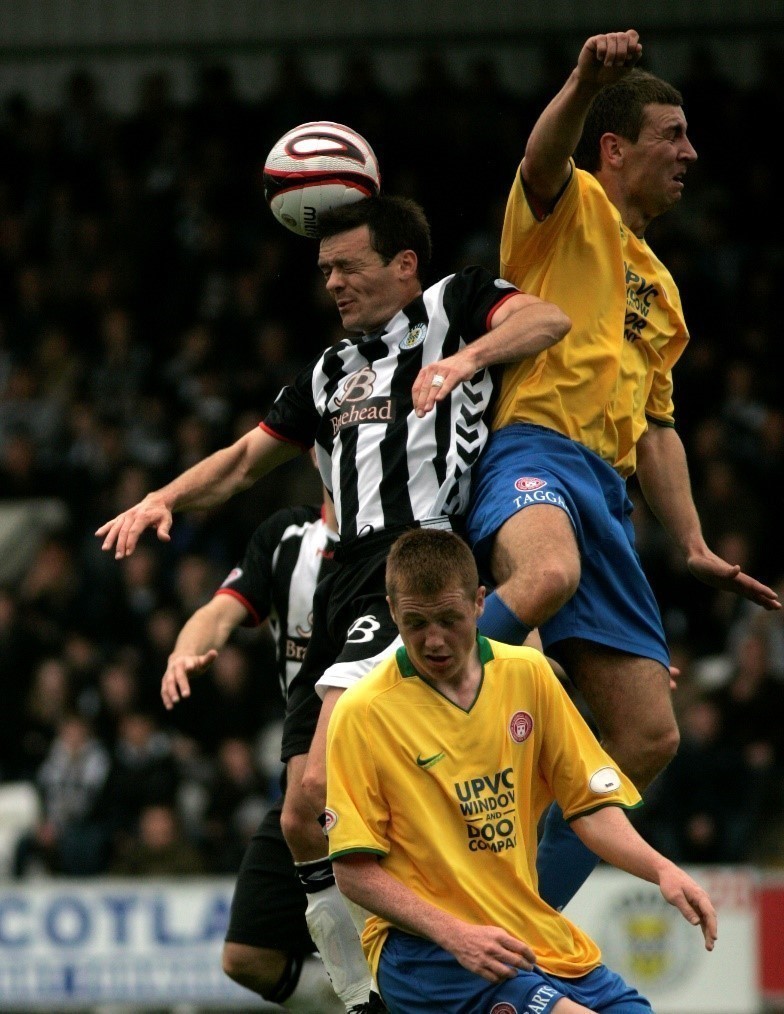 [Source: Wikimedia Commons – Alasdair Middleton (23 May 2009): 'Header (St Mirren 0-1 Hamilton Academical May 2009']
The Foundation has attracted the support of hundreds of families of players with dementia and was responsible for facilitating the 2nd CTE diagnosis in a former professional, in 2018, which we reported here.
Having been forewarned that the independent scientific advisory body would be petitioned for a review, occupational cancer expert and IIAC Chair (who has served 2-years of her 5-year term[ii]), Dr. Lesley Rushton, confirmed that neurodegenerative disease in footballers has been a topic of discussion at recent Council meetings, given the publicity that Football's InfluencE on Lifelong health and Dementia risk (FIELD) research has received, in recent months.
We evaluated the 'landmark' FIELD study findings in edition 295 of BC Disease News (here), after they were published in the New England Journal of Medicine.[iii] It was calculated that professional footballers had:
A 5-fold increase in risk of Alzheimer's disease;
A 4-fold increase in risk of motor neurone disease;
A 3.5-fold increase in risk of dementia; and
A 2-fold increase in risk of Parkinson's disease.
Dr. Rushton confessed that the IIAC 'may' be forced to 'consider its current position' on prescription under the Department for Work and Pensions' (DWP) no-fault scheme, if the overall body of evidence presented is 'robust'.
The 'current position' was initially laid out in the Council's Information Note on neurodegenerative diseases in professional sportspersons, generally (released in May 2016):
'Several epidemiological studies of neurodegenerative disease in sportspersons have reported a more than doubling of relative risks. However, evidence in relation to dementia and PD is sparse and insufficient to support prescription.
More evidence exists for an increased risk of ALS in in professional sportsmen and sportswomen. Most of this evidence derives from the Italian football league, where investigations were originally initiated in the context of a drug doping scandal ... However, other evidence, from the Italian general population, found a significantly lower risk of ALS among soccer competitors; while other reports, involving a mix of athletes from different settings and countries, tended to support but did not clearly establish an elevation in risk. No study outside the Italian football league has strongly suggested an increase in risk in professional soccer players.
While it is hypothesised that risks of dementia and PD in sportspeople could arise from repeated head trauma, and some evidence exists for this, no evidence has been found so far to suggest that repeated head trauma can increase the risk of ALS, the pathology for which is located partly in the brain but also in the nerves supplying muscles in the periphery of the body. Studies of ALS in footballers and other professional athletes have described risks by occupational title but not conducted analyses relating to head injury or any other specific exposures or aspects of the work ...
Given the various limitations in the evidence base, the Council is unable to recommend prescription for ALS in professional sportspersons'.
With the results of the HEalth and Ageing Data IN the Game of football (HEADING) study believed to be imminent, the Council will soon be able to consult 2 separate studies that both exclusively examine the possibly negative neurological consequences of playing football at a professional level.
N.B. HEADING is being carried out by researchers at the London School of Hygiene & Tropical Medicine (LSHTM), Queen Mary University of London (QMUL) and the Institute of Occupational Medicine (IOM), who are defining the overall career heading exposure of over 300 retired ex-professional footballers and assessing the effect on neurodegenerative disease risk.
Ipek Tugcu, solicitor at claimant serious injury specialist at Bolt Burdon Kemp, has urged the IIAC to reach the conclusion that football doubles the risk of neurodegenerative disease and has implied that this could also generate fault-based civil claims:
'It's imperative that dementia is recognised as an industrial disease. This would provide an official acknowledgment to the overwhelming evidence linking football to higher rates of neurodegenerative disease. Legally, an employer has a duty to safeguard their employees from risks of their job. Failure to do this effectively can give rise to a compensation claim'.
Other commentators have adopted a more cautious approach to IIAC prescription, given the current (limited) state of evidence.
For instance, Dr. James Pickett, Head of Research at the Alzheimer's Society, stated that:
'Studies are ongoing to clarify the reasons why footballers show this [dementia] risk, and it is good to see that the Industrial Injuries Advisory Council are looking at this topic. The evidence around dementia and football is incomplete'.[iv]
Elsewhere, Dr. Carol Routledge, Director of Research at Alzheimer's Research UK, has stressed that:
'More research to draw firm conclusions is needed and fast'.
[i] Jeremy Wilson, 'Dementia in football could be recognised as an industrial disease' (28 January 2020 The Telegraph) <https://www.telegraph.co.uk/football/2020/01/28/dementia-football-could-recognised-industrial-disease/> accessed 29 January 2020.
[ii] 'Dr Lesley Rushton to chair industrial injury council' (17 April 2018 IOSH) <https://www.ioshmagazine.com/article/dr-lesley-rushton-chair-industrial-injury-council> accessed 30 January 2020.
[iii] Mackay DF et al., Neurodegenerative Disease Mortality among Former Professional Soccer Players. N Engl J Med 2019; 381:1801-1808<https://www.nejm.org/doi/full/10.1056/NEJMoa1908483?query=featured_home> accessed 12 November 2019.
[iv] Jeremy Wilson, 'Alzheimer's Society welcomes news football is being considered as a cause of industrial disease' (29 January 2020 The Telegraph) <https://www.telegraph.co.uk/football/2020/01/29/alzheimers-society-welcomes-news-football-considered-cause-industrial/> accessed 30 January 2020.