INTRODUCTION
One of the most eagerly anticipated judgments of 2019 was the appeal of Mackenzie v Alcoa Manufacturing (GB) Ltd [2019] EWHC 149 (QB), on breach of duty in noise-induced hearing loss (NIHL) claims.
For detailed analysis on the High Court ruling, read our article, which featured in edition 261 of BC Disease News (here).
FACTS OF THE CASE
An employers' liability (EL) claim was brought against a former employer and the occupier of a factory (the defendant in the present case).
73-year-old, Mr. Mackenzie advanced his case on the basis that he had been exposed to injurious noise levels, in the course of his employment as an apprentice electrician, between 1963 and 1976, when he installed, maintained and repaired machines for an aluminium smelting business.
Essentially, the claimant's Particulars of Claim alleged that his NIHL had been caused by the negligence and/or breach of statutory duty of both defendants. In particular, the failure to assess noise levels by undertaking noise surveys.
Witness evidence testified that the claimant 'never worked more than a few feet' from machinery, which sometimes had to be switched on to find a fault. Jobs varied in length, some taking 'minutes' and others lasting 'days'.
Describing noise levels, the claimant asserted that 'it was necessary to shout to communicate' with colleagues in close proximity.
It was also pleaded that no hearing protection had been provided and there had been no forewarning about the risks associated with exposure to excessive noise.
1st INSTANCE DECISION
At the 1st instance trial of liability, in November 2017, His Honour Judge Vosper QC concluded that, although the defendant had not presented physical copies of noise surveys undertaken, it was 'not possible to make a finding that ... [the defendant was] ... in breach of duty in failing to carry out noise surveys'.
Further, the judge relied on the report of acoustic engineer, Mr. Kevin Worthington, who estimated the claimant's noise exposure by extrapolating noise levels collected in 1989, by a 'reputable noise and vibration consultancy' at a comparable industrial premises. Mr. Worthington remarked that it would be 'very difficult' to substantiate a claim on engineering evidence that the noise levels were injurious:
'... it is not possible to demonstrate, on the balance of probability, that his average daily noise exposure level would have reached or exceeded 90dB(A) during these period of employment'.
Conducting a balancing of reliability exercise, HHJ Vosper preferred the evidence adduced by the jointly-instructed expert, fearing that the claimant may have 'likely exaggerated' his exposure:
'... the Claimant's evidence could not be regarded as sufficiently precise for me to reject the engineering evidence in favour of it. That is not to criticise the Claimant. It is simply unrealistic for him to be able to remember in detail the events of more than 50 years ago'.
As such, the claimant was unsuccessful in proving, at Swansea County Court, that he had been tortiously exposed to noise by either defendant.
JUDGMENT OF THE HIGH COURT
Subsequently, the claimant appealed against the dismissal of his claim against the factory occupier (the defendant), which formed the basis of our case summary in edition 261 of BCDN.
The main thrust of the claimant's argument, on appeal, was that the 1st instance judge had erred in having distinguished the present case from Court of Appeal's decision in Keefe v Isle of Man Steam Packet Company [2010] EWCA Civ 683, on assessment of the defendant's purported breach of duty.
Also a NIHL claim, Keefe regarded a 20-year period of occupational (and excessive) noise exposure, beginning in 1973, in response to which the defendant employer admitted that no noise measurements had been taken.
In such circumstances (i.e. where there has been an open admission that the defendant failed to assess noise levels), which were especially 'unusual' because there was no engineering evidence to refer to, Lord Justice Longmore advised, at paragraph 19 of his judgment, that:
'If it is a defendant's duty to measure noise levels in places where his employees work and he does not do so, it hardly lies in his mouth to assert that the noise levels were not in fact excessive ... the court should judge a claimant's evidence benevolently and the defendant's evidence critically … [A] defendant who has, in breach of duty, made it difficult or impossible for a claimant to adduce relevant evidence must run the risk of adverse factual findings. To my mind this is just such a case'.
At the High Court, last year, Mr. Justice Garnham allowed the claimant's appeal, finding that HHJ Vosper had been wrong to distinguish Keefe on the facts.
In so doing, the judge showed suspicion towards the defendant's failure to produce any noise surveys, despite the development of 'relevant regulatory requirements over time'. Even though there had been no direct confession that surveys had not been undertaken, passage of time, in Garnham J's view, might only explain away the absence of the oldest documents in the defendant's possession.
Moreover, it was perceived to be irrelevant that the Noise at Work Regulations 1989 applied in Keefe, but had not yet been drafted when Mr. Mackenzie's excessive noise exposure was allegedly taking place.
In addition, the High Court Judge rejected the single-joint expert's report as a factor capable of differentiating Mackenzie from Keefe. Only if engineering evidence 'provides positive evidence as to the level of noise to which workers were in fact exposed at the relevant time and the relevant premises', Garnham J contended, could the absence of noise surveys be rendered of 'little significance'.
Having determined that Keefe should have been followed at the original trial, the Judge reasoned that:
'A benevolent interpretation of the claimant's evidence would have ... [found that] ... on occasions at least, the noise level would reach or exceeded 90dBA and that the expert evidence was unable to disprove that this could not have been the cause of his hearing loss'.
THE COURT OF APPEAL RULING
Understandably disappointed with the High Court decision, the defendant appealed to the Court of Appeal, on the basis that the facts of Mackenzie constituted clear grounds to avoid a Keefe adverse inference.
The case was heard by Lord Justices Bean, Baker and Dingemans.
Existence of Noise Surveys?
Handing down lead judgment, Dingemans LJ contrasted the approaches of the judges below, when evaluating whether noise surveys had been carried out:
'It appears that Garnham J made a positive finding that there was a failure to carry out a noise survey rather than a finding that a noise survey had been carried out but was not available, whereas HHJ Vosper QC had made a finding that it was not possible to find as a fact that Alcoa were in breach of duty in failing to carry out a noise survey'.
Moving on to caution Appellate Courts against overturning findings of fact made by 1st instance Judges, His Lordship identified that the prospect of noise surveys potentially having been 'lost' by the defendant was sufficient to deter him from making an adverse inference.
Reliance on Engineering Evidence?
Equally, Dingemans LJ observed that the 1st instance Judge had been entitled to accept the available engineering evidence without drawing adverse inference, thus insinuating that Garnham J had acted in ultra vires, when dealing with mere findings of fact:
'The approach taken by Garnham J. to the adverse inference risked elevating the decision in Keefe to a rule of law, rather than an example of the proper approach to finding facts in a particular case where the evidence showed that the defendant had failed in its duty to carry out noise surveys, and the claimant had been deprived of the opportunity to prove his case'.
Acceptance of the Claimant's Historic and Innocently Exaggerated Memory?
Preserving identical treatment for both litigants, Dingemans LJ deliberated that, if it were to be established that the defendant had been prejudiced by the passage of time, in producing noise surveys, then the claimant's 'honest recollection' of working times and working conditions would also have been 'disadvantaged' over the same time period.
Accordingly, the defendant's appeal was unanimously allowed and HHJ Vosper's decision was reinstated.
Full text judgment of the Court of Appeal can be accessed here.
DISCUSSION
After the High Court judgment was handed down, counsel for the claimant heralded Garnham J's ruling, as it made clear that:
'... when a defendant is under a duty to measure levels of a toxin (such as noise, or dust), they must provide those measurements, or explain why they cannot do so, otherwise a claimant may establish breach even in the absence of supportive expert evidence'.
The dangerous precedent, established at the first appeal, was that it reversed the burden of proof from the claimant (proving excessive noise exposure) to the defendant (proving under-excessive noise exposure).
The detrimental effect of this was that the defendant had effectively been held in 'automatic' breach of duty, irrespective of the fact that noise levels were likely to have been well below the threshold of action. The only means for the defendant to contest breach of duty was to provide evidence of noise surveys.
Thankfully, this assumption has been reversed by the Court of Appeal.
Notwithstanding this, at paragraph 54 of his judgment, Dingemans LJ advised that:
'In future cases where it is relevant to determine whether a noise survey has been undertaken in the past it would be helpful if both parties addressed that in pre-trial questions about the existence of documents or in the evidence at trial. This would help to avoid a situation where the trial judge is left to deal with the factual finding about whether a noise survey was carried out on the basis only of submissions about lists of documents'.
HMCTS list of documents Form N265 for completing standard disclosure: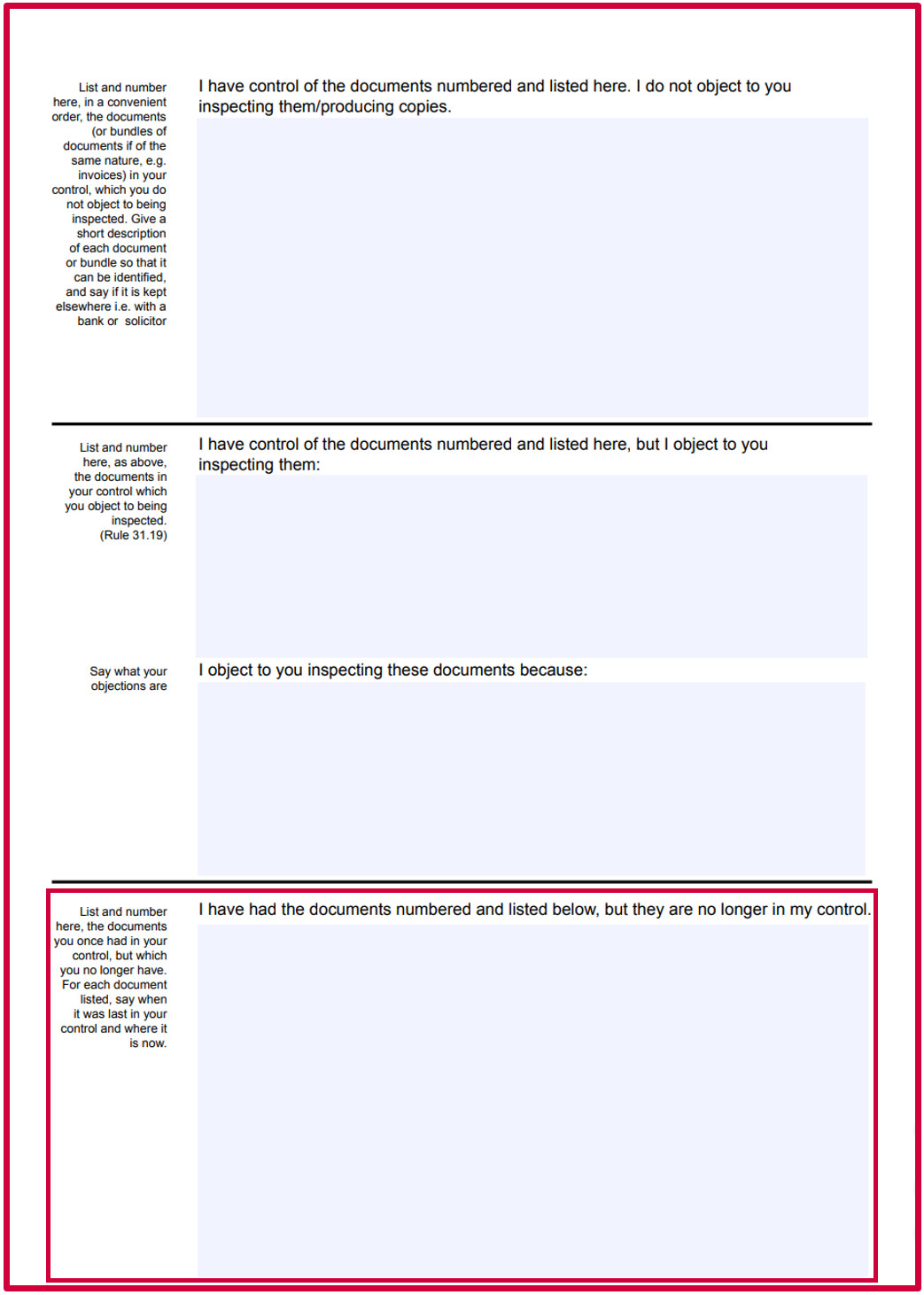 N.B. Dingemans LJ brought attention to an error, made at the High Court, by which Garnham J unintentionally misdescribed the 3rd edition of the guidance document: Noise and the Worker (1971), as the 2nd edition (1968). The upshot of this was that was that the common law duty to carry out noise surveys could only have arisen from 1973 to 1974 (2-years after the 3rd edition was published).[i]
[i] Accords with Baker v Quantum Clothing Group Ltd [2009] EWCA Civ 499 and dicta of HHJ Inglish, at 1st instance (Parkes v Meridian [2007] EWCH B1 (QB)).