In edition 289 of BC Disease News (here), we confirmed that Dupuytren's Contracture, also known as miner's claw hand, would be added to the list of Industrial Injuries Disablement Benefit (IIDB) prescribed diseases (PD), from 9 December 2019.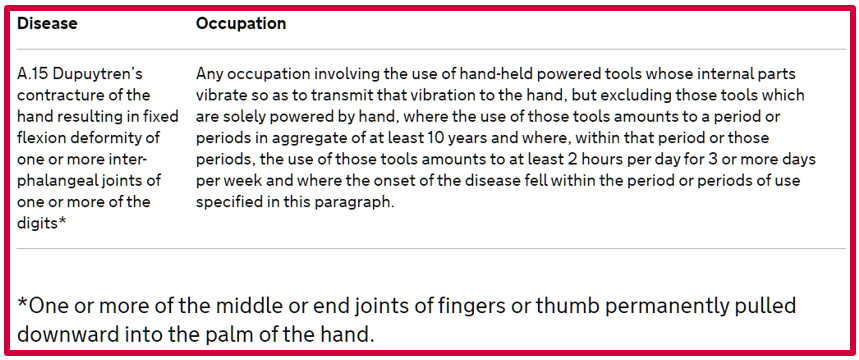 PD A15 was introduced into law under Regulation 2 of The Social Security (Industrial Injuries) (Prescribed Disease) Amendment Regulations 2019.
In November 2019, Alan Mardghum, Secretary of the Durham Miners' Association (DMA), a trade union which had campaigned for change since 2014, welcomed the Government's action, but claimed that prescription had been 'long overdue'.[i]
The DMA asserts that 'thousands of former miners' are eligible for disablement benefit[ii] and has pledged to provide support, guidance and advice to its members. Meanwhile, non-member former miners have been urged to join the Association to receive advice.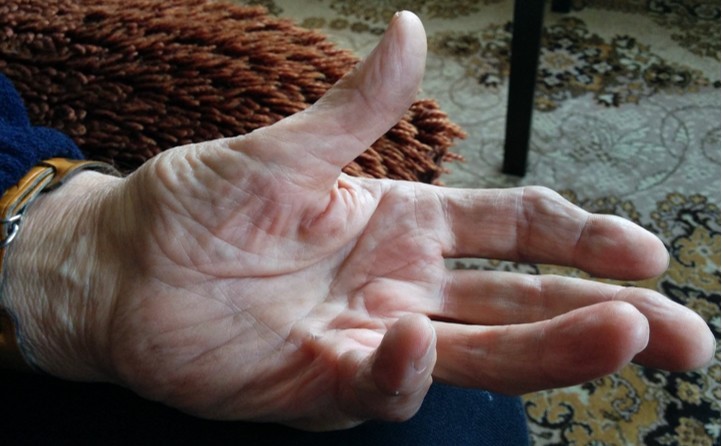 [Source: Wikimedia Commons ─ MikkTooming (30 September 2014): 'Dupuytren']
Specialist claimant disease firm, Stephensons, states that approximately 4% of the UK general population is estimated to be suffering with the condition.[iii] As such, IIDB claimants may have worked for industries outside of coal mining, though self-employed periods of employment would be excluded from consideration in a prospective claim.[iv]
It is important to stress, however, that the Department for Work and Pensions (DWP) did not agree to the prescription of 'Dupuytren's contracture of the hand', as the Industrial Injuries Advisory Council (IIAC) encouraged in its 2014 Report, entitled: Dupuytren's contracture due to hand-transmitted vibration.
Instead, the Government intentionally inserted a surplus requirement for 'fixed flexion deformity of one or more inter-phalangeal joint of one or more of the digits' – a prerequisite often omitted from media articles that advertise Dupuytren's contracture claims.
Last month, an IIAC Independent Report corroborated that this extra stipulation will prevent the floodgates from opening:
'The council amended the recommendation to prescribe for Dupuytren's contracture to ensure the most disabling element of this condition is covered and to provide clarity for claimants to manage their expectations better.
The council hopes that this clarification will help to reduce the number of claims from workers who have the less disabling features of Dupuytren's contracture'.[v]
What is more, it should be acknowledged that bringing a fruitful IIDB claim is far from 'easy'.
While the IIDB claims procedure can be used to escape arguments involving medical causation,[vi] limitation and fault-based liability, which are genuine barriers to success in the advancement of civil claims, IIDB claimants will not be prosperous by merely receiving a clinical diagnosis.
Dupuytren's contracture sufferers are still required to provide details (in an IIDB claim form) of:
Employment covering 10-years or more, where hand-held vibrating tools were used;
Time spent using hand-held vibrating tools;
Tools used (specific names); and
Tasks performed.
Concurrently, the fact that the cause of Dupuytren's contracture is still unknown preserves the presumption that civil claims are defendable.
[i] Rachel Conner-Hill, 'Durham Miners' Association welcomes 'justice' for former pitmen with crippling hand condition' (23 November 2019 The Northern Echo) <https://www.thenorthernecho.co.uk/news/18054992.durham-miners-association-welcomes-justice-former-pitmen-crippling-hand-condition/> accessed 7 January 2020.
[ii] Lisa Hutchinson, 'Why thousands of pitmen suffering from 'miner's claw' have hailed victory at last' (23 November 2019 Chronicle Live) <https://www.chroniclelive.co.uk/news/north-east-news/thousands-pitmen-suffering-miners-claw-17304498> accessed 7 January 2020.
[iii] 'Dupuytren's Contracture recognised as an industrial disease' (27 November 2019 Stephensons) <https://www.stephensons.co.uk/site/blog/personal-injury-blog/dupuytrens-contracture-recognised-as-an-industrial-disease> accessed 7 January 2020.
[iv] Industrial Injuries Disablement Benefit Prescribed disease A15 - Dupuytren's contracture' (4 December GOV.UK) <https://assets.publishing.service.gov.uk/government/uploads/system/uploads/attachment_data/file/850213/form-a15-dupuytrens-contracture-notes.pdf> accessed 9 January 2020.
[v] Dupuytren's contracture: clarification of intention and amendment of the prescription' (GOV.UK) <https://www.gov.uk/government/publications/dupuytrens-contracture-clarification-of-intention-and-amendment-of-the-prescription/dupuytrens-contracture-clarification-of-intention-and-amendment-of-the-prescription> accessed
[vi] Although the IIAC concluded, in 2014, that the use of vibratory tools doubled the risk of Dupuytren's contracture, the NHS has stated that the condition 'is generally not thought to be related to manual work or using vibrating tools'.