In the case of The Commissioner of Police of the Metropolis v Brown [2018] EWHC 2046 (Admin), which we analysed in edition 241 of BC Disease News (here), Mrs. Justice Whipple assessed the boundaries of qualified-one-way costs shifting (QOCS) in a 'mixed' claim, i.e. a claim with both personal injury and non-personal injury elements.
THE HIGH COURT DECISION
At paragraphs 46, 49 and 50 of the High Court judgment, the Judge concluded that QOCS does not automatically apply to 'mixed' claims:
'CPR 44.13 [QOCS] extends to any proceedings which "include" a claim for damages for personal injuries. I would see this as a broad gateway, through which any proceedings which include a claim for damages for PI will pass'.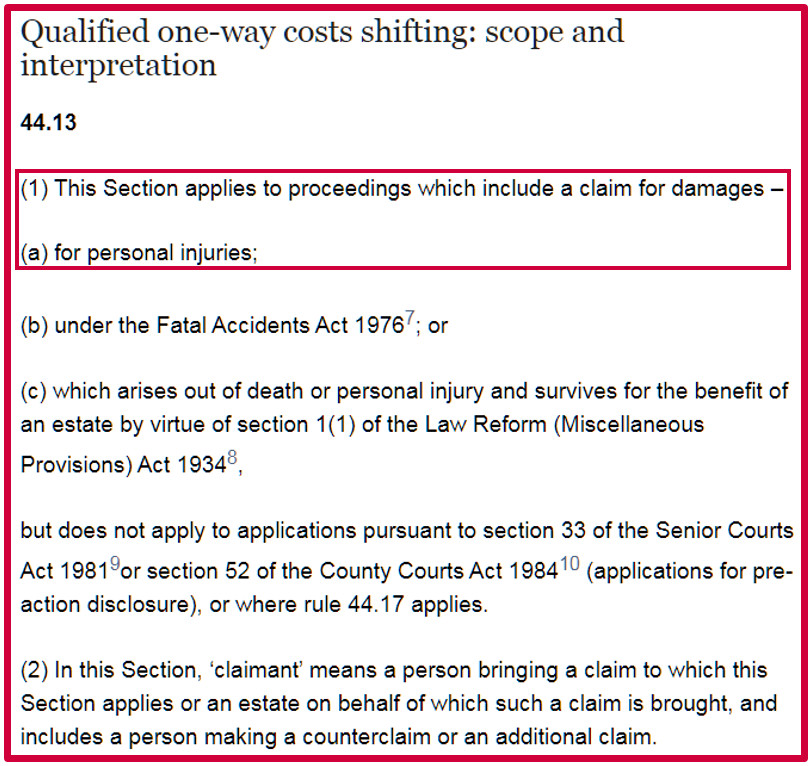 ... CPR 44.16(2) [QOCS disapplication] applies in any proceedings where a claim has been made for damages for personal injuries as well as for something else (ie, as well as a claim other than a claim for damages for personal injury) ...
Once that point is resolved, the construction of CPR 44.16(2)(b) becomes clear. Mixed claims are within the scope of QOCS, by virtue of CPR 44.13(1). But CPR 44.16(2)(b) provides a mechanism to deal with mixed claims. The mechanism is quite simply to leave it to the Court at the end of the case to decide whether, and if so to what extent, it is just to permit enforcement of a defendant's costs order'.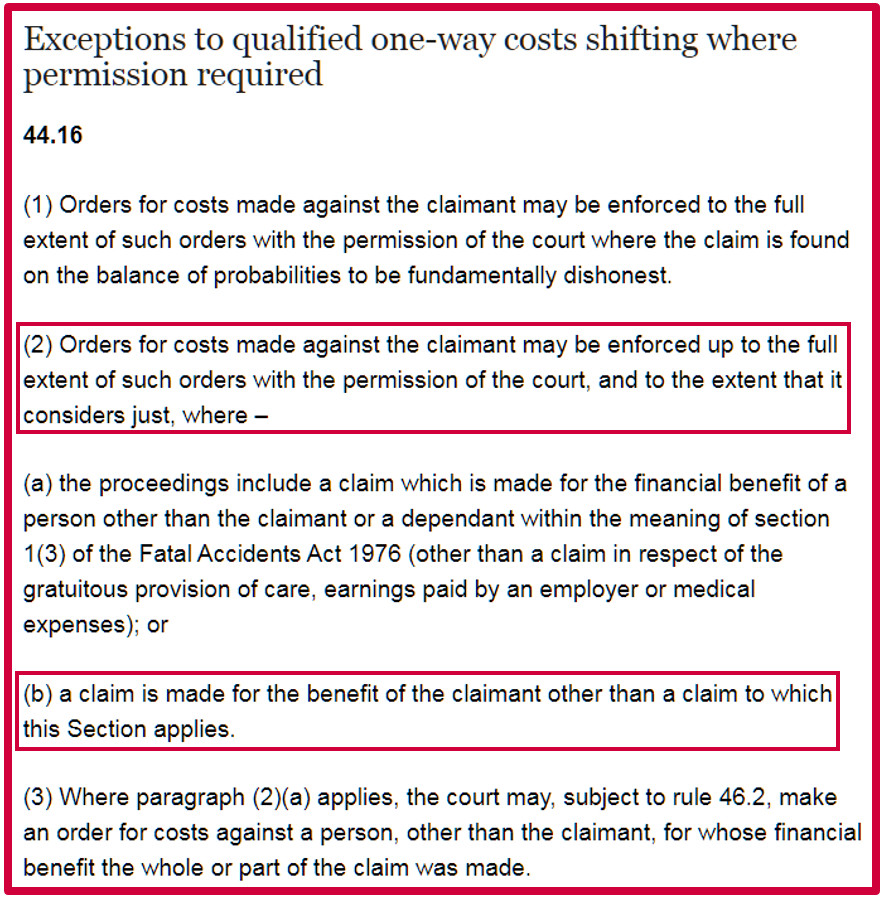 To facilitate this 'end of the case' mechanism, Whipple J devised a simple test, the result of which would either permit or deny the enforceability of defendant costs orders:
'The question to be asked in any given case seems to me to be this: in the proceedings, is the claimant claiming anything other than damages for personal injuries?
If the answer is no, then QOCS protection applies automatically (subject of course to one of the other exceptions applying, where the case is struck out or dishonesty is found).
If the answer is yes, then the case is subject to the court's discretion under CPR 44.16(2)(b)'.
She went on to speculate over the effect of her interpretation of CPR 44.13(1)(a) and CPR 44.16(2)(b) on routine RTA claims, at paragraph 54:
In an ordinary claim arising out of an RTA, it might be thought unlikely that a Court would consider it just to remove QOCS protection, simply because the injured claimant also sought compensation for damage to their car. But the discretion is there, and in an unusual RTA, for example where the personal injury claim is modest but the main issue in the case relates to damage to the car, the Court might consider it just to remove QOCS protection'.
THE COURT OF APPEAL DECISION
On 3 October 2019, Brown was appealed and judgment of the Court of Appeal was handed down a fortnight later.
1st Ground of Appeal – 'Literal Interpretation' of QOCS Exception Circumvents Exception?
On appeal, the claimant argued that the lower court had erred in equating 'proceedings', in CPR 44.13(1), with 'a claim', in 44.16(2)(b).
To put it simply, the claimant's challenge was that no claim in the proceedings could be excepted by CPR 44.16(2)(a) if the personal injury claim advanced in the proceedings was protected by CPR 44.13(1).
However, Lord Justice Coulson, with whom Lord Justice Richards and Lord Justice McCombe agreed, rejected this 'unrealistic', so-called 'literal interpretation', on the basis that it 'deprived the [QOCS] exception of any utility':
'At root, the appellant's case ... had to be that the r.44.16(2)(b) exception could not arise in any proceedings to which QOCS applied. In that way it would no longer be an exception to the QOCS regime at all ...
... It would make r.44.16(2)(b) redundant'.
2nd Ground of Appeal – 'Claim' Means 'Cause of Action'?
In the alternative, the claimant argued that reference to 'a claim', in CPR 44.16(2)(a), should be construed as a 'cause of action', because reference to 'a claim' in CPR 44.16(1) insinuated a 'cause of action'.
The upshot of the claimant's unorthodox interpretation would be that:
'... regardless of the nature, scope and extent of the underlying cause or causes of action, if damages for personal injury were claimed as a consequence of each pleaded cause of action, the exception would not apply and automatic QOCS protection would remain'.
As with the 1st ground of appeal, however, the 2nd ground was rejected. The Lord Justices of Appeal deliberated that reference to 'a claim' in CPR 44.16(1) was not an exclusive reference to a 'cause of action'.
Further, it would be inaccurate to describe a 'claim for damages for personal injury' as a 'cause of action':
'A cause of action is, for example, a breach of duty or a claim under a statute. A claim for damages in respect of personal injury is a claim for a particular head of loss arising out of the breach or misconduct of the defendant'.
Consequently, the High Court ruling was upheld.
Effect of the Court's Interpretation on 'Ordinary Claims for Personal Injuries'?
Reiterating the spirit of Whipple J's judgment, Coulson LJ went on to contextualise the accepted legal position on QOCS application in 'mixed' claims with 'ordinary personal injury claims'.
His lordship explained that the 'starting point' is that QOCS protection applies to claims that will include, 'not only the damages due as a result of pain and suffering, but also things like the cost of medical treatment and, in a more serious case, the costs of adapting accommodation and everything that goes with long term medical care'. Additionally, it 'will also encompass all other claims consequential upon that personal injury ... for example, a claim for lost earnings as a result of the injury and the consequential time off work'.
More complicated, though, is the matter of QOCS application in RTA claims, which commonly include non-PI credit hire claims, auxiliary to a PI element:
'Such claims are not consequential or dependent upon the incurring of a physical injury: they are equally available to a claimant who survived the accident without a scratch as they are to a claimant who broke both legs in the accident'.
Nevertheless, the Court of Appeal Judge confirmed that the inclusion of a claim for 'damage to property' does not render the QOCS regime 'suddenly ... irrelevant':
'On the contrary, I consider that, when dealing with costs at the conclusion of such a case, the fact that QOCS protection would have been available for the personal injury claim will be the starting point, and possibly the finishing point too, of any exercise of the judge's discretion on costs. If (unlike the present case) the proceedings can fairly be described in the round as a personal injury case then, unless there are exceptional features of the non-personal injury claims (such as gross exaggeration of the alternative car hire claim, or something similar), I would expect the judge deciding costs to endeavour to achieve a 'cost neutral' result through the exercise of discretion. In this way, whilst it will obviously be a matter for the judge on the facts of the individual case, I consider it likely that, in most mixed claims of the type that I have described, QOCS protection will – in one way or another – continue to apply ...'
That being said, Coulson LJ called for the preservation of 'flexibility', and the avoidance of allowing 'all mixed claims' to require the exercise of discretion in favour of the claimant:
'... that would lead to abuse, and the regular 'tacking on' of a claim for personal injury damages (regardless of the strength or weakness of the claim itself) in all sorts of other kinds of litigation, just to hide behind the QOCS protection (as Foskett J warned in Siddiqui)'.
Full text judgment can be accessed here.
WHAT ABOUT 'COMMON' WHIPLASH CLAIMS WITH A TINNITUS ELEMENT
In edition 293 (here), we examined the disturbing emergence of mild tinnitus allegations in 'common' RTA claims, as recognised by motor insurers.
If, as we suspect, the unexpected surge of RTA-based tinnitus claims is being orchestrated by claimant personal injury solicitors, as a means to to inflate the value of claims and bypass the disadvantages posed by an increase to the small claims limit (to £5,000), could this practice be perceived as 'tacking on' to 'hide behind QOCS protection', if the bulk of the compensation sought is for damage to property, i.e. a credit hire claim?
Conversely, if 'mixed' soft tissue injury claims with a tinnitus element are deemed to be genuine (albeit medical causation is disputed by the clinical literature), could the annexation of a tinnitus claim help proceedings to be 'fairly be described in the round as a personal injury case', thereby guaranteeing QOCS protection for claimants?
We will continue censor this concern with interest in future editions of BC Disease News.