Horizon Scanning of the Disease Market for 2020
INTRODUCTION
This is our final feature article of 2019. In view of this, we thought it would useful to circulate an overview of the key topics that have dominated editions of BC Disease News this year and are likely to reappear in the New Year.
PART 1
In the first section of our 'Horizon Scan', we look at the influence of research, case law and legislation on emerging disease risks, separated by exposure type.
ORGANOPHOSPHATES
Aerotoxic Syndrome
'Aerotoxic syndrome' is an unrecognised medical condition, which is allegedly caused by cumulative exposure to contaminated aircraft cabin air (sourced from jet engine 'bleed air' supply), during 'fume events'
Such contaminants include volatile organic compounds (VOCs), low molecular weight organic acids, esters, ketones, and organophosphates, e.g. tricresyl phosphate (TCP).
The proposed 'bleed air' mechanism, by which toxic air apparently enters aircraft, is best described by the diagram, below.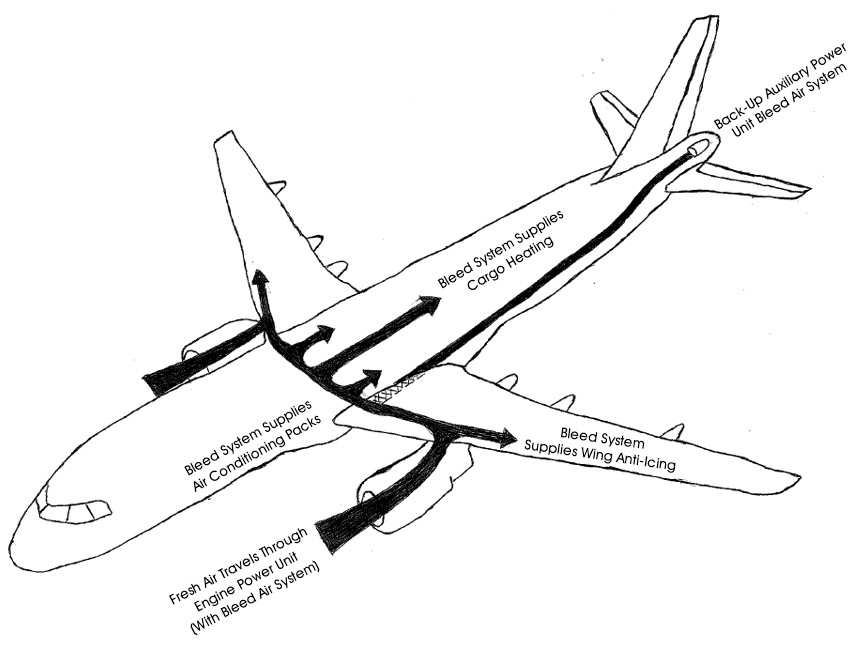 'Bleed air' systems are installed on all commercial aircraft, except Boeing 787 Dreamliners.
It is alleged that 'aerotoxic syndrome' poses a risk to pilots, cabin crew and frequent flyers on aircraft (besides Boeing 787's), who may be repeatedly exposed to contaminated air.
Symptoms of 'aerotoxic syndrome' in those who claim to have been cumulatively exposed, include:
Adverse neurological symptoms (breathing and vision problems);
Chronic fatigue;
Memory impairment;
Cognitive difficulties; and
An inability to focus or concentrate.
One of the first presumed victims of the so-called syndrome was British Airways (BA) pilot, Richard Westgate, who died aged 43, in 2012.[1]
However, in April 2017, coroner, Simon Fox QC, later ruled that Mr. Westgate had, in fact, unintentionally overdosed on sedatives.
In spite of this, Mr. Westgate's estate is leading a class action of tens of former pilots and cabin crew ('Aircraft Cabin Air Litigation') against the likes of BA, EasyJet, Thomas Cook, Virgin Atlantic and Jet2.
Judge Barbara Fontaine, who gave the order for collective case management, specified that up to 8 cases, including Mr. Westgate's case, will return to Court for a full trial. We expect to know more about this as time progresses.
To give an idea of the scope of prospective liability, BA, alone, employs 16,500 cabin crew and 3,900 pilots.
However, claimants advancing 'aerotoxic' claims are fundamentally opposed to the views of regulating authorities, which have consistently justified that noxious constituents of (combusted) engine oil, lubricants and hydraulic fuel are unlikely to cause harm in the quantities historically measured:
The House of Lords Science and Technology Committee.[2]
The Committee on Toxicity[5] [6]

'Many different chemicals have been identified in the bleed air from aircraft engines, but to cause serious acute toxicity, they would have to occur at very much higher concentrations than have been found to date'.

The British Airline Pilots Association (BALPA)[7]
The Department for Transport Aviation Health Working Group (AHWG)[8]
The Institute of Occupational Medicine (IOM)[9]
The European Cockpit Association and Building Research Establishment (ECA).
Further entrenching this position, leading expert in Aviation Medicine at King's College London, Mike Bagshaw, concluded, in August 2013, that:
'... so far as scientific evidence has been able to establish to date, the amounts of organophosphates to which aircraft crew members could be exposed, even over multiple, long-terms exposure, are insufficient to produce neurotoxicity'.[12]
That being said, in the New Year, we are interested to see whether Unite's call for a full public inquiry into 'aerotoxic syndrome' is authorised by the Government.
We also expect to read more about the research of Belgian Neurophysiologist and Psychologist, Daniel Dumalin, who is part-way through analysing the neurotoxic effects of aircraft cabin air by comparing quantitative electroencephalograph (QEEG) scans of 50 '(ex-) cabin crew members and (ex-) pilots' against 'healthy people'.
Moreover, potentially as early as March 2020, we will attempt to provide a review of 'Everybody Flies', the feature-length documentary, directed and produced by former BA pilot, Tristan Loraine, which has been critically acclaimed for disclosing never-before-seen documentation, scientific research, and personal testimonies of whistle-blowers on 'aerotoxicity'.
With a career spanning 20-years and having accumulated 10,000-hours of commercial flight experience, TCP was identified in Mr. Loraine's blood and fat, in 2015. He is now a protagonist for the 'aerotoxic' cause.
Glyphosate Weedkiller
In the US (also in Canada, and Australia), over 42,700 claimants are pursuing product liability proceedings against Bayer AG.
Bayer acquired Roundup weedkiller manufacturer, Monsanto, in June 2018 – and with it, the liabilities of the company.
It is alleged that glyphosate, the active ingredient in Monsanto-produced weedkillers, is carcinogenic.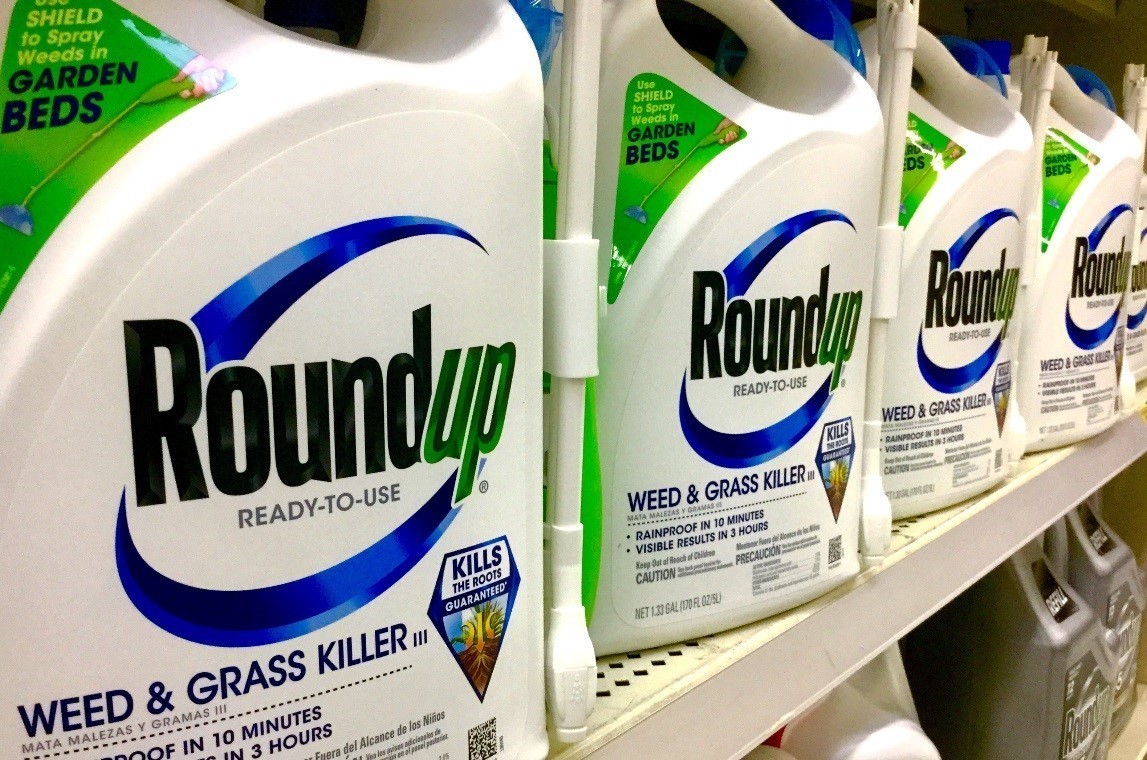 [Source: Flickr – Mike Mozart (30 April 2016): 'Roundup, Monsanto']
Specifically, it is alleged that prolonged exposure can cause non-Hodgkin lymphoma (cancer of the lymphatic system).
It is also purported that exposure can onset chronic kidney and liver disease.
As a result, those estimated to be most at risk include:
Farmers,
Gardeners;
Landscapers; and
Local Government Workers.
At present, although there have been 3 multi-million dollar jury verdicts against Bayer in the US, successful judgments are already in the process of being appealed, while the remainder of 1st instance decisions are still expected to be 'vigorously' defended.
Risk is heightened by the fact that glyphosate patent protection expired in 2000, meaning that there are multiple manufacturers producing Roundup-like products.
Nonetheless, glyphosate is still licensed for sale and use as a Plant Protection Product (PPP), in the EU, until 15 December 2022, meaning that by the end of this year, manufacturers will submit applications for license renewal.
France, Hungary, the Netherlands and Sweden have been appointed as joint 'rapporteurs' [the Assessment Group on Glyphosate (AGG)] for the next glyphosate assessment. This will be followed by a peer-review process, overseen by the European Food Safety Authority (EFSA).
Will the EU and its member states reach similar conclusions to the US EPA, which, in April 2019, maintained that glyphosate does not cause cancer in humans, thereby reaffirming the outcome of its 2017 review?
Alternatively, will the institution follow the lead of Austria, which, in July 2019, put wheels in motion for a blanket ban of all glyphosate weedkiller use?
If so, are we likely to see glyphosate-induced non-Hodgkin lymphoma claims migrate to the UK in the coming year?
Earlier this year, BC Legal was instructed to handle a disease claim, brought by a rugby pitch and bowling green groundsman against his local authority employer. It was alleged that occupational exposure to Roundup had caused the claimant to develop lung cancer.
Current settlement estimates for the bulk of US product liability claims range from $6 billion to $20 billion, though upper-end estimates are 'based on an even higher number of potential lawsuits'.
We understands that Bayer is 'constructively engaging' with mediators, but will only accept an outcome that is 'financially reasonable and is structured in a way that will bring the matter to a reasonable conclusion', i.e. restricting future liability.
ASBESTOS
Talcum Powder
A fortnight ago (here), we reported that talcum powder manufacturer, Johnson & Johnson (J&J), had issued a voluntary recall of its household Baby Powder product, after the US Food and Drug Administration (FDA) detected sub-trace levels of chrysotile asbestos (no greater than 0.00002%) in 1 out of 33,000 bottles.
At present, J&J is facing around 15,500 product liability claims, in the US. It is also understood that claimant personal injury (PI) firm, Leigh Day, is representing British claimants as 'co-counsel', in the US, who are 'unable to bring claims in the English courts'.
The principal allegation is that talcum powder is tainted with asbestos and that persistent application can therefore lead to the development of mesothelioma and cervical cancer.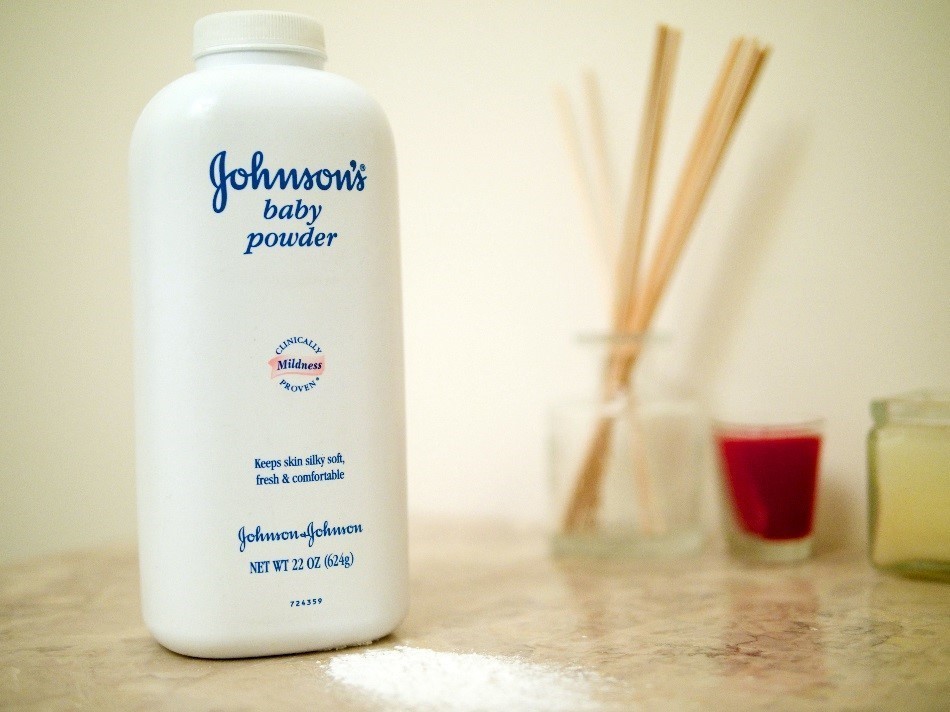 [Source: Wikimedia Commons – Austin Kirk (26 February 2014): 'Johnson's Baby powder, 2014']
Talc mineral, the constituent ingredient of talcum powder, was previously mined in Vermont and Italy, in close proximity to tremolite asbestos, though J&J maintains that its talc-containing products were not and are not laced with asbestos; they are 'routinely tested'.
At odds with this, a Special Report, conducted by The New York Times and Reuters, has accused J&J of having known, from at least 1971 until the early 2000's, that its products were defective and failed to disclose this to regulators or the public.
The US FDA and J&J are at a stalemate. 'Third-parties' have since conducted 15 tests on samples of the allegedly polluted bottle, in lot (#22318RB), only for results to come back negative.
The Administration claims that discrepancies only emphasise the fact that, due to the 'miniscule size' of samples taken, the lack of uniform dispersion of contaminants and no 'standard test' for asbestos in talc, 'different samples may yield different results'.
We await the results of more jury verdicts in 2020, as well as additional epidemiological research.
On the premise that there could soon be 20,000 talc-cancer claims in total, financial analysts estimate that J&J could settle all pending lawsuits for between $2 billion and $6 billion (individual awards of $100,000 to $300,000 per person). Bloomberg, however, considers that the price to pay could be as much as $10 billion, which is equal to the amount of market value written down in 2019 alone.
New Sources of Asbestos
This year, we informed our readers about several new and previously unreported sources of asbestos, which could be a potential source for disease claim marketing strategies, in 2020. These include:
Asbestos-related disease claims brought by hair salon workers, in the 1970's and 1980's, where hairdryers allegedly contained and dispersed asbestos;
Gullet cancer claims brought by pub goers, who drank beer allegedly contaminated with asbestos, up to the 1980's;
Asbestos-related disease claims brought by brewery workers who worked in and around asbestos-containing beer filters, up to the 1980's; and
Asbestos-related disease claims brought by Ford Dagenham workers who allegedly worked in a factory, allegedly made up of and holding asbestos containing materials.
Transitioning into 2020, we wait with baited breath to review HSE's annual industrial fatality statistics, seeing that it is the penultimate before work-related mesothelioma deaths are due to fall below 2,500.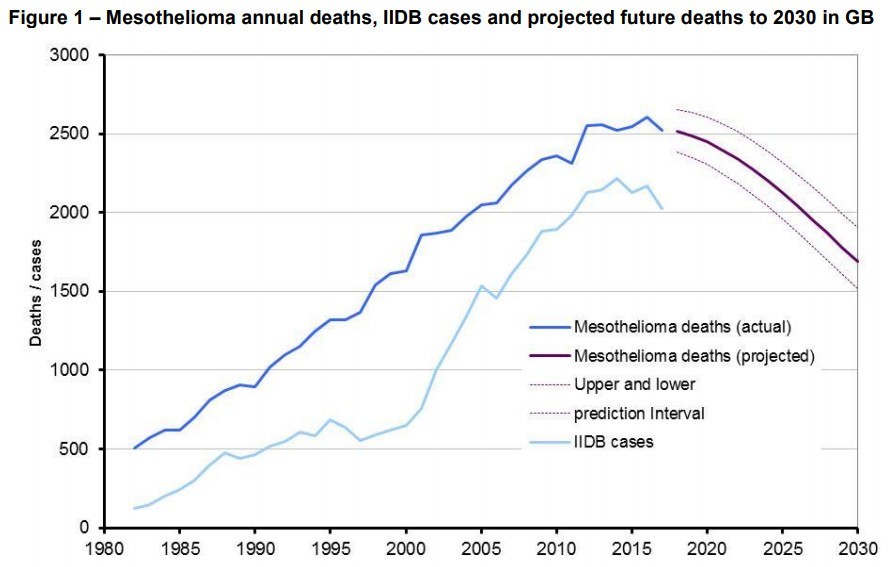 Might asbestos harboured in school and hospital buildings be responsible for delaying this downward trend?
As well, might the European Economic and Social Committee's (EESC) review of the 'transposition and practical implementation' of the EU's Energy Performance of Buildings Directive (EPBD) help to reduce asbestos-related mortality in decades to come, by better regulating asbestos removal in the course of renovation developments?
Bystander Exposure
In the Industrial Injuries Advisory Council's (IIAC) latest Annual Report (April 2018 to March 2019), it admitted that prescribed disease (PD) D8 is 'out of date' and does not 'accurately represent' those most at risk of asbestos exposure as 'bystanders', i.e. workers in construction (demolition, maintenance, renovation).
We therefore await publication of the Council's 'Bystander Exposure to Asbestos' Report in the New Year, which will also culminate discussion on other exposure types of 'bystander' exposure, e.g. to coal dust, which is capable of causing COPD.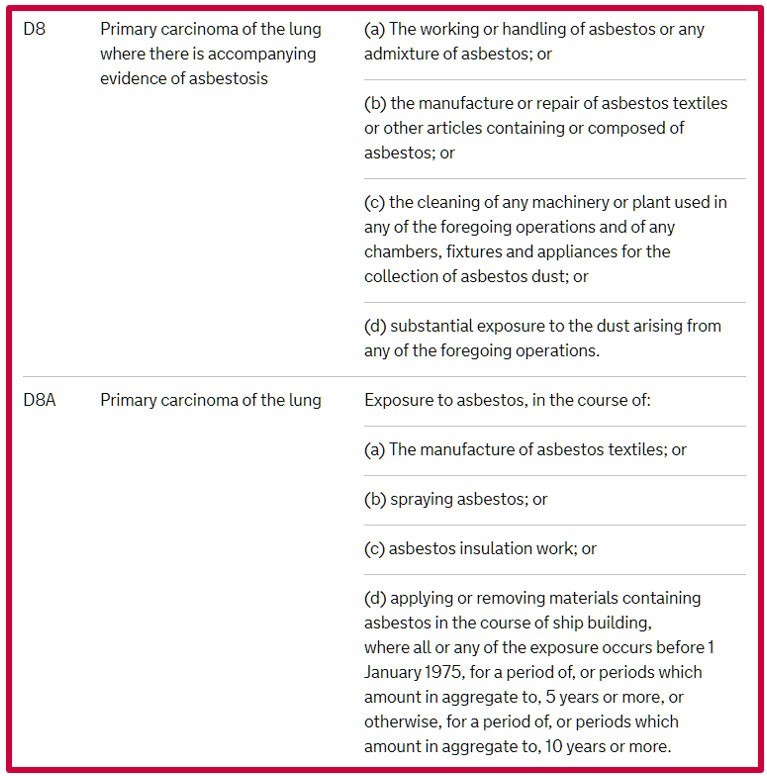 Joint and Several Liability in Reinsurance 'Spiking'
The New Year may also bring with it definitive opinion of the Supreme Court on whether an EL insurer must present EL asbestos claims to its reinsurer(s) on a pro rata, time on risk basis, as was established by the Court of Appeal (and analysed here) this year, in Equitas Insurance Limited v Municipal Mutual Insurance Limited [2019] EWCA Civ 718.
Instead, should the Judges have allowed the EL insurer to allocate asbestos-related losses to years where there was reinsurance cover (this is called 'spiking') and adopted the joint and several approach taken in Fairchild v Glenhaven Funeral Services Ltd & others [2002] UKHL 22 and International Energy Group Ltd v Zurich Insurance Plc UK Branch [2013] EWCA Civ 39?
Only time will tell.
NOISE
Hearing Loss in the Music and Entertainment Industry
In April of this year (here), the Court of Appeal handed down judgment in Goldscheider v Royal Opera House Covent Garden Foundation [2019] EWCA Civ 711, in which a violist was successful in bringing an 'acoustic shock' claim against his former orchestral employer.
What is 'acoustic shock'?
It is a condition caused by an 'acoustic incident', i.e. exposure to a high intensity, unexpected, short cluster of noise exposure. Noise of this kind is able to bypass middle ear muscles (the stapedius reflex) and reach the inner ear. In a vestigial, innate response to the threat of potential injury ('acoustic startle'), the body produces toxic metabolites, which can induce symptoms of deafness, pain, tinnitus and dizziness.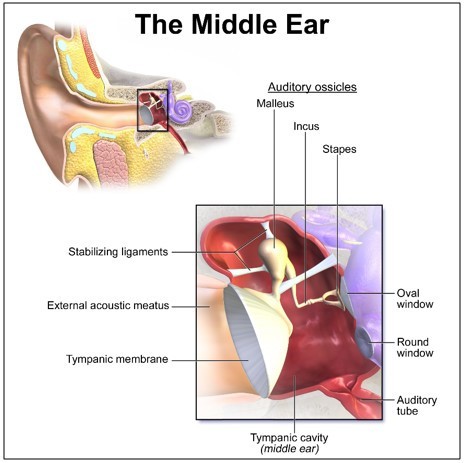 [Source: Wikimedia Commons – Bruce Blaus (15 October 2013): 'Middle Ear Anatomy']
Goldscheider could have significant implications on the NIHL market.
Firstly, because 'acoustic shock' was accepted, for the first time, as being a 'relatively new' and 'albeit developing' medical phenomenon that does not exclusively affect call centre workers exposed to white noise through earpieces or telephone speakers.
Secondly, and arguably most importantly, because it created binding legal precedent that noise exposure does not have to be a by-product of work to be tortious – it may also be deliberately created noise exposure.
Although McCombe LJ and Bean LJ observed that hearing protection [Regulation 7(3) of the Control of Noise at Work Regulations 2005], at least in a musical setting, need not be interpreted in an 'absolutist' way, the defendant employer was found in breach of Regulation 6. Measures could have been taken to reduce noise to as low a level as was reasonably practicable and, in doing so, this would not have led to an 'unacceptable reduction (or indeed any reduction at all) in the artistic standards of the Ring Cycle'.
In spite of the High Court President's declaration that Goldscheider will not have a 'cataclysmic' effect on 'all music making in the UK', will this prohibit claimant firms from testing the legal waters next year and in years to come?
Binding Duty to Carry Out Noise Surveys Pre-1989
The High Court, at the start of this year, found a defendant employer in breach of its duty to carry out noise surveys from 1970 onwards, thereby extending the period of tortious exposure.
Plainly, there were two issues that we identified with Mr. Justice Garnham's ruling in Mackenzie v Alcoa Manufacturing (GB) Ltd [2019] EWHC 149 (QB), as was quantified in edition 261 of BC Disease News (here).
First of all, the troublesome insinuation that, given the defendant employer did not produce noise surveys of the work premises from almost half a century prior, it could therefore be conclusively determined that noise surveys had not been conducted.
The High Court authority of Keefe v The Isle of Man Steam Packet Company [2010] EWCA Civ 683 was followed, in spite of the fact that the material facts of the case were different and, thus, should have been distinguished. In Keefe, it was openly acknowledged that no noise measurements had been taken; in Mackenzie, there had been no such acknowledgment and besides, engineering evidence intimated that noise levels were likely to be well below the threshold of action.
Compounding this primary issue, in 1970, the only document in circulation was Noise and the Worker (1963), soon to be joined by the Department of Employment's Code of Practice (1972). Both of these documents had previously been viewed as guidance-only and could be differentiated against the binding Noise At Work Regulations (1989). Garnham J, however, found otherwise.
The Mackenzie appeal is awaiting the result of a reserved judgment of the Court of Appeal, which we will scrutinise in a 2020 edition of BC Disease News – whatever the outcome.
Should both elements of the ruling be upheld, could we witness a new wave of NIHL claims that seek compensation for statutory breaches occurring pre-1989, simply based on a claimant's recollected (and potentially fallible) witness evidence? The burden of proof was effectively reversed from the claimant (proving excessive noise exposure) to the defendant (proving under-excessive noise exposure), in the absence of tangible noise survey documentation.
Tinnitus in RTA Claims
Last month (here), we considered whether there is a biomechanical or biochemical link between conventional soft tissue injuries and tinnitus, amid reports from motor insurers of an unexpected increase in road-traffic accident (RTA) claimants also seeking compensation for otologic injury.
Why has tinnitus, the subjective 'sensation of hearing a sound in the absence of any external sound', been less prevalent in years past?
Could this have something (or everything) to do with the April 2020 PI reforms, which will broaden the small claims track to include claims up to the value of £5,000, thereby engulfing many claims that would currently be allocated to the fast track (read more in Part 2 of this feature)?
Why is this trend emerging now? Stuart Bacon, Head of BC Legal's Southend Office, prophesied that:
'Whether genuinely or otherwise, it seems tinnitus is going to be an increasingly common feature of soft tissue RTA claims.
General damages for tinnitus are not insignificant:

Note the dramatic difference in general damages between, "slight" and "moderate tinnitus".
I question whether tinnitus should, in a medico-legal context, be diagnosed and causally attributed by experts typically instructed in RTA claims i.e. GPs, A&E Specialists and Orthopaedic surgeons. If not, are we going to start seeing the complex causation and grading arguments from NIHL claims in RTA claims? Will the Courts entertain expensive expert ENT evidence?
To simply pay the claims will require insurers to accept diagnoses from medico-legal experts who have little to no clinical experience of diagnosis and quantification of tinnitus and pay damages on top of awards for soft tissue injuries. With general damages for tinnitus starting at £6,140, this is likely to be an unattractive option and perhaps justification of the ~£1,000 spend on expert ENT evidence.
However, as we have seen in NIHL claims, there is likely to be a range of expert opinion on causation and grading of tinnitus so the ~£1,000 could well become ~£2,000 if two ENT experts provide evidence.
For insurers, tinnitus will certainly add an unwelcome dimension, complexity and costly element to RTA claims at a time when such claims are finally becoming more manageable'.
Tinnitus Cure
Concurrently, researchers have been trying to identify a noise-induced tinnitus cure.
In June 2019, we reported (here) that researchers had targeted neuro-inflammation as a potential cause of tinnitus and attempted to block a molecule that disrupts communication between neurons, called TNF-A (tumor necrosis factor alpha).
In so doing, study Co-author and Neuroscientist, Dr Shaowen Bao, explained that:
'... pharmacologically blocking its [TNF-A] expression prevented neuro-inflammation and ameliorated the behaviour associated with tinnitus in mice with noise induced hearing loss'.
On the back of this, will clinical trials soon commence in humans? If so, is it likely that the observations in animal studies could be replicated in human test subjects?
VIBRATION
Cycling and Growing Logistics Workforces
'... some road surfaces can cause toxic doses of vibration [for cyclists]'.
This was according the preliminary results of a study, devised by Edinburgh Napier University's Transport Research Institute (TRI), which we assessed in edition 286 (here).
The institute developed a bicycle, which used in-built cameras, sensors and computers to collect 'huge amounts of data' on the transmission of road-to-hand vibration.
On the roughest terrain (e.g. cobbled surfaces), it was identified that riding for a 16-minute period put cyclists at risk of developing hand-arm vibration syndrome (HAVS).
Will the significance of these results proliferate in 2020, as 'cargo bikes' emerge as a progressively popular mode of transport for logistics and delivery workforces that are proactively looking for ways to increase sustainability?
Evidentially, unconnected research, conducted by the University of Southampton, proved that 'cargo bikes' were 50% more efficient at completing courier deliveries than small vans during peak weekday times.
Interestingly, both Glasgow City Council, which maintains local roads, and Police Scotland, which deploys officers on bicycles, had previously expressed interest in using the TRI-engineered 'data bike'. Will their interest be resurrected next year?
If cycling-induced damage attracts more traction with scientists and the media, will the IIAC be forced to reconsider its Information Note, which recommended against adding vibration white finger (VWF), triggered by gripping motorcycle handlebars, to the list of prescribed diseases qualifying for disablement benefit.
IIDB Payment for Miners' Claw Hand
In September of this year, the Department for Work and Pensions (DWP) laid down draft Regulations, in respect of a new prescribed disease falling under the UK's social security scheme – PD A15.
Recipients of Industrial Injuries Disablement Benefit (IIDB) payment, pursuant to PD A15, will have Dupuytren's contracture of the hand (see below).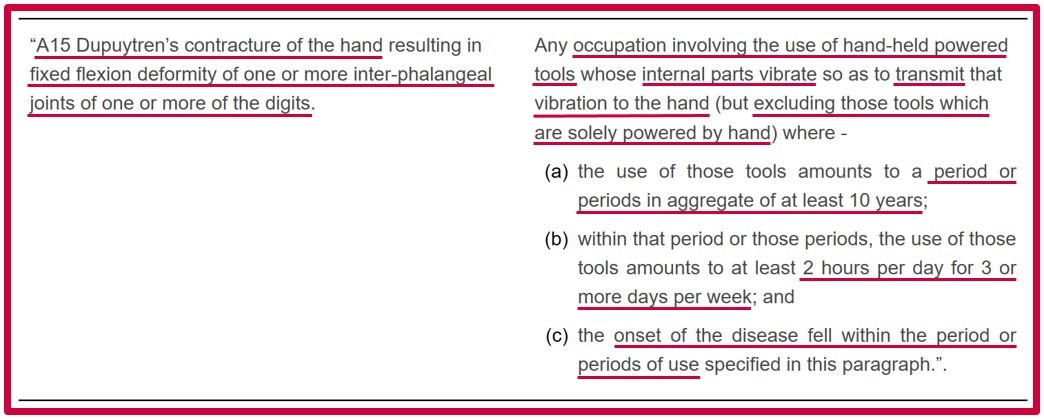 The upper limb condition is caused by the thickening of connective tissue in the palmar region of the hand, resulting in the contraction and bending inwards of one or more fingers (towards the palm). It is believed to be commonly associated with miners and is therefore synonymous with the term, 'miners' claw hand'.
Confirmation of IIDB prescription has since been legislated through Regulation 2 of The Social Security (Industrial Injuries) (Prescribed Disease) Amendment Regulations 2019 and will enter into force next month.
In the year ahead, we are likely to ascertain the volume of applications for compensation, which will in turn, vindicate or withstand the decision of the then Minister of State for Disabled People, Health and Work, Sarah Newton MP, to reluctantly adopt the IIAC's 2014 Advisory Report,.
Reactec HAVwear
Under Regulation 5 of the Control of Vibration at Work Regulations 2005, employers are obliged to conduct risk assessments.
However, there are legitimate fears that businesses are failing to do so, with the Building Safety Group (BSG) observing a 33% increase in construction-related hand-arm vibration (HAV) breaches, in 2018.
To combat the liability risk, businesses may have invested in vibration risk management technology, such as Reactec's HAVwear wrist watch, which claims to assess HAV risk in operators, as per the British Standard (BS 5349).
However, in edition 273 of BC Disease News (here), we reported that the Advertising Standards Agency (ASA) had recognised that HAVwear does of not measure vibration magnitude (m/s2), which is critical for calculating HAV exposure action values (EAV) / exposure limit values (ELV) (Regulation 4), located in Schedule 1 Part 1 of the Regulations.
In 2020, we are interested to see whether construction services expert, Fiona Perrin, can restore trust in Reactec products used to assess HAV risk, having joined as a non-executive director, in October 2019.[13]
TECHNOLOGY DEPENDANCY
This year, we have written about 'selfie wrist' (here), iPhone hands (here) and occipital spurs (here), all of which are proposed medical conditions, based on collections of symptoms that have been specifically tied to repetitive use of hand-held telecommunication devices.
Another mobile phone-related condition that has not yet featured in BC Disease News is Cambridge Dictionary's word of the year, 'nomophobia', which refers to anxiety arising from not being able to use a mobile phone.[14]
With time, we will review the substance behind assertions that there is causality.
Incidentally, the UK Government launched the Immersive and Addictive Technologies Inquiry, earlier this year, and, whilst it is reasonable to assume that injuries caused by mobile phones are largely self-inflicted, if devices are deliberately designed to encourage protracted use and even addiction, victims of repetitive strain injuries (RSI) and mental health illnesses may argue that, but for technological advancement, exposure periods would have been shorter and there would be no actionable injuries to compensate for.
Aside from mobile phone-specific disorders, in May 2019, 194 Member States unanimously approved The World Health Organisation's (WHO) 11th edition of the International Classification of Diseases and Related Health Problems (IDC-11), which added 'gaming disorder' (Code 6C51) to the list of 'disorders due to addictive behaviours'.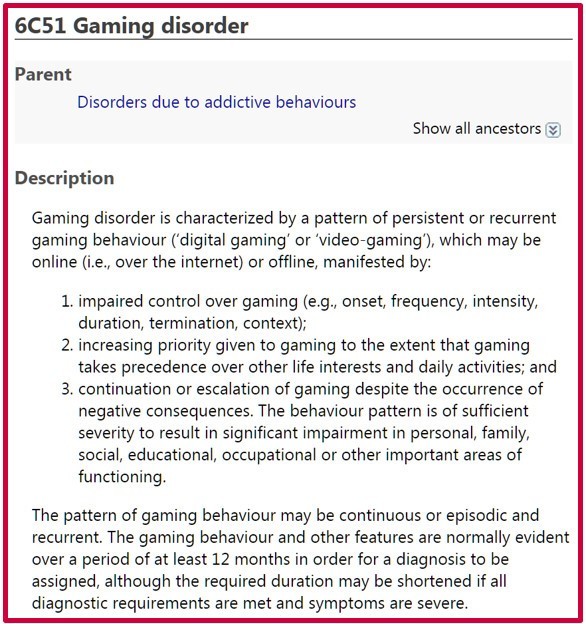 As we reported in edition 276 of BC Disease News (here), IDC-11 will enter into effect on 1 January 2022.
On the horizon, however, we expect to hear more from the gaming industry [e.g. the Entertainment Software Association (ESA), the Interactive Software Federation of Europe (ISFE) and the Association for UK Interactive Entertainment (UKIE)] on this issue, as they are intent on convincing WHO members that the condition's inclusion is 'deeply flawed'.
EXHAUST FUMES
Diesel Exposure Mitigation Study (DEMiSt)
In August 2018, the Government published King's College London research, which estimated that between 28,000 and 36,000 people die every year in the UK, as a result of air pollution.
Acknowledging the potential risk that pollution could have on workers and members of the general public, the Institution of Occupational Safety and Health (IOSH) decided to fund the Diesel Exposure Mitigation Study (DEMiSt), led by academics at King's College London.
This research has investigated the impact of exposure to diesel engine exhaust emissions (DEEE) on the health of professional drivers and found that taxi drivers were exposed to 6-times more black carbon per cubic metre of air (6.5 µg/m3) than home or office workers (1.1 μg/m3) – we reported this in edition 291 (here).
Results were presented at the European Respiratory Society International Congress, on 29 September 2019.[15] We anticipate the full publication of DEMiSt findings, along with supplementary No Time To Lose (NTTL) campaign resources, in Q1 of 2020.
Contaminants in DEE include black carbon (containing particulate matter), hydrocarbons, carbon monoxide and nitrogen oxides, all of which may put exposed individuals at risk of developing lung cancer, chronic obstructive pulmonary disease (COPD), heart disease, type-2 diabetes and infertility.
'Occupational BRCAness'
It has also been suggested, by researchers at the University of Stirling, that there may be a 'causal relationship' between workplace exposure to very high levels of vehicle exhaust emissions and breast cancer.
This 'new occupational disease' has been tentatively labelled 'occupational BRCAness'.
Exposure Limit Values
In May 2019, the British Safety Council (BSC) published a Time to Breathe White Paper, advocating:
Health and Safety Executive (HSE) recognition of exposure to ambient air pollution as an occupational health issue and adopt a Workplace Exposure Limit (WEL) for Diesel Engine Exhaust Emissions (DEEE).
Improvements for pollution monitoring across the UK, so that all regions have the same accuracy as London for emissions data.
The UK's adoption of World Health Organisation (WHO) exposure limits for the main pollutants of nitrogen dioxide, particulate matter and ozone:

PM 2.5: less than 25 μg/m3 (24-hour mean) or 10 μg/m3 (1-year mean); and
PM 10: less than 50 μg/m3 (24-hour mean) or 20 μg/m3 (1-year mean).

A nationwide-reduced carbon footprint reduction.
Will any of these requests materialise in 2020?
It is possible that (3) could be sped up by King's College London's Canairy mobile app, which uses the London Air Quality Network (LAQN) pollution map and GPS to calculate London workers' exposure to pollution [nitrogen dioxide (NO2), ozone (O3) and particulate matter (PM 2.5 and PM 100)], on an hourly basis.
Individual exposure levels are then compared against the relevant WHO limits and Canairy notifies the user if and when his or her exposure exceeds those limits.
It is conceivable that information surrounding Canairy-collected data will be published in future months.
RADIATION
UV Radiation
Ultraviolet (UV) radiation from the sun is classified by the WHO as 'carcinogenic to humans' (Group 1 carcinogen).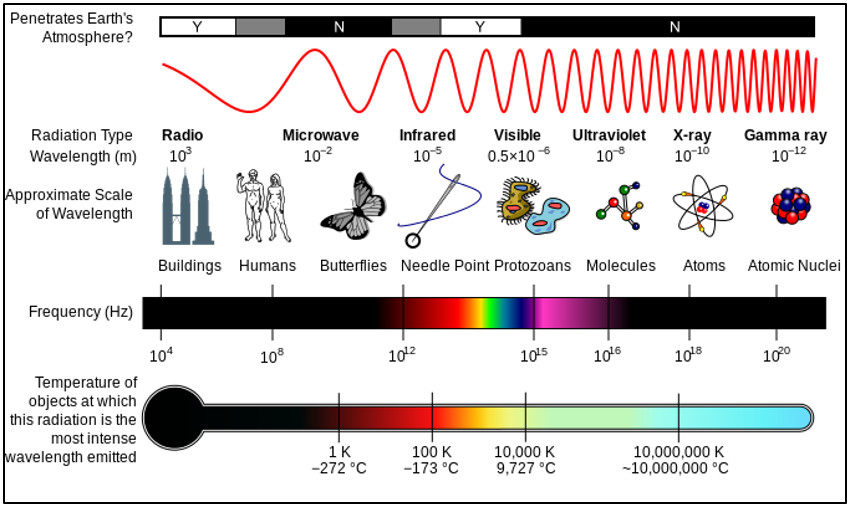 [Source: Wikimedia Commons – NASA (26 October 2007): 'EM Spectrum']
In addition, as we reported in an August 2019 edition of BC Disease News (here), Canadian researchers found that 'solar ultraviolet overexposure among outdoor workers is a concern, even in [a country] with ... relatively low ambient UVR'. Of course, Canadian figures are relevant to the UK, as they both countries occupy a similar latitude on the Earth's equatorial plane (illustrated below).
Figure: Latitude of UK and Canada: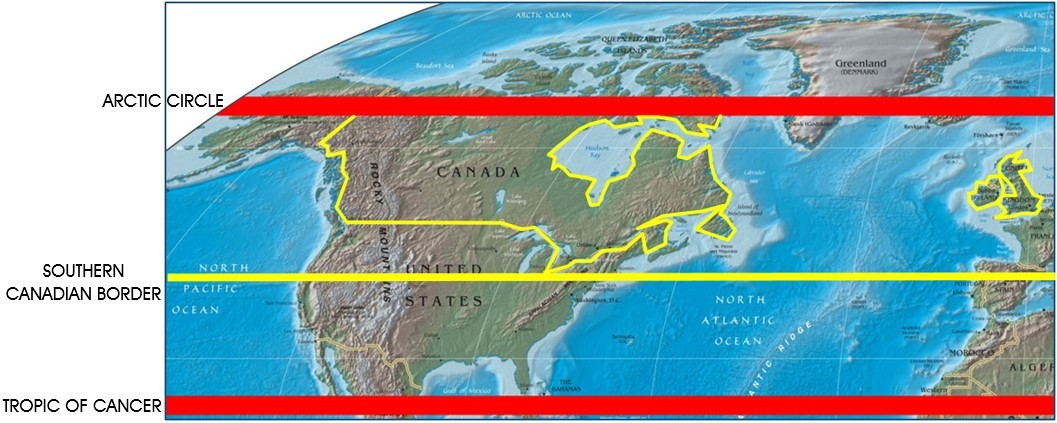 [Source: Wikimedia Commons – Cburnett (2006): 'Based on public domain CIA World Fact book image with the five major latitudes (Arctic Circle, Tropic of Cancer, Equator, Tropic of Capricorn, Antarctic Circle) bolded in red'. (Edited by BC Legal)]
It is therefore surprising that very few countries (France, Germany and Denmark) have an established programme on work‐related skin diseases, encompassing carcinogen-induced skin cancers, particularly as a recent IOSH Report charted that 40% of 'predominantly' outdoor workers in the UK construction industry exceeded 2 SED (standard erythemal dose), averaged over an 8-hour day.
This is around double the maximum exposure limit of 1.3 SED of the eye and skin, established by the International Commission on Non‐Ionizing Radiation Protection (ICNIRP) to minimise the long‐term risk of skin cancer and photoaging.
In 2018, the IIAC indorsed evidence that UV was a risk factor for non-melanoma skin cancer (NMSC), farming, construction and seafaring sectors, but noted difficulties with the separation of risk acquired through occupational exposure and risk acquired through leisure activities – a common causation defence.
As such, the Council did not recommend prescription under the IIDB scheme for any 1 sub-type [basal cell carcinoma (BCC), squamous cell carcinoma (SCC) or Merkel cell carcinoma (MCC)].
NMSC are generally less dangerous than melanoma skin cancer (MSC), as they are less aggressive and less likely to spread to other parts of the body (less metastatic potential).
Nonetheless, in April of this year (reported here), sponsors of the Multi-Stakeholder Summit on Occupational Skin Cancer sponsors, in coalition with advocacy groups, unions, health and safety professionals and clinicians, issued a Global Call to Action, which would see NMSC officially recognised as an 'industrial disease', EU-wide, 'within the next legislative period'.
IOSH NTTL has urged employers to launch 'sun safety strategies', which are considered to be the 'first line of defence'.
Figure: Solar UV Index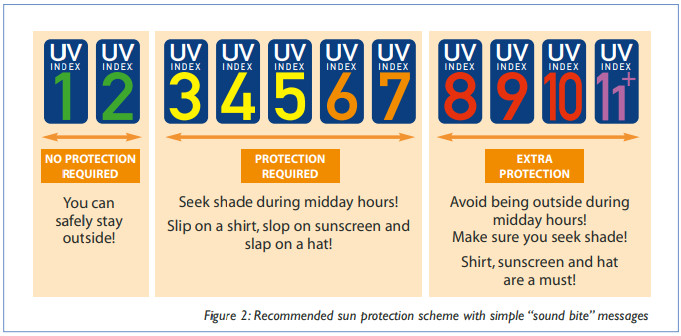 [Source: WHO]
Stay tuned for updates, including findings of an IIAC investigation into the relationship between melanoma and airline crew exposure to UV.
Mobile Phones and the 5G Era
Does use of mobile phones cause cancer?
Mobile phones use non-ionising, 'low power' (low frequency) radio frequency electromagnetic radiation (RFR), emitted by in-built mobile phone antennae, in order to connect to networks wirelessly.
Although the latest 5th generation uses higher frequency RFR than its predecessors (reported here), it is still incapable of penetrating the body at a cellular level.
Tariff provider, EE, claims that RFR levels of 5G are within internationally agreed limits, specified by The International Commission on Non-Ionizing Radiation Protection (ICNIRP) Guidelines and are available in the following cities:
Belfast;
Birmingham;
Cardiff;
Edinburgh;
London;
Manchester;
Bristol;
Coventry;
Glasgow;
Hull;
Leeds;
Leicester;
Liverpool;
Newcastle;
Nottingham; and
Sheffield).
That being said, the business has been criticised for having stated, in 2017:
'We can't provide absolute assurance that research in the future won't establish links between radio frequency emissions and health risks'.
What scope is there for litigation?
In 2018, ex-salesman, Neil Whitfield, who developed benign acoustic neuroma (tumour on the acoustic nerve), sued Nokia and attributed his condition to years of mobile phone use. Given that the claimant was left deaf after the tumour was removed and could not return to work, damages were sought in the region of £1 million.
Will this claim be the first of others? Will the fate of claims be swayed by similar litigation ongoing in foreign jurisdictions?
In January 2019, an Italian court recognised acoustic neuroma as an occupational disease in a former airport employee, who alleged that his condition had been caused by 10-years of daily use [4 hours (sessions of up to 45 minutes consecutively)] of a Siemens DECT phone, a Nokia and later a Samsung mobile.
Most recently, in a Class Action Lawsuit, filed by 11 American product liability claimants, it has been alleged that Samsung and Apple has sold defective products.
More precisely, it is alleged that an Investigation, headed by The Chicago Tribune, which identified that smartphones (including iPhone 7s, iPhone X, iPhone 8, iPhone 8 Plus, Galaxy S9, Galaxy S8 and Galaxy J3) were exposing users to levels of RFR that 'far exceed federal guidelines' – potentially up to 500% above the recommended US exposure limit ('Specific Absorption Rates' of 1.6 W/kg as averaged over any 1 g of tissue)
If this is correct, then RFR levels were also well above the maximum permitted EU limit ('Specific Absorption Rates' of 2.0 W/kg as averaged over any 10 g of tissue (except for the extremities and the pinnae where the SAR is 4 W/kg).
Worldwide, it is estimated that there are over 5 billion mobile phone users, more than 50% of whom own smartphones. The unknown health risks are therefore significant.
CONCUSSION AND SUB-CONCUSSIVE TRAUMA
In last week's feature article (here), we published findings of the 'landmark' Football's InfluencE on Lifelong health and Dementia risk (FIELD) study, commissioned by the Football Association (FA) and the Professional Footballers' Association (PFA), in November 2017.[16]
The inference is that both concussive (on-field collisions) and sub-concussive (heading of footballs) trauma, experienced by (former) professional footballers, may cause degenerative brain disease.
This includes a specific type of dementia, called chronic traumatic encephalopathy (CTE), or dementia pugilistica, which is common among boxers and American football (NFL) players.
Compared to the general population, Consultant Neuropathologist, Dr. Willie Stewart, found that footballers were:
500% more likely to develop Alzheimer's disease;
400% more likely to develop motor neurone disease;
350% more likely to develop dementia; and
200% more likely to develop Parkinson's disease.
However, back in May 2019, Dr. Stewart and 59 other medical experts 'called for balance from the medical and scientific communities and the media when communicating on issues related to CTE', as:
The clinical syndrome is not yet fully defined;
Prevalence is still unknown; and
Diagnostic criteria is still a preliminary assessment – 'A single focus of the pathology implicated in CTE is not yet sufficient evidence to define disease'.
To all intents and purposes, when ex-professionals are diagnosed with a neurodegenerative disease, it should not be automatically assumed that repeated heading of leather/synthetic footballs is the cause. In regards to CTE, diagnoses require examination of brain tissue under a microscope and thus, can only be observed post-mortem.
Whether or not the FA, FPA and Football Clubs should have gotten to grips with this issue earlier is still yet to be seen, but the warning signs may arguably have been present for decades.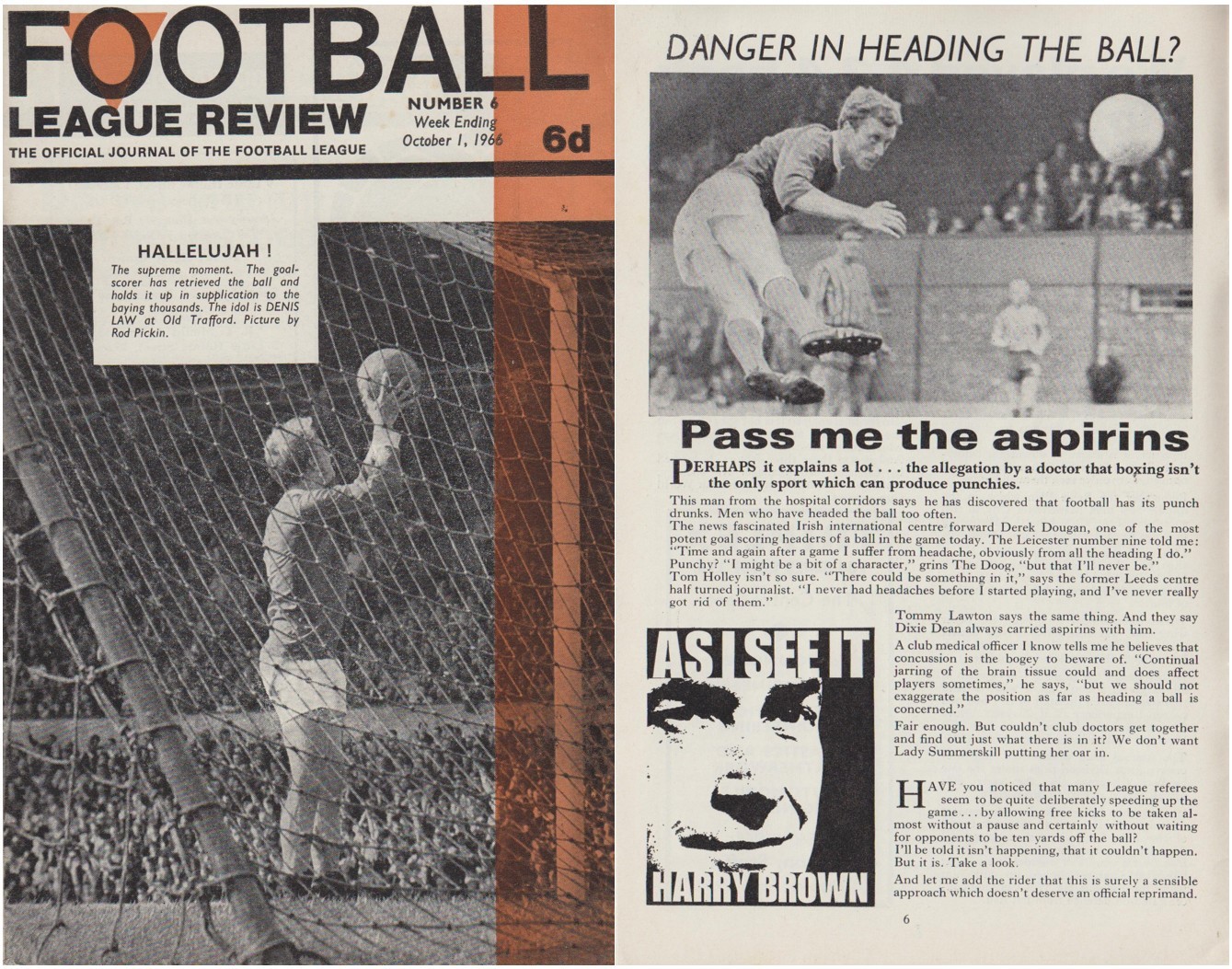 [Source: Flickr – Seagulls Programmes (4 November 2018) – 'Football League Review Vol 1 No 6']
Buoyed by the results of the FIELD study and incensed by the perceived inaction of governing bodies, the family of Jeff Astle, a former professional whose death was purportedly the result of an 'industrial disease', brought about by the repeated trauma of heading footballs, has called for a government inquiry into the issue – a demand we will oversee with interest.
For the time being, however, the FA's independently chaired Medical & Football Advisory Group has concluded that FIELD, compiled with other research to-date, does not encourage significant changes to be made to the way that the modern-day game is played.
In the months that follow, we will monitor the progress of a new FIFPro-coordinated Drake Football Study into the neurocognitive health of 200 professional footballers.
We will also be keeping track of a joint study, called HEalth and Ageing Data IN the Game of football (the HEADING study), wherein researchers from Queen Mary University of London and the Institute of Occupational Medicine (IOM) are poised to examine the link between heading footballs and long-term cognitive decline, among 300 former professionals aged 50 and over.
Damien McElvenny & John Cherrie, of the IOM, explain that:
'For the first time this study will include a detailed assessment of players' football heading histories, which could be influenced by factors such as position played, decade of play and level played at'.
TEXTURED BREAST IMPLANTS
In July 2019 (here), we announced that Leigh Day Solicitors had issued letters of claim on behalf of claimants who were alleging that textured breast implant had caused them to develop a rare form of non-Hodgkin lymphoma, called anaplastic large cell lymphoma (ALCL), or breast implant-associated (BIA) ALCL.
BIA-ALCL was classified as a 'disease' by the World Health Organisation (WHO), in 2016, and 2-years later, cosmetics manufacturer, Allergan, removed its Biocell textured implants from European markets.
Contrary to presumption, however, the UK Medicines and Healthcare products Regulatory Authority (MHRA) subsequently stated, in regards to Allergan products, that:
'There is currently no evidence of an increased risk to patients and there is no need for people who have Allergan breast implants to get them removed or have any additional clinical follow-up'.[17]
Up to now, there have been over 650 recorded cases of BIA-ALCL worldwide. Is this an underestimate? If the answer is yes, will the MHRA's current approximation of BIA-ALCL incidence affecting 1 in 24,000 be adjusted in the coming year, especially as the US FDA's global recall of Allegan products (reported here) has provoked suspicions of attributive risk?
EXPOSURES ON THE LONDON UNDERGROUND
Tube Dust
Approximately 4.8 million commuters use London's Tube network on a daily basis.
What is more, London Underground facilitates 11 tube lines and 270 stations and, as at March 2017, employed 68% (18,700) of Transport for London's (TfL) total workforce (27,500).[18]
This year has, however, underscored potential health and safety hazards for passengers and workers.
In edition 279 of BC Disease News (here), we reported that the London Assembly's Environment Committee had opened an inquiry into 'tube dust' and the knock-on health effects, with asthma sufferers at the top of the list.
According to air quality experts, the fact that pollutants are predominantly iron-based and generated through a combination of wear on train brakes and friction between the wheels and tracks, may put commuters and staff at risk of welders' lung damage and other respiratory disorders – welding fumes were reclassified as a human carcinogen, this February.
Naturally, we are interested in the conclusions drawn by the Environment Committee, especially as the Committee on the Medical Effects of Air Pollutants (COMEAP) Report, published in January 2019, discovered that passengers were exposed to the same concentration of particulates in 1-hour on the tube as they are during a full day above ground in ambient London air, or a 7.5-hour bus journey:
'Given that there is strong evidence that both long- and short-term exposure to particle pollutants in ambient air are harmful to health, it is likely that there is some health risk'.
Tube Noise
More recently, we reported that tube drivers were scheduled to take industrial action (driving in 'manual mode' at 50% of full-speed), due to a 'barrage' of 'horrendous' noise levels recorded over 28 sections of track.
Was there any truth in these allegations?
Contrary to the Health and Safety Executive's (HSE) assurances that noise exposure on the London Underground is 'highly unlikely to cause long-term hearing damage', University College London (UCL) academics have previously documented 'concerning' peak noise levels (109 dB on the Central and Northern Lines). What is more, EAVE logged a 5-minute stretch of the Victoria Line that average 90 dB.
The Rail, Maritime and Transport (RMT) union blamed Pandrol Vanguard, a unique rail fastening system, for 'increased in-carriage noise for both customers and staff'. This accusation was later corroborated by London Mayor, Sadiq Khan.
Eventually, RMT was given several assurances from TfL that protective measures would be instituted, thus bringing an end to the proposed 'go slow' policy:
It would introduce speed restrictions in multiple locations from 11 October 2019, to mitigate the noise impact;
There will be a programme of increased rail grinding to bring down noise;
It will make available £10 million to cover remedial works; and
Pandrol Vanguard will eventually be removed from all locations.
Will TfL continue to meet these demands in the long-term?
What is certain is that the General Secretary of RMT, Mick Cash, has cautioned TfL that the union will remain 'vigilant' – as will we.
Tube Asbestos
In a 2020 edition of BC Disease News, readers can expect to find an article on asbestos in the London Underground, which will inspect freedom of information (FOI) requests to evaluate the existence of an EL/PL health risk.
MISCELLANEOUS
Vaping and Shift Work
In-depth feature articles on the potentially adverse effects of shift work and e-cigarettes (or 'vaping') should be anticipated in Q1 of 2020, with exposure sources threatening EL and product liability risks, respectively.
Vaping has been blamed for '200 health problems' over the past year, including lung disease,[19] and several states in the US have banned vape flavouring, in recent months. However, Public Health England (PHE) maintains that vaping is still safe in the UK, with Dr. Nick Hopkinson, Medical Director at the British Lung Foundation, having reassured that:
'The regulations surrounding vaping are very different between the UK and US'.[20]
For comparison, UK products have nicotine strength options of 9mg/ml and 18mg/ml, both of which fall below the maximum levels allowed under EU guidelines (20 mg/ml). Whereas, in the US, some products are rated at 59mg/ml.
So far, no vaping-related deaths have been confirmed in the UK, while 39 deaths have been linked to vaping in the US.[21]
Private Treatment in Mesothelioma and Lung Cancer Cases
Another feature to proceed our winter break will update readers on the latest medical literature on patient outcomes in clinical trials of immunotherapy, virotherapy, chemotherapy and surgery techniques. These are, of course, relevant to future care (private medical) costs in asbestos-related disease claims.
In an announcement, yesterday, the European Commission approved Keytruda immunotherapy as a 1st-line treatment of patients with metastatic or unresectable recurrent head and neck squamous cell carcinoma (HNSCC), meaning that NHS patients with these conditions will soon be able to obtain access.[22]
How long will it take until mesothelioma sufferers can gain access to Keytruda on the NHS?
Metaldehyde Pesticides and Chronic Lyme Disease
We will also continue to report on Defra's 2nd attempt to ban metaldehyde-containing molluscicide and monitor incidence of chronic Lyme disease, which was considered to be an emerging EL disease risk in the agricultural sector, not so long ago.
Embarrassingly for the former Secretary of State for Environment, Food and Rural Affairs, Michael Gove MP, the initial metaldehyde ban was overturned by judicial review challenge, in July of this year.
Potassium Permanganate and Persulphates
Furthermore, we will endeavour to build, where possible, on research into the negative health consequences of potassium permanganate (in the denim industry) and persulphate (in hair dyes) exposures.
Hospital Chemicals
Moreover, we will persist with our investigation on potentially dangerous exposures among hospital workers, which we have reviewed this year:
In the case of surgical smoke, generated by operating tools that 'cut' through target tissue, research indicates that a typical perioperative worker's daily dose of inhaled smoke is equivalent to smoking 27 to 30 tobacco cigarettes.
Respirable Crystalline Silica
Publication of the Government's 'silicosis in construction' inquiry is anticipated in in 2020. Naturally, we will evaluate the position of the All-Party Parliamentary Group (APPG) on Respiratory Health in good time.
Were Unite the union and claimant firm, Thompson's Solicitors, veracious to build their Silica Dust Register?
Prolonged Sitting/Standing
Next year, it is comprehendible that BC Disease News will showcase more studies resembling the Stand More AT (SMArT) Work trial, as employers continue to assess the benefits of optional standing workstations on employee productivity, presenteeism, anxiety, fatigue and back pain.
It is thought that prolonged periods of sitting slows down metabolic rates and increases the risk of cardiovascular mortality, cardiovascular disease, musculoskeletal disorders and type II diabetes.
PART 2
In the next segment of our 'Horizon Scan', we examine how the disease market may fluctuate in 2020, based on recent case law, new legislation and the newest procedural trends that have emerged in 2019.
FUNDAMENTAL DISHONESTY
This year has been, undoubtedly, the year for findings of 'fundamental dishonesty' in PI proceedings, by virtue of s.57 of the Criminal Justice and Courts Act 2015 and CPR 44.16(1).
Of course, it is vital to emphasise that both findings have diverse consequences, these being dismissal of the primary claim (on the grounds that the claimant is 'fundamentally dishonest') and disapplication of qualified one-way costs shifting (QOCS) (on the grounds that the claim is 'fundamentally dishonest'), respectively.


That being said, the threshold required to make findings of 'fundamental dishonesty' under both regimes is gradually converging, as was usefully verified by Mr. Justice Knowles, in Haider v DSM Demolition Ltd [2019] EWHC 2712:
'... it will be rare for a claim to be fundamentally dishonest without the claimant also being fundamentally dishonest, although that might be a theoretical possibility, at least'.
The defining principles of s.57 'fundamental dishonesty' were laid out by Knowles J, in London Organising Committee of the Olympic and Paralympic Games (LOCOG) v Sinfield [2018] EWHC 51 (QB).
The thorn in the side of s.57 has without doubt been continued uncertainty over the legitimacy of applications for determination on 'fundamental dishonesty' pre-trial.
Put simply, if there is clear evidence of 'fundamental dishonesty' from the beginning of the claim, should defendants be forced to file a Defence and incur significant costs up to the date of the trial?
It is right that it is effectively cheaper for defendants to settle disingenuous claims than to follow the appropriate channel and seek proper resolution of 'fundamental dishonesty' elements?
Answering this question directly, in edition 265 of BC Disease News (here), we reported that BC Legal had obtained a finding of s.57 'fundamental dishonesty' at an interlocutory application hearing, before a District Judge sitting at Birmingham County Court. The case was handled by Stuart Bacon:
'BC Legal was instructed to act in a claim with a pleading of knowledge within the past 3 years. However, there was unquestionable evidence of the same claim, albeit abandoned pre-litigation, having been presented over 10 years ago.
...
In essence, our two-fold argument was as follows; in view of the fact that the entire claim would eventually be dismissed, by virtue of s.57, there were "no reasonable grounds" for bringing the claim, which meant that the claim could be struck out immediately [in accordance with CPR 3.4(a)]'.
As a consequence of this novel, 'two pronged' approach, the claim was disposed of both quickly and effectively.
Our client's costs were assessed on the indemnity basis, with no reductions applied to the Schedule of Costs. The Judge also gave leave for the defendant to seek an order for wasted costs (but only if the claimant did not pay within 14 days – they did) for late discontinuance and failure to act upon the 'fundamentally dishonest' warning signs.
In 2020, we will endeavour to report on similar success stories that apply this inventive, dual-limbed submission.
Could case management powers, which allow a judge to call a claimant to give oral evidence at an application hearing [see CPR 3.1(2)(d)], offer a more cost-effective option than proceeding to trial?
CONTEMPT OF COURT
Continuing the general anti-fraud theme, which has dominated case law in 2019, it is worth summarising the mounting appetite and changing attitudes towards contempt of court proceedings.
Expert Contemnor
In one such claim (analysed here), Dr. Asef Zafar was instructed to draft a medical report on a RTA claimant. The report stated that the individual had 'fully recovered' from his injuries 'within a week'. However, Dr. Zafar, on the orders of unimpressed instructing solicitors, amended his original report and concluded that the claimant's symptoms had 'not yet improved' and that he would need '6 to 8 months' for a full recovery.
Bringing committal proceedings at the Court of Appeal,[23] LV= successfully disputed Dr. Zafar's original order for committal, with Sir Terence Etherton MR, Hamblen LJ and Holroyde LJ together finding that the term should have stipulated a sentence 'significantly longer than 6 months' and should not have been suspended.
The judges identified that the lower court had given 'disproportionate weight' to the fact that the expert's misconduct was 'reckless', rather than 'intentional':
'... for the reasons we have given, there was in the circumstances of this case little difference in culpability between those two states of mind'.
Industrial Disease Claimant Contemnor
In another case, Zurich is considering bringing committal proceedings against a 'dishonest' industrial disease claimant, who gave 'misleading statements' in witness evidence, only to discontinue when susceptible to an application that would strike out his statement of case.
69-year-old, David Romaine, sought £5,000 in damages from his defunct employer, pleading that NIHL and episodic tinnitus had developed as a direct consequence of his employment as a fridge engineer, in the 1970's and 1980's. Crucially, he denied that he had any noisy hobbies.
Initially unbeknownst to the EL insurer, the claimant had an 'interest in fast motorcycles, fast cars and guitars'. In fact, he was an electric guitarist and lead singer in a live rock band, which 'regularly' performed at pubs, clubs and festivals across the country.
Having formed new guidance on committal sentencing procedure, it will be intriguing to see, in 2020, whether Zurich proceed with committal proceedings.
EXPERT EVIDENCE
Making an example of the Zafar case (above), practising and retired members of the judiciary have recently given speeches on the importance of preserving both high quality and reliability of expert witness evidence in the Courts.
In conjunction with this, the Expert Witness Institute (EWI) has devised a 'Certified Member' scheme, which, dependant on expert uptake in 2020, could grow to become the 'gold-standard' expert directory, recognised by the judiciary and instructing lawyers as the authoritative source of 'talent ... education, training, understanding and experience'.
Specifically of concern to medical experts, we will seek to monitoring discussions between the Association of Personal Injury Lawyers (APIL) and the Forum of Insurance Lawyers (FOIL), throughout 2020, as they deliberate over a protocol governing the recording of medico-legal examinations. This speculative protocol was recommended by Master Davison, in the case of Mustard v Flower & Ors [2019] EWHC 2623 (QB), as a means to address the legality of admitting 'covertly' recorded evidence (our case summary can be accessed here):
'... an APIL / FOIL agreed protocol is the way forward. Such a protocol would provide an agreed scheme for the recording of examinations and for the reception of such evidence. There would then be no need or incentive for covert recording so that such cases would be unlikely to arise in the future. If they did arise, the protocol would dictate or steer the outcome of an application such as the present one. I hope that the relevant organisations can give attention to this topic in the future'.
EXTENDING THE FIXED COSTS REGIME
Our most recent article on plans to extend Sir Rupert Jackson's recoverable costs scheme was in May 2019 (here), as the legal industry reacted to the MoJ's newly opened consultation.
The 2-month consultation was due to close on 6 June 2019 and we have been waiting on the Government's impending follow-up responses ever since.
Commentators had initially predicted an Autumn 2019 release (which was met by the response to fixed costs in clinical negligence claims), but readers of BC Disease News will now have to wait until next year to read our analysis, should the publication surface either next week, or in December 2019.
Extended Fast Track and 'Intermediate Cases'
The upshot of current proposals is that EL/PL disease claims, valued up to £25,000, would be encompassed within the new and expanded fast track. Meanwhile, claims valued between £25,000 and £100,000 would be designated as 'intermediate cases' and would be assigned to an 'extended fast track'.
Mesothelioma and other asbestos-related disease claims would fall outside of a broadened fixed costs regime, as would any claim whose trial is expected to last longer than 3-days, and also where more than 2 expert witnesses are scheduled to give oral evidence.
See the proposed grids of fixed costs, below.
Pre- and Post-Litigated 'Fast Track Cases':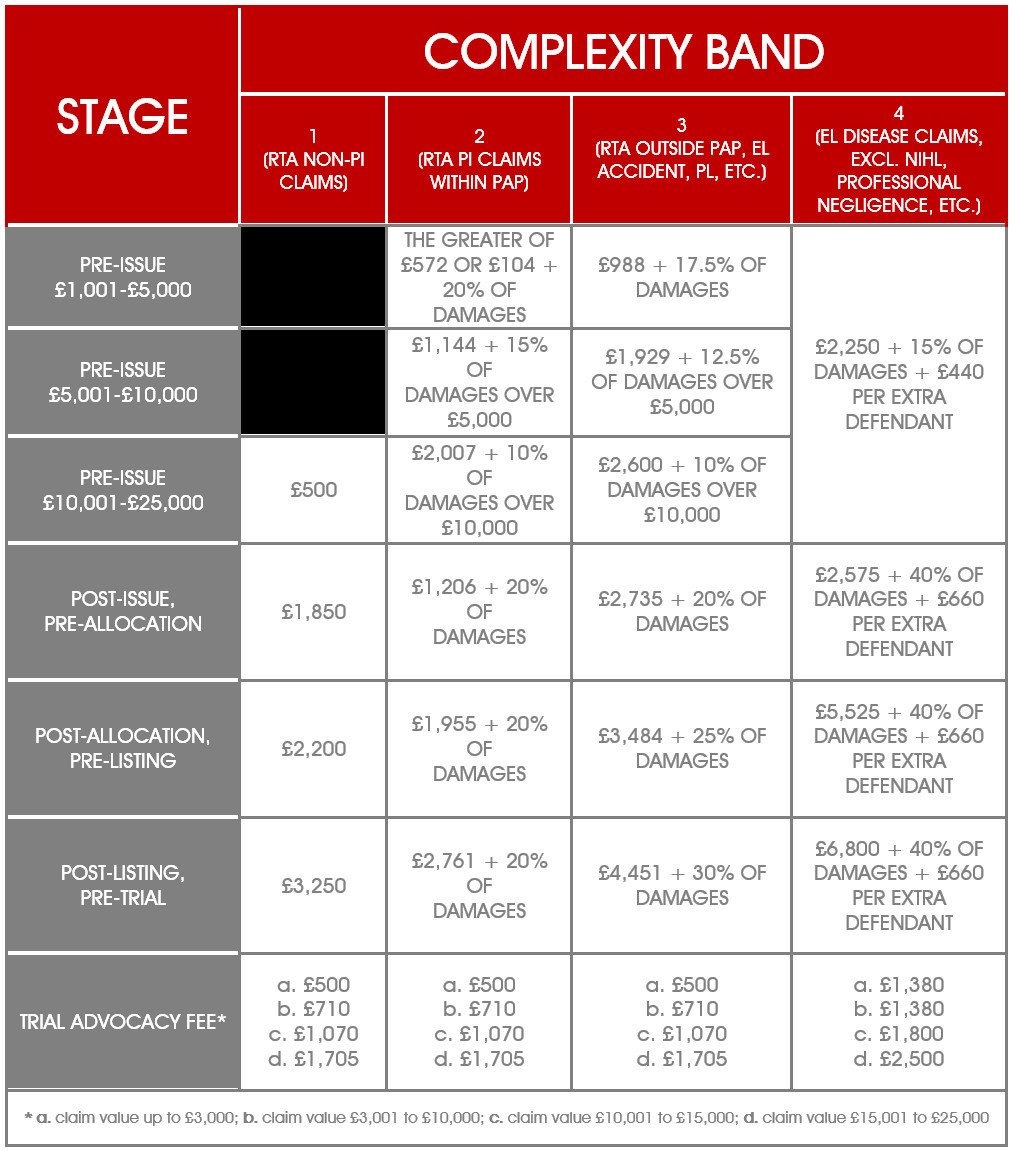 Pre- and Post-Litigated 'Intermediate Cases':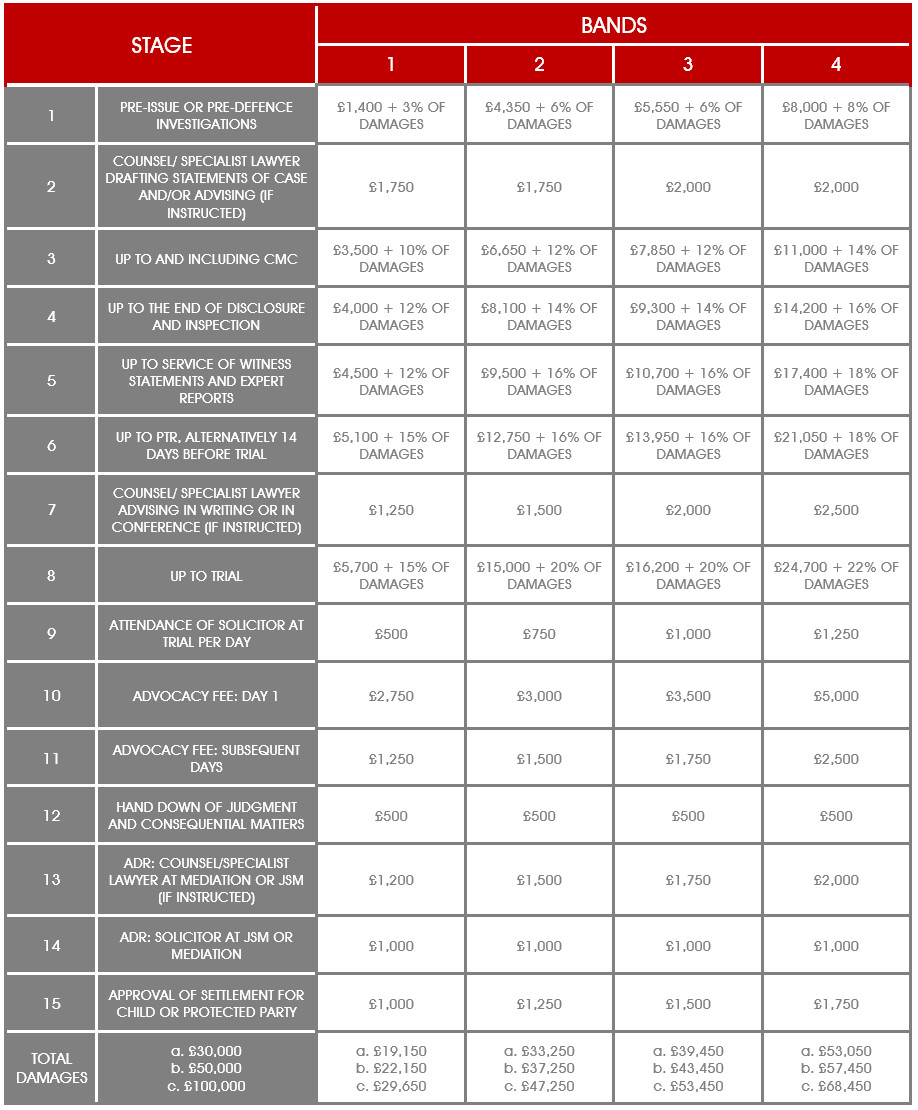 'Bespoke' NIHL Fast Track
For NIHL claims, a 'bespoke' fast track scheme has been conceived, but the appointed Civil Justice Council (CJC) Working Party pinpointed that certain claims would be exempted (i.e. subject to costs as standard), such as:
Single defendant cases, where the defendant puts their name on a list for all their cases to commence within the EL/PL portal;
Single defendant cases commenced within EL/PL portal, which subsequently fall out of the portal;
Military claims;
Claims valued at more than £25,000;
Claims with more than 3 defendants; and
Claims where a defendant, in their letter of response:
Argues that the work-related hearing loss is de minimis;
Submits a request for a repeat audiometry;
Submits a request for own medical evidence (ENT Consultant, etc.); or
That the claim is to be treated as a 'test case' (the scope of this has not been agreed).
For eligible claims, expected costs [exclusive of VAT, reasonable disbursements (but not counsel fees) and restoration fees (£1,280 per defendant excl. VAT)] are displayed in the tables below:
Pre-Litigated NIHL Claims: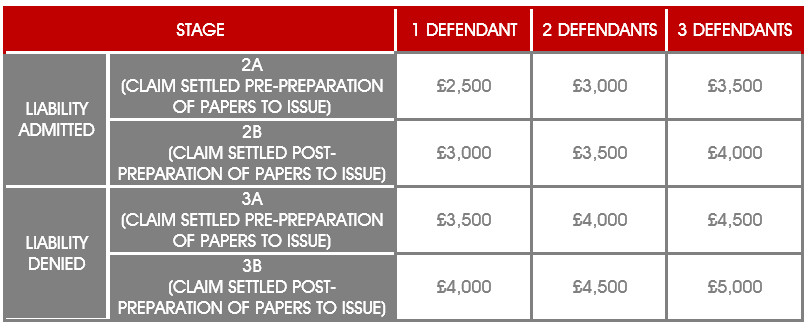 Litigated NIHL Claims: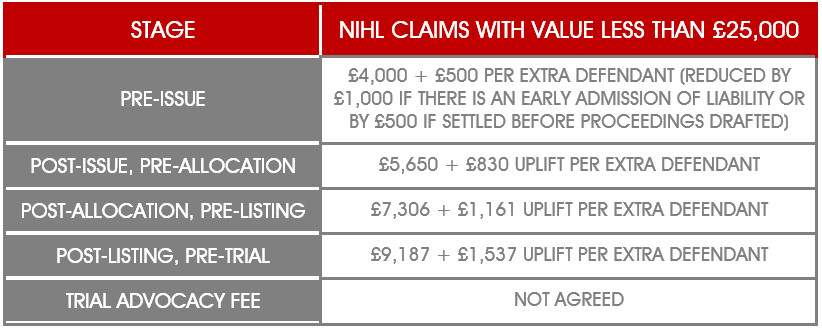 In 2017, we compared current defence spend against fixed fee spend, the results of which were best illustrated by the table below: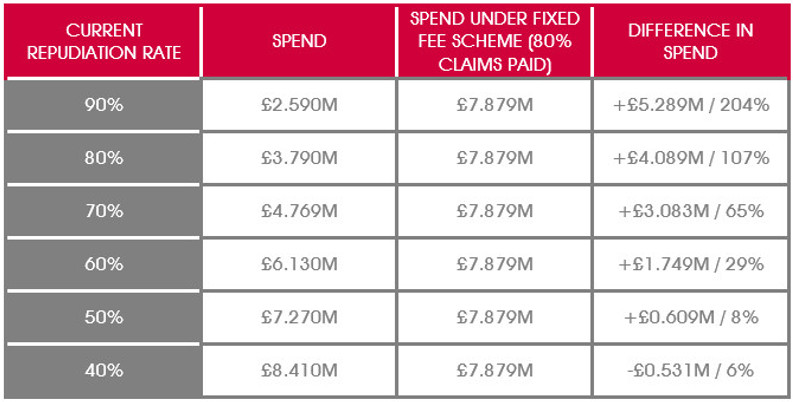 Another issue that we may be required to explore in more depth, in the New Year, is the CJC Working Party's appraisal of 'minimum quality standard' providers of letter of claim-accompanying audiograms. If claims require single audiometry to qualify for fixed costs and audiometric variation is commonplace (this is intensified where the degree of NIHL is lower), the standard will surely have to be nigh-on perfect for defendants to resist making a request for a second audiogram.
RISE IN SMALL CLAIMS LIMIT
Parliament assented to the Civil Liability Act 2018, in December of last year.
In so doing, this put wheels in motion for secondary legislation that would increase the small claims track limit from £1,000 (unamended since 1991) to £5,000 for soft tissue whiplash claims. Further, damages awards would be underpinned by a tariff-based system with new IT portal infrastructure.
The Government has frequently insisted, in 2019, that the package of small claims reforms will be effective from April 2020, at the latest. Further, that the small claims limit will also increase to £2,000 for all other PI claims, including EL/PL claims.
However, the Association of British Insurers' (ABI) Head of General Insurance, James Dalton, believes that the Ministry of Justice (MoJ) will be hard-pressed to release anything other than RTA-based changes by the April 2020 deadline.
'The SCT increase for EL and PL claims remains the Government's policy but ... the time has come to ask whether this policy remains right, especially in the context of the serious amount of work that needs to be done to deliver the wider RTA reforms.
The IT portal build remains on track, but the policy and regulatory underpinnings of the wider package of reform remain a cause for concern ... The reforms to the process for RTA claims are vital to delivering a more efficient compensation system at a proportionate cost ... So ... our collective effort should be on ensuring we get these reforms done and ... done right.
... We should be concentrating on delivering the regulatory underpinnings for an IT platform that supports unrepresented claimants to make whiplash claims by April 2020. I think that not continuing to pursue the proposed increase in the SCT for EL/PL claims, should ensure that all stakeholders are able to focus on the successful delivery of the changes for RTA claims.
Insurers remain committed to making these reforms a reality. But to do so, we need to be pragmatic, focused and ready to make tough compromises. By not pursuing an increased SCT limit for EL/PL claims, insurers are playing our part to help make the RTA reforms a reality'
Confidence in this belief has since been substantiated by the most up-to-date minutes taken in Civil Procedure Rule Committee (CPRC) meetings, which convey that the MoJ has not yet tabled its proposals for civil procedure rule amendments and a new pre-action protocol (PAP) to complement the RTA reforms.
If current guesses are indeed correct, in 2020, RTA-heavy firms may seek to diversify their workload and modify their corporate structure (creation of alternative business structures, for example), as a greater proportion of whiplash claimants pursue claims as litigants in person.
Could we see more entrants to the disease market as PI reforms unfold?
Could the package of reforms be stalled by a Labour general election win?[24]
DISCOUNT RATE
Effective from 5 August 2019 in England and Wales, the PI discount rate (otherwise known as the 'Ogden rate'), which is used to calculate lump sum damages for future losses in high value PI claims, increased from (-)0.75% to (-)0.25%.
We discussed the impact of this 0.5% increase in edition 280 of BC Disease News (here).
Meanwhile, in Scotland, there was no discount rate change, i.e. it remains fixed at (-)0.75%.
In England and Wales, we are awaiting confirmation (or dismissal) that the insurance market will pursue a judicial review challenge of David Gauke MP's legacy as Lord Chancellor, on the grounds that the new rate was based on a miscalculation. His predecessor, David Lidington MP, anticipated that the amended rate 'might be in the region of 0% to 1%', in September 2017.
Elsewhere, in Scotland, we will be keeping tabs on uptake of 'forum shopping', the risk of which has only been intensified by passage of the Civil Litigation (Expenses and Group Proceedings) (Scotland) Act 2018.
Not only may claimants, who are able to choose whether to bring their PI claims in English and Welsh or Scottish jurisdictions, now stand to obtain larger compensation awards in Scotland, they may also do so with the advantage of qualified one-way costs shifting (QOCS) protection.
What effect might 'forum shopping' have on insurers and the exhaustion of reserves?
THE FATAL ACCIDENTS ACT 1976 (REMEDIAL) ORDER 2019
Section 2 of the proposed Fatal Accidents Act 1976 (Remedial) Order 2019 may soon reflect the Master of the Rolls' judgment in Smith v Lancashire Teaching Hospitals NHS Foundation Trust& Ors (Rev 2) [2017] EWCA Civ 1916.
In Smith, it was decided that the list of beneficiaries entitled to bereavement damages, under s.1A(2) of the Fatal Accidents Act 1979 (FAA) should mirror s.1(3)(b) of the FAA (the list of beneficiaries entitled to 'dependency' awards). The FAA was therefore declared incompatible with the European Convention of Human Rights (ECHR), pursuant to s.4 of the Human Rights Act 1998:
'... in the context of bereavement damages under section 1A of the FAA, the situation of someone like Ms Smith, who was in a stable and long term relationship in every respect equal to a marriage in terms of love, loyalty and commitment, is sufficiently analogous to that of a surviving spouse or civil partner to require discrimination to be justified in order to avoid infringement of Article 14 in conjunction with Article 8 [of the European Convention on Human Rights] … it is the intimacy of a stable and long term personal relationship, whose fracture due to death caused by another's tortious conduct will give rise to grief which ought to be recognised by an award of bereavement damages, and which is equally and analogously present in relationships involving married couples and civil partners and unmarried and unpartnered cohabitees'.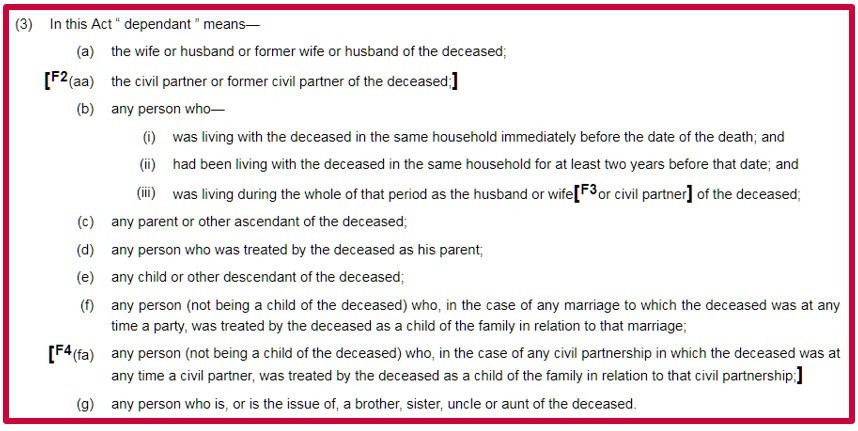 As such the Ministry of Justice's (MoJ) 2019 publication: A proposal for a Remedial Order to amend the Fatal Accidents Act 1976 confirms that 'a claimant who cohabited with the deceased person for a period of at least two years immediately prior to the death' would be able to pursue a claim for 'bereavement' damages.
The Proposal, which was presented under the 'non-urgent' procedure, is currently with the Joint Committee on Human Rights.[25]
In the event that the Remedial Order is signed into law ('made') in 2020, the explanatory memorandum predicts that:
'There is likely to be some impact on the insurance industry in meeting claims for 'bereavement' damages from the additional category of claimant under this amendment.
However ... the likely number of future awards for damages under this amendment to be low and the financial impact too small to justify preparing a full Impact Assessment for this instrument'.
Next year, we will inevitably comment on whether the effects of the Remedial Order transpire as projected.
[1] Abou-Donia et al, 'Autoantibody markers of neural degeneration are associated with post-mortem histopathological alterations of a neurologically-injured pilot' (2014) 14 Journal of Biological Physics and Chemistry (posted online 26 July 2014) <http://www.farmlandbirds.net/sites/default/files/autoantibody%20markers%20westgate_0.pdf> accessed 19 September 2019.
[2] House of Lords Science and Technology Committee (2000) (n 6) [1.68]-[1.73].
[3] CAA, 'Cabin Air Quality' (CAA Paper 2004/04, February 2004) Chapter 1, Section 4 <http://www.skybrary.aero/bookshelf/books/2083.pdfhttp:/www.skybrary.aero/bookshelf/books/2083.pdf> accessed 19 September 2019.
[4] CAA, 'Cabin Air Quality –What is the Quality of Air on Board an Aircraft' (faqs) <http://www.caa.co.uk/default.aspx/default.aspx?Catid=923&pagetype=70&gid=924&faqid=907> accessed 19 September 2019.
[5] Department for Transport, 'Cabin Air Quality – Frequently Asked Questions (faqs)' (Gov.uk, 21 June 2012) <https://www.gov.uk/government/publications/cabin-air-quality-faq> accessed 19 September 2019.
[6] COT, 'Position Paper on Cabin Air' (December 2013) <http://cot.food.gov.uk/cotstatements/cotstatementsyrs/cotstatements2013/cotpospacabair> accessed 19 September 2019.
[7] BALPA, 'Cabin Air Quality' <http://www.balpa.org/About-BALPA/Publications/Position-Statements/Cabin-Air-Quality.aspx> accessed 19 September 2019.
[8] Institute of Environment and Health, Cranfield University, 'Aircraft Cabin Air Sampling Study ; Part 1 of the Final Report' (March 2011) <http://www.cranfield.ac.uk/about/people-and-resources/schools-and-departments/school-of-applied-sciences/groups-institutes-andcentres/ieh-reports-/air-pollution/aircraft-cabin-air-sampling-study_part1.pdf> accessed 19 September 2019.
[9] IOM, 'Cabin Air – Surface Residue Study: Report' (Research Report TM/11/06, March 2012) <http://www.iomworld.org/pubs/IOM_TM1106.pdf> accessed 19 September 2019.
[10] EASA Final Report EASA_REP_RESEA_2014_4 Research Project: CAQ Preliminary cabin air quality measurement campaign <https://www.easa.europa.eu/system/files/dfu/EASA%20CAQ%20Study%20Final%20Report_21.03.2017.pdf> accessed 19 September 2019.
[11] EASA Final Report EASA_REP_RESEA_2015_2 Research Project: AVOIL Characterisation of the toxicity of aviation turbine engine oils after pyrolysis <https://www.easa.europa.eu/system/files/dfu/EASA%20AVOIL_final%20report_final%20version_160217.pd> accessed 19 September 2019.
[12] Michael Bagshaw, 'Health Effects of Contaminants in Aircraft Cabin Air' (Summary Report v2.5, August 2013) accessed 17 September 2014.> accessed 19 September 2019.
[13] Scott Reid, 'Construction services expert joins board of Edinburgh's Reactec' (4 October 2019 The Scotsman) <https://www.scotsman.com/business/construction-services-expert-joins-board-of-edinburgh-s-reactec-1-5017415> accessed 20 November 2019.
[14] James Moore, 'Text neck, selfitis and the very 21st century illnesses you need to be wary of' (21 October 2019 The Mirror) <https://www.mirror.co.uk/lifestyle/health/text-neck-selfitis-very-21st-20667953> accessed 20 November 2019.
[15] 'Taxi drivers face highest levels of exposure to black carbon compared to other professional drivers' (29 September 2019 European Respiratory Society) https://www.ersnet.org/the-society/news/taxi-drivers-face-highest-levels-of-exposure-to-black-carbon-compared-to-other-professional-drivers> accessed 7 October 2019.
[16] Mackay DF et al., Neurodegenerative Disease Mortality among Former Professional Soccer Players. N Engl J Med 2019; 381:1801-1808<https://www.nejm.org/doi/full/10.1056/NEJMoa1908483?query=featured_home> accessed 12 November 2019.
[17] 'MHRA statement on Allergan' (19 July 2018 GOV.UK) <https://www.gov.uk/government/news/mhra-statement-on-allergan> accessed 20 November 2019.
[18] 'TfL's Annual Workforce Monitoring Report 2016/17' (TfL) <http://content.tfl.gov.uk/tfl-2016-17-annual-workforce-report.pdf> accessed 20 November 2019.
[19] Peter Stubley, 'Vaping 'linked to 200 health problems in UK including pneumonia' (29 September 2019 The Independent) <https://www.independent.co.uk/news/health/vaping-uk-pneumonia-lung-disease-deaths-us-mhra-e-cigarette-a9125581.html> accessed 22 November 2019.
[20] Lucy Middleton, 'Is vaping in the UK safe after seven people died?' (17 September 2019 Metro) <https://metro.co.uk/2019/09/17/vaping-uk-safe-seven-people-died-10759247/> accessed 22 November 2019.
[21] Emma Snaith, 'Vaping deaths: Are e-cigarettes really safer than smoking tobacco? A complete guide to the facts' (12 November 2019 The Independent) <https://www.independent.co.uk/infact/vaping-deaths-disease-illness-safety-tobacco-e-cigarette-smoking-juul-thc-a9127836.html> accessed 22 November 2019.
[22] Anna Smith, 'EU approval for Keytruda in head and neck cancer' (21 November 2019 Pharma Times) <http://www.pharmatimes.com/news/eu_approval_for_keytruda_in_head_and_neck_cancer_1317841> accessed 22 November 2019.
[23] Liverpool Victoria Insurance Company v Khan [2019] EWCA 392 (Civ).
[24] Neil Rose, 'Labour makes limited pledge on PI reform rollback' (21 November 2019 Legal Futures) <https://www.legalfutures.co.uk/latest-news/labour-makes-limited-pledge-on-pi-reform-rollback> accessed 22 November 2019.
[25] 'Fatal Accidents Act 1976 (Remedial) Order 2019' (Parliament.uk) <https://www.parliament.uk/business/committees/committees-a-z/joint-select/human-rights-committee/remedial-orders1/fatal-accidents-remedial-order-launch-17-19/> accessed 20 November 2019.