INTRODUCTION
For over 2-years, we have been monitoring the link between professional football and degenerative brain disease. In particular, we have questioned the interesting role that cumulative, low-level impact, sub-concussive head trauma, occasioned when heading a football, may play in this debate.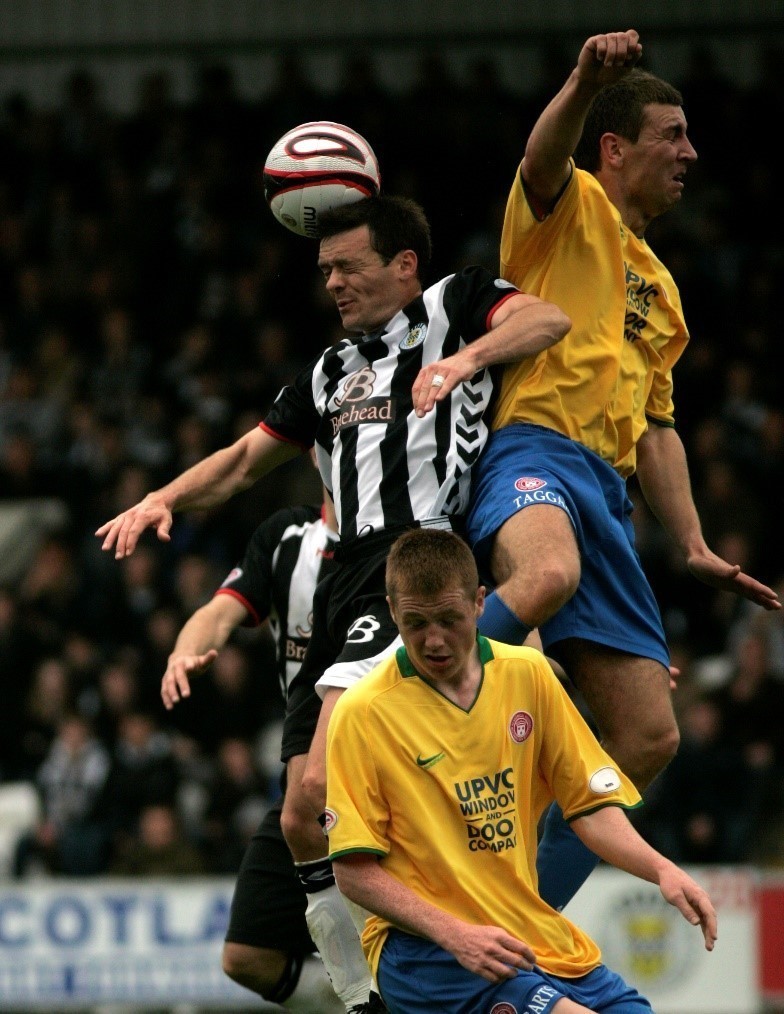 [Source: Wikimedia Commons – Alasdair Middleton (23 May 2009): 'Header (St Mirren 0-1 Hamilton Academical May 2009']
A fortnight ago, 'landmark' research on this topic was published and the study findings form the basis of this feature article.
WHAT IS CTE?
Chronic traumatic encephalopathy (CTE), also known as dementia pugilistica and 'punch drunk syndrome', is a dementia sub-type, which has been known to affect professional athletes, especially boxers and American football (NFL) players.
Positive CTE diagnoses usually follow post-mortem observations of tau protein build-up in the brain. Tau provides structural support to microtubules in cranial nerve cells and when these cells are damaged, tau clumps together in so-called 'tau tangles'. Presence of tau in this formation is believed to be associated with progressive nerve damage and is a defining feature of CTE.
However, as we reported in edition 289 of BC Disease News (here), positron emission tomography (PET) scanning may soon be able to supply imaging that substantiates CTE diagnoses in living patients.
THE DEATH OF JEFF ASTLE IN 2002 – IS THERE A LINK BETWEEN CTE AND FOOTBALL?
To date, CTE has been diagnosed in 2 deceased ex-professional footballers.
In 2002, former West Bromwich Albion and England footballer, Jeff Astle, choked to death, aged 59, having been diagnosed with early-onset Alzheimer's 5-years prior. At the inquest of his passing, appointed coroner, Andrew Haigh, claimed that the fatality was the result of an 'industrial disease', brought about by the repeated trauma of heading footballs.
Unlike the footballs in use today, whose size, weight and pressure' accounts for medical risks,[1] play used to consist of:
'... big heavy leather balls [1 lb] that when wet, gained water and were three and a half times heavier. In bad weather it used to freeze solid'.
Subsequently, in 2014, consultant neuropathologist, Dr. Willie Stewart, re-investigated Mr. Astle's brain and detected CTE – a novel diagnosis.[2]
This sparked the creation of the Jeff Astle Foundation, which, in turn, led to the 2nd diagnosis of CTE in ex-professional, Rod Taylor, in 2018 (reported in BC Disease News, here). Again, Dr. Stewart was the diagnosing clinician.
To-date, the foundation has attracted the support of 400 families of players with dementia.
THE PATH WHICH LED TO THE FIELD STUDY
Although the Football Association (FA) has no record of written correspondence, The Telegraph has seen letters from Dr. Mike Sadler, Clinical Director to the Professional Footballers' Association (PFA) between 1993 and 1997, who called for research into the potential link between football and dementia, only to be met with a 'dismissive' response from Chief Executive, Gordon Taylor.[3]
In the same decade, Baroness Elaine Murphy also apparently warned the FA that authors of a medical journal article had called for targeted research into this issue.
However, it was not until 2001 that the Professional Footballers' Association PFA and the FA instigated 'forward-looking, longitudinal' research to identify any relationship between 'playing football and increased risk of chronic neurological disease'. The proposed decade-long study was supposed to track 32 elite footballers under the age of 20.
The Industrial Injuries Advisory Council (IIAC) was also approached by both Associations, in 2003, with a view to future industrial disease prescription.[4]
Then, in 2014, it was revealed that football bodies had long-since been abandoned the 10-year PFA and FA-led study[5] without informing the public. Various participants had dropped out of professional football and, of those that remained, follow-up ceased to continue after 5-years.
Amid mounting pressure to classify CTE as an 'industrial disease', undoubtedly ramped-up by Dr. Stewart's contributions, a new commitment was made, in 2017, for the PFA to donate £125,000 of its £50 million annual budget to undertake new research on this emerging issue.
In November of that year, Dr. Stewart was appointed to commence Football's InfluencE on Lifelong health and Dementia risk (FIELD), which would, over the course of 22-months, evaluate incidence of degenerative neurocognitive disease.
In the interim, the Honorary Clinical Associate Professor of Glasgow University discovered that three-quarters of football and rugby player brains examined had exhibited dementia pathology (read our summary, here).
FIELD RESULTS PUBLISHED
FIELD assessed mortality among 7,676 ex-professional male footballers, all of whom played in Scotland and were born between 1900 and 1976.
Brain pathologies were compared against a percentage of 23,028 control subjects in the general population, who died over the same 18-year period.
This is the 'largest study' to-date to investigate incidence of neurodegenerative disease in any sports personnel.
Results, published weeks ago, in the New England Journal of Medicine,[6] showed that footballers had:
A 5-fold increase in risk of Alzheimer's disease;
A 4-fold increase in risk of motor neurone disease (read more about the association here);
A 3.5-fold increase in risk of dementia; and
A 2-fold increase in risk of Parkinson's disease.
It is, perhaps, telling that goalkeepers were administered half the medication doses for dementia that outfield players were – 'the suggestion is that this is to do with head injuries or head impacts' being less common for goalkeepers.
WOULD THESE REULTS BE REPLICATED IN FEMALE FOOTBALLERS?
New research, emerging from the University of North Carolina, has found that female footballers may be at heightened risk of neurodegenerative disease, compared to their male counterparts.
In the Paediatrics journal,[7] it was revealed that the second highest concussion rate was in high school female footballers (8.19 concussions per 10,000 athletic exposures). This was more than double the concussion rate in high school male footballers (3.57 concussions per 10,000 athletic exposures).
What is more, 25% of concussions among females were deemed to have been caused by heading, while 50% were due to collisions among players and hitting their heads on the turf. [8]
Speculating as to why the risk might be so much higher in females than in males, the study authors observed the anatomical differences, namely that 'girls have smaller, weaker necks than boys, which make their heads more susceptible to trauma, and hormones could also play a factor'. A non-biological explanation behind increased concussion rates in the female population is that they may simply be more likely to report the condition than members of the opposite sex.
In response to this study, Boston University CTE Centre launched the first ever study on long-term repetitive head impacts in a female-only cohort of footballers, called Soccer, Head Impacts and Neurological Effects (SHINE).[9] 20 former professionals,[10] over the age of 40, are participating. They will undergo MRI scanning, cognitive evaluation, blood tests, and a (optional) spinal tap, in the search for possible CTE indicators, such as biomarkers and genetic makeup.
Lead investigator and Professor of Neurology, Dr. Robert Stern, admits that women have been 'understudied' in the past[11] - only 2 women have ever been diagnosed with any-cause CTE.
To plug the void in knowledge within the next couple of year may be part of an intelligent strategy, as women's football is rapidly growing in popularity and recognition. As Dr. Stern expounded:
'… in the last few decades, as the soccer ball has changed, the amount of heading that happens during play has dramatically increased.
Prevalence of CTE in women is unknown - College and professional soccer didn't become mainstream for women until the 1970s, after Title IX, so the first population of female professional soccer players is now reaching an age, in their late 40s and early 50s'.
Currently, there are well over 100,000 male professional footballers in the world [12] and, although the FA states that 2.63 million women over the age of 16 played football in England, in 2019, [13] only a diminutive fraction (120,557) played 'organised football' [read the FIFA Women's Football Member Associations Survey Report (2019)].
In addition, under FIFA Regulations on the Status of Players,[14] a minority (18%) of the 3,600 global female footballers playing in the highest national leagues and national teams were officially classified as 'professionals' [read the FIFPro Global Employment Report (2017)].
Put simply, if it transpires that there is a connection between heading faster-moving, synthetic footballs and neurodegenerative disease risk, governing authorities would be wise to show solidarity in their approach towards both sexes. [15]
WHAT PRECAUTIONARY ACTION (IF ANY) SHOULD BE TAKEN POST-FIELD?
Dr. Stewart considers that the 'status quo', post FIELD, is that there is 'enough [evidence] to say that it [heading] probably or might or could be the problem', but not enough evidence to definitively prove the link:
'Given that research from people with head injuries in car crashes had produced similar results, it is a working hypothesis that exposure to head injuries, through collisions or fouls or heading, could be the decisive factor'.[16]
It is his expert opinion that a 'solid evidence-base' may take another 5, 10 or 20 years to compile.
As a result, he does not believe that heading, being a 'glorious part of football', should be banned from the 'spectacle'.
Having acknowledged that heading is the 'most likely trigger' and could involve 'miniscule, tiny, microscopic changes in the brain, maybe accumulating over a ten-year period … which might take 30 or 40 years to reveal themselves', he feels that certain restrictions can be introduced without detrimental effect. Henceforth, he is urging 'immediate' action from the relevant authorities on the following concepts:
The introduction of concussion substitutes in football, whereby a temporary substitute comes on for 10-minutes while a player is better assessed – this is under consideration with the International Football Association Board, with Dr. Stewart having branded football's current brain injury management a 'shambles'.[17]
Uniform protocol on coaching heading through Europe, introduced across Union of European Football Association (UEFA) federations, particularly at youth level – this could limit heading training to once-per-week.[18] As a FA advisor, Dr. Stewart says that there is no longer any benefit served by heading in youth football – under US Soccer Federation rules, children aged 10-and-under are no longer allowed to head the ball, while 11 to 13 year-olds have limited header training.[19] Could younger players be made to practise their technique with a 'soft plastic ball'?[20]
More specific research to track current and recently retired footballers and observe their brain development over time.
The introduction of a national database to collate causes of death from brain diseases affecting sportsmen and women, as has previously been the case for other industrial injuries, including bovine spongiform encephalopathy (BSE)-induced Creutzfeldt-Jakob disease (CJD), commonly known as 'Mad Cow disease'.
FIELD study findings were presented to the FIFA Council in Shanghai last month, with Gordon Taylor 'disappointed' that the international body has not led on an issue which has been 'high' on the PFA's agenda for more than 20 years.
Aiming to introduce concussion substitutes 'as quickly as possible',[21] Mr. Taylor underscored that it is 'incumbent on football globally to come together to address this issue in a comprehensive and united manner', pledging full support on future related research.[22]
The Scottish FA has also declared that it will be contacting counterparts at UEFA and FIFA to establish a global response.[23]
Back in 2017, FIFA claimed that there was 'no true evidence' of any connection between heading footballs and degenerative brain disease and in many respects, this is still, at least to some extent, correct.
Elsewhere, FA Chairman, Greg Clarke, has stated that this is 'only the start' of gaining a true understanding of the possible issues, with 'many questions that still need to be answered'. [24]
Why, for example, did professional footballers not (on average) die earlier of dementia than members of the FIELD control group?
In reality, FIELD was not intended make any meaningful determination as to what exactly caused the increased rates of dementia and is not likely to bring about instant change. For this specific reason, the independently chaired Medical & Football Advisory Group has arrived at the conclusion that there is not enough evidence to make significant changes to the way that the modern-day game is played.[25]
On that basis, have the FA and PFA discharged their duties of care as officiating organisations?
Sceptical of limited players' association intervention up-to now, the Astle family is, among other things, calling for a government inquiry to ask why past warnings about football and dementia were not acted upon more swiftly:
'The government should step in. When did football know? What did they do? There should be a full inquiry into what people knew'.[26]
DID THE INDUSTRY KNOW ABOUT THE POSSIBLE RISK A VERY LONG TIME AGO?
Volume 1, Issue 6 of the Football League Review, which shortly proceeded England's 1966 World Cup victory, has been dug-up in the wake of the FIELD study, as it includes an article entitled: 'Danger in heading the ball'.[27]
Our special thanks go out to football programme writer, Ian Hine, for allowing us to publish a copy of his photocopy.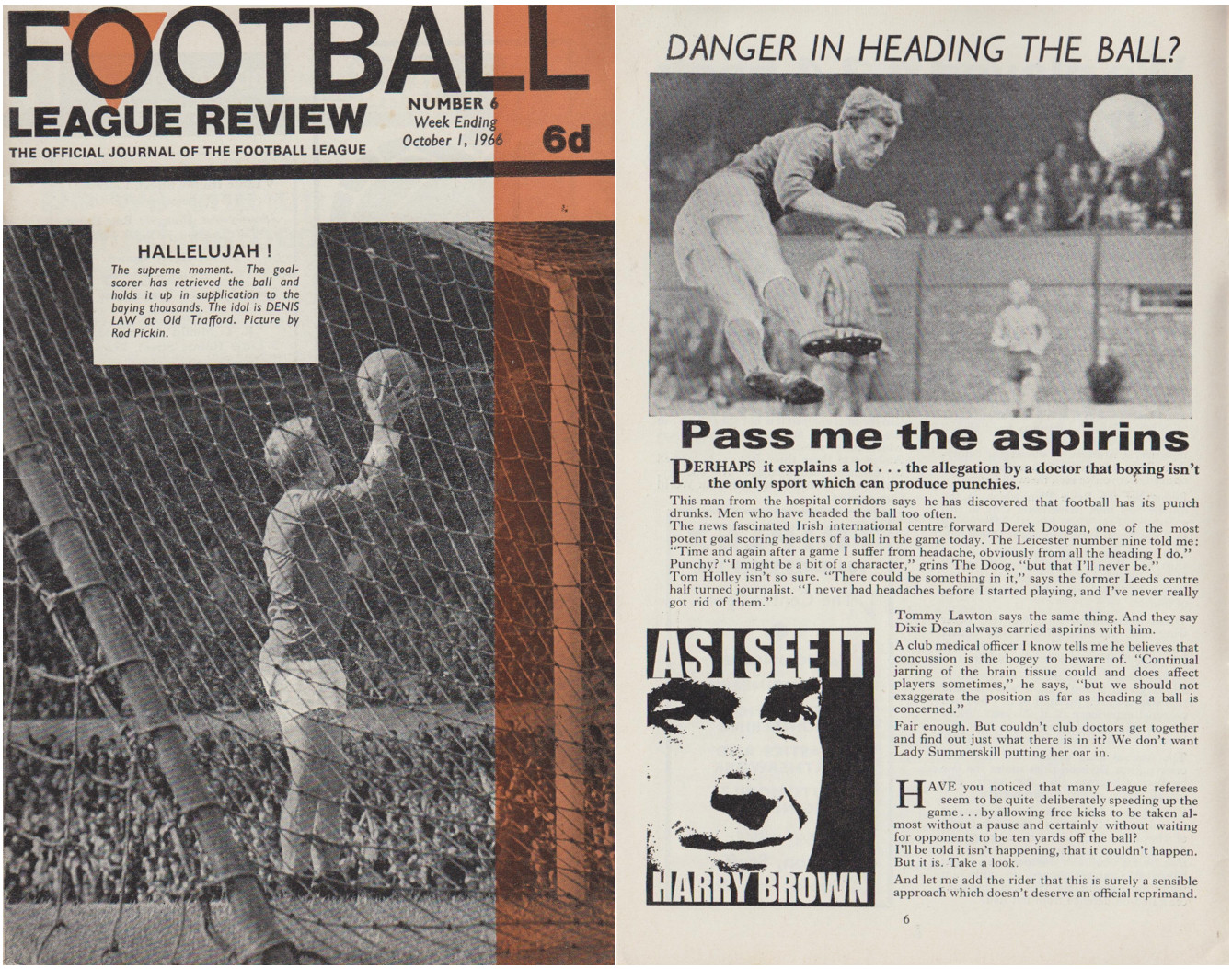 [Source: Flickr – Seagulls Programmes (4 November 2018) – 'Football League Review Vol 1 No 6']
The provocative item explains that heading the ball 'too often' may present a health hazard, mentioning individual cases of players complaining of headaches and frequently taking aspirins to quell the pain.
Most interesting, is the quotation taken from a club medical officer:
'… concussion is the bogey to beware of. "Continual jarring of the brain tissue could and does affect players sometimes … but we should not exaggerate the position as far as heading a ball is concerned"'.
It would appear that a bid for club doctors to 'get together and find out just what there is in it' 53-years ago fell on deaf ears.
OTHER UPCOMING RESEARCH
In edition 273 (here), we reported that the Drake Foundation had joined forces with FIFPro to undertake 'the most comprehensive' global study on the mental, musculoskeletal (cartilage), neurocognitive and cardiovascular health of 200 professional footballers. This has now been launched.
We have also recently been made aware that the London School of Hygiene & Tropical Medicine, Queen Mary University of London and the Institute of Occupational Medicine, have been recruiting for a new study [HEalth and Ageing Data IN the Game of football (the HEADING study)], also funded by the Drake Foundation, that will examine the link between heading the ball and long-term cognitive decline, among 300 former professionals aged 50 and over.
Damien McElvenny & John Cherrie, of the Institute of Occupational Medicine, best describe what separates this study from those that have preceded it:
'For the first time this study will include a detailed assessment of players' football heading histories, which could be influenced by factors such as position played, decade of play and level played at'.[28]
Moreover, brain injury charity, Headway, has invited future research to 'focus on the relative risks of heading lightweight modern footballs'.[29]
[1] 'Wife of Jeff Astle frustrated with FA over death' (18 January 2012 BBC News) <http://www.bbc.co.uk/news/uk-england-16610029> accessed 5 October 2017.
[2] 'Jeff Astle: West Brom legend "killed by boxing brain condition"' (1 June 2014 BBC) <https://www.bbc.co.uk/news/uk-england-birmingham-27654892> accessed 4 October 2019.
[3] Jeremy Wilson, 'Exclusive: PFA 'ignored' doctor's warning over brain damage in 1993' (20 March 2018 The Telegraph) <https://www.telegraph.co.uk/football/2018/03/20/pfa-ignored-doctors-warning-brain-damage-1993/> accessed 14 November 2019.
[4] 'PFA OUTLINES FURTHER 'HEAD INJURIES' RESEARCH' (26 September 2014 PFA) <https://www.thepfa.com/news/2014/9/26/pfa-outline-further-head-injuries-research> accessed 4 October 2019.
[5] Daniel Taylor, 'Long live The King: how the FA failed to address the case of Jeff Astle' (22 March 2014 The Guardian) <https://www.theguardian.com/football/blog/2014/mar/22/jeff-astle-west-bromwich-albion-fa-head-injury> accessed 4 November 2019.
[6] Mackay DF et al., Neurodegenerative Disease Mortality among Former Professional Soccer Players. N Engl J Med 2019; 381:1801-1808<https://www.nejm.org/doi/full/10.1056/NEJMoa1908483?query=featured_home> accessed 12 November 2019.
[7] Kerr ZY et al., Concussion Incidence and Trends in 20 High School Sports. Pediatrics (October 2019), e20192180;<https://pediatrics.aappublications.org/content/pediatrics/early/2019/10/11/peds.2019-2180.full-text.pdf> accessed 11 November 2019.
[8] Kayla Brantley, 'Teen girls suffer as many concussions playing SOCCER as boys do playing football' (4 November 2019 Daily Mail) <https://www.dailymail.co.uk/news/article-7645785/Soccer-just-dangerous-teen-girls-football.html> accessed 11 November 2019.
[9] 'How Does CTE Impact Women? Former Soccer Stars Join the First All-Female CTE Study at BU' (3 July 2019 THE BRINK) <http://www.bu.edu/articles/2019/former-soccer-stars-join-first-all-female-cte-study/> accessed 11 November 2019.
[10] They must have played at least 5-years of organised football and at least 1-year on the US national team, the US Olympic team, or at professional level.
[11] Merritt Enright, 'Does heading soccer balls hurt women's brains? U.S. soccer stars take part in new study' (25 October 2019 NBC News) <https://www.nbcnews.com/health/health-news/does-heading-soccer-balls-hurt-women-s-brains-u-s-n1071621> accessed 11 November 2019.
[12] 'GLOBAL SPORTS SALARIES SURVEY 2017' (2017 GSS) <http://globalsportssalaries.com/GSSS%202017.pdf> accessed 15 November 2019.
[13] 'England's Women's World Cup run inspires growth in football participation' (5 November 2019 BBC) <https://www.bbc.co.uk/sport/football/50300768> accessed 11 November 2019.
[14] 'A professional is a player who has a written contract with a club and is paid more for his (sic) footballing activity than the expenses he (sic) effectively incurs. All other players are considered to be amateurs'.
[15] Jeremy Wilson, 'The world knows now': the women who fought for justice in football's dementia scandal' (25 October 2019 The Telegraph) <https://www.telegraph.co.uk/football/2019/10/25/world-knows-nowthe-women-fought-justice-footballs-dementia-scandal/> accessed 11 November 2019.
[16] Rob Draper and James Sharpe, '"We should have been grieving for my dad not fighting for justice!": Jeff Astle's family lament "wasted years of non-action"' (26 October 2019 The Daily Mail)
[17] Graham Spiers, 'I wouldn't ban it but football needs to think what to do about heading the ball ' (29 October 2019 The Times) https://www.thetimes.co.uk/edition/scotland/i-wouldnt-ban-it-but-football-needs-to-think-what-to-do-about-heading-the-ball-zntqk5qpw> accessed 4 October 2019.
[18] Jeremy Wilson, 'Exclusive: Calls for ban on young players heading footballs as brain-injury expert says under 18s are in danger' (21 October 2019 The Telegraph) <https://www.telegraph.co.uk/football/2019/10/21/calls-ban-young-players-heading-footballs-brain-injury-expert/> accessed 12 November 2019.
[19] Jack de Menezes, 'US Soccer ban heading the ball for children over fears of concussion and head injuries' (10 November 2017 The Independent) <http://www.independent.co.uk/sport/football/news-and-comment/us-soccer-ban-heading-the-ball-for-children-over-fears-of-concussion-and-head-injuries-a6728341.html> accessed 5 October 2017.
[20] Stephen Matthews, 'Under-12s should be BANNED from heading footballs amid fears the repeated blows may lead to dementia, ex-Scottish FA chief warns' (24 October 2019 The Daily Mail) <https://www.dailymail.co.uk/health/article-7608231/Former-head-Scottish-FA-calls-children-BANNED-heading-footballs.html> accessed 12 November 2019.
[21] Jack Fox, 'FA boss calls for rolling subs to help in fight with dementia' (22 October 2019 Metro) <https://www.metro.news/fa-boss-calls-for-rolling-subs-to-help-in-fight-with-dementia/1769533/> accessed 4 November 2019.
[22] Barry Glendenning, 'We know football and dementia are linked. So what will the game do about it?' (28 October 2019 The Guardian) <https://www.theguardian.com/football/2019/oct/28/football-dementia-neurological-disorders-jeff-astle> accessed 4 November 2019.
[23] Kevan Christie, 'Ex footballers five times more likely to die from Alzheimer's disease, finds Scottish study' (21 October 2019 The Scotsman) <https://www.scotsman.com/health/ex-footballers-five-times-more-likely-to-die-from-alzheimer-s-disease-finds-scottish-study-1-5029929> accessed 15 November 2019.
[24] Study reveals dementia risk in former professional footballers' (21 October 2019 University of Glasgow) <https://www.gla.ac.uk/news/headline_681082_en.html> accessed 15 November 2019.
[25] 'Our response to the effects of football on ex-professional players' (24 October 2019 The FA) <http://www.thefa.com/news/2019/oct/21/field-research-study-findings-211019> accessed 15 November 2019.
[26] Jeremy Wilson, 'Revealed: Footballers five times more likely to suffer from Alzheimer's disease, landmark study finds' (21 October 2019 The Telegraph) <https://www.telegraph.co.uk/football/2019/10/21/footballers-five-times-likely-suffer-alzheimers-disease-landmark/> accessed 15 November 2019.
[27] Jordan Seward, 'Football chiefs were warned that frequently heading leather balls could cause serious brain injuries by medics in 1966... 53 years BEFORE landmark report reinforced the link' (23 October 2019 The Daily Mail) <https://www.dailymail.co.uk/sport/sportsnews/article-7603657/Football-chiefs-warned-dangers-heading-leather-balls-medics-1966.html> accessed 15 November 2019.
[28] 'Recruitment for scientific study into brain health of former professional footballers begins' (July 2019 IOM) <https://www.iom-world.org/iomtoday/2019/july/recruitment-starts-for-major-scientific-study-examining-the-brain-health-of-former-professional-association-footballers/?utm_sq=g5zg2wzemj&utm_source=_SmarterQueue_&utm_medium=social&utm_campaign=_IOM50_&utm_content=_Blog_> accessed 15 November 2019.
[29] 'Dementia in football: Ex-players three and a half times more likely to die of condition' (21 October 2019 BBC) <https://www.bbc.co.uk/sport/football/50124102> accessed 15 November 2019.