'Surgical smoke' is a toxic product of many medical operations, which will commonly rely on the use of electrocautery (scraping lesions from the skin surface), laser surgery and ultrasonic scalpel devices.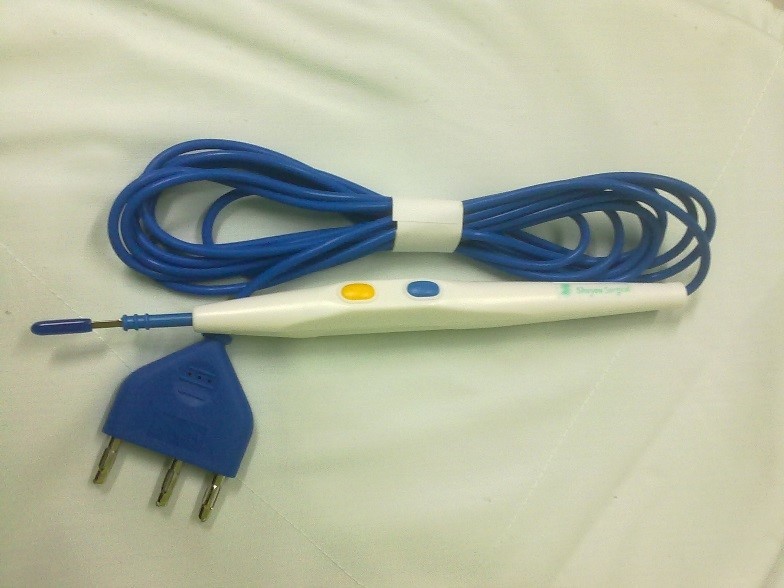 [Source: Wikimedia Commons – SnowBink (26 October 2013): 'Electrocauter']
How Does Surgery Create 'Smoke'?
Electrosurgery, or diathermy, is a surgical technique, dating back to the late 19th century,[i] which uses electrical currents.
By passing a low-voltage, high-frequency current through an electrosurgical tool, such as an electrocauter (pictured above), this rapidly increases intracellular water temperature. As a result, cells explode and the operator is effectively able to 'cut' through target tissue. Conversely, by administering a high-voltage, low-frequency current through the tool, the heating effect is gradual, denaturing proteins and forming blood clots.
In practice, both of these modes are 'interweaved to achieve a clinically optimal combination of cutting [of tissue] and coagulation [of blood vessels]'.
It is during 'cutting' phases (when thermal decomposition is most intense) that tissues, proteins and fats evaporate,[ii] resembling a gaseous 'diathermy smoke plume'.
Ultrasonic devices, by contrast, rupture cell membranes without bringing them to boiling point. They use a vibrating plate, as opposed to an electrical current, creating a liquid 'vapour', 'aerosol', or 'mist'.[iii]
Further still, the derivative products of laser surgery have been described by a mixture of adjectives; it is not clear whether the particles suspended in the air are liquefied or gaseous. Consequently, the by-products of energy-based instruments, used in operations, are collectively referred to as 'surgical smoke'.
A defining feature of laser-induced 'smoke plume' was noted by De Boorder et al. (2007), who observed the spread as being more explosive than that which is created by electrosurgical devices.[iv] Shape[v] and material[vi] of surgical instruments may also affect plume dispersion. Moreover, Karjalainen (2018) perceived that particle production varies by surgical procedure type, with liver-based procedures generating the highest particulate matter (PM) levels.[vii]
N.B. In the medical literature, 'surgical smoke' is often used interchangeably with 'diathermic smoke', irrespective of whether the 'smoke' in question was developed by a laser tool and not an electrosurgical device.
Is 'Surgical Smoke' Dangerous?
'Surgical smoke' emissions, 95% of which constitute water vapour, are visible to the naked eye and have a distinctive, offensive odour.[viii]
Spectroscopy analysis, undertaken by Gianella and Sigrist (2012) found that 'surgical smoke' consists of 'physical' (dust, made up of destructed tissue matter) and 'biological' (blood, possibly transporting viruses and bacteria) components, as well as over 150 'chemical' agents, some of which can also be detected in cigarette smoke (albeit in significantly lower concentrations, with the exception of toluene and methylpropene[ix]).[x]
'Physical' particles can range in size from less than 0.01 microns (μm) to more than 200 μm,[xi] with negative-health effects typically being proportionate to particle diameter.[xii] Thus, particles less than 0.3 μm in diameter are able to penetrate the deepest parts of the pulmonary system.
Some of the most toxic constituents, common to both 'diathermy' and tobacco smoke, comprise of various chemical products of cell destruction:
Hydrogen cyanide;
Carbon monoxide;
Benzene; and
Acrylonitrile.
In fact, Tomita et al. (1981) observed that ablation of 1g of human tissue created a 'diathermy smoke plume' which, if inhaled, would have the same mutagenic effect as smoking between 3 and 6 unfiltered cigarettes.[xiii] Dermal absorption is also possible.
In the plastic surgery field, Hill et al. (2012) evaluated that daily 'diathermy smoke' exposure was equivalent to smoking 27 to 30 cigarettes, with just 66% of surveyed units having installed smoke extractors to mitigate against the risk.[xiv]
Who is at Risk?
It is estimated that thousands of UK healthcare practitioners are exposed to 'surgical smoke', in the course of their employment, every year. This includes:
Anaesthetists;
Circulating staff;
Operating departmental staff;
Practitioners;
Recovery staff;
Scrub staff; and
Surgeons.
If exposure is prolonged, which it is likely to be in an occupational setting, Marsh (2012) hypothesised that poses a risk of ill health.[xv]
Shah (2012) also discussed that, not only does 'surgical smoke' present an occupational health risk, but also a risk to patients, who will have decreased immunity after undergoing surgical procedures and during laparoscopic procedures, may absorb toxicants into their blood stream.[xvi]
What Can/Should be Done to Those at Risk?
As a result, the UK's leading membership organisation for perioperative (at or around the time of an operation) practitioners, the Association for Perioperative Practice (AfPP), is now campaigning for industrial action, with US States of Colorado and Rhode Island already having passed legislation that obligates the installation of local evacuation ventilation systems (LEVs) in operating theatres. What is more, since 2010, Danish workers have been compelled by the Working Environment Act to set-up LEV for all smoke generating processes, including 'surgical smoke'.[xvii]
Dawn Stott, Chief Executive of AfPP, alleges that 'many' UK hospitals are failing to follow guidelines, established by the British Occupational Hygiene Society (BOHS) and Medicines and Healthcare products Regulatory Agency (MHRA),[xviii] which recommend LEV, face masks (particulate respirators that filter 0.1 µm particles), staff training and risk assessments, in compliance with The Control of Substances Hazardous to Health Regulation (COSHH).[xix]
In support of this allegation, a multispecialty Royal College of Surgeons (England) survey, overseen by Spearman et al. (2007), identified that only 3 out of 98 (3%) Wessex hospital surgeons used dedicated smoke extractors in their practice.[xx]
Ms. Scott believes that employers are resisting demands because they lack awareness, are reluctant to acknowledge the potential human health risks and are overwhelmed by the costs of rolling out LEV in every operating theatre across the country.
However, Dawes (2000) recognised that the threat of future occupational disease litigation ought to be factored into any financial concerns over use of smoke extractors.[xxi]
According to Ms. Scott, 'surgical smoke' has been a 'major concern' since the inception of AfPP, over 50-years ago, while Stanley (2018) corroborated that 'diathermy smoke' has been studied for 3-decades.[xxii]
That being said, Beswick and Evans, conducting research on behalf of HSE, in 2012, insisted that there was insufficient statistical data to draw conclusions on causation between respiratory ill health and 'surgical smoke' exposure. MHRA also concluded that more research was needed before it could be conclusively proven or disproven that 'surgical smoke' causes harm.
The perioperative Association is, nonetheless, attempting to convince employers that LEV, which use suction systems to remove the plume at the point of origin, can significantly reduce the risk of their staff developing potentially fatal health conditions, caused by cumulative exposure.
What Will These Measures Protect Against?
Such conditions may range from acute and chronic inflammatory respiratory diseases to carcinoma, headaches, nausea, dizziness, skin irritation and viruses (e.g. HIV, HPV[xxiii] and hepatitis B).[xxiv]
A Case Study
Kathy Nabbie, for example, contracted chronic bronchitis, which she attributed to persistent 'diathermy smoke' exposure, whilst working as a surgical first assistant and scrub theatre practitioner, having never smoked tobacco cigarettes.
After failing to draw the attention of key political figures within the Department of Health and The Royal College of Surgeons (RCS) to this issue, she launched a petition (closing on 25 July 2019) and was rewarded with 5,952 signatures.[xxv]
To warrant a response from the UK Government, however, Ms. Nabbie required 4,000 additional signatures. She was 94,000 signatures short of consideration for a full debate in Parliament.[xxvi]
In spite of this, AfPP is now working with Ms. Nabbie to lobby regulators for compulsory ventilation during routine surgical procedures, citing the 2007 cigarette smoking ban to bolster calls for change.
They may also take inspiration from the European Operating Room Burses Association (EORNA), which, last year, made 4 recommendations to better protect against potentially hazardous occupational exposure to 'surgical plume'. The Association advocated that:
Ventilation in the operating room (OR) should have at least 15 – 20 airchanges/hour with a positive pressure.
When using medical technical devices that generates ultrafine particles, recommends effective evacuation systems and proper, correct use of the device during the whole time the device is used and at the disposal of the product.
Personal protective equipment should be applied correctly for not being exposed to ultrafine particles when using these medical technical equipment.
Education of hazardous situations and prevention and protection should be mandatory and held by the employer for the health care personnel when new employment, or when new equipment is introduced to the workplace.[xxvii]
[i] Pollack S.V et al., The history of electrosurgery. Dermatol Surg. 2000 Oct;26(10):904-8. <https://insights.ovid.com/pubmed?pmid=11050490> accessed 8 November 2019.
[ii] Ulmer BC, The hazards of surgical smoke. AORN J 2008;87(4):721–728. <https://aornjournal.onlinelibrary.wiley.com/doi/abs/10.1016/j.aorn.2007.10.012> accessed 8 November 2019.
[iii] Mowbray N et al., Is surgical smoke harmful to theater staff? a systematic review. Surg Endosc (2013) 27:3100–3107. <https://www.alsamed.com/upload/dangers-of-the-surgical-smoke_53466eee0e228.pdf> accessed 31 October 2019.
[iv] De Boorder et al., The visualization of surgical smoke produced by energy delivery devices: significance and effectiveness of evacuation systems. Proceedings Volume 6440, Thermal Treatment of Tissue: Energy Delivery and Assessment IV; 64400R (2007) <https://www.buffalofilter.com/files/4614/1409/4386/The_visualisation_of_surgical_smoke_produced_by_energy_delivery.pdf> accessed 8 November 2019.
[v] Kim, F.J. et al., Laminar and turbulent surgical plume characteristics generated from curved- and straight-blade laparoscopic ultrasonic dissectors. Surg Endosc. 2014 May;28(5):1674-7. <https://link.springer.com/article/10.1007%2Fs00464-013-3369-6> accessed 8 November 2019.
[vi] Kisch T. et al., Electrocautery devices with feedback mode and teflon-coated blades create less surgical smoke for a quality improvement in the operating theatre. Medicine (Baltimore). 2015 Jul;94(27):e1104 <https://www.ncbi.nlm.nih.gov/pmc/articles/PMC4504583/pdf/medi-94-e1104.pdf> accessed 8 November 2019.
[vii] Karjalainen M et al., The characterization of surgical smoke from various tissues and its implications for occupational safety. PLoS ONE 13(4): e0195274. <https://journals.plos.org/plosone/article?id=10.1371/journal.pone.0195274> accessed 31 October 2019.
[viii] 'Evidence for exposure and harmful effects of diathermy plumes (surgical smoke) - RR922' (2012 HSE) <http://www.hse.gov.uk/research/rrpdf/rr922.pdf> accessed 31 October 2019.
[ix] Fitzgerald JE et al., A single-blind controlled study of electrocautery and ultrasonic scalpel smoke plumes in laparoscopic surgery. Surg Endosc. 2012;26(2):337–342. <https://link.springer.com/article/10.1007%2Fs00464-011-1872-1> accessed 1 November 2019.
[x] Ortolano GA et al., Surgical smoke: A concern for infection control practitioners. Manag. Infect. Control 48–54 (2009).
Gianella M and Sigrist MW, Chemical analysis of surgical smoke by infrared laser spectroscopy. M.W. Appl. Phys. B (2012) 109: 485. <https://link.springer.com/article/10.1007/s00340-012-4920-1> accessed 31 October 2019.
[xi] Tan E, Surgical plume and its implications: A review of the risk and barriers to a safe work place. Journal of Perioperative Nursing: Vol. 30 : Iss. 4 , Article 2 <https://www.journal.acorn.org.au/cgi/viewcontent.cgi?article=1019&context=jpn> accessed 8 November 2019.
[xii] Clare Tregoning, 'Case study: protection of healthcare staff from surgical smoke in operating theatres' (27 June 2015 Personnel Today) <https://www.personneltoday.com/hr/case-study-protection-of-healthcare-staff-from-surgical-smoke-in-operating-theatres/> accessed 8 Nove3mber 2019.
[xiii] Tomita Y., Mihashi S., Nagata K. Mutagenicity of smoke condensates induced by CO2- laser irradiation and electrocauterizatio. Mutat Res. 1981;89(2):145–149. <https://www.sciencedirect.com/science/article/abs/pii/0165121881901208?via%3Dihub> accessed 30 October 2019.
[xiv] Hill DS et al. Surgical smoke - a health hazard in the operating theatre: a study to quantify exposure and a survey of the use of smoke extractor systems in UK plastic surgery units. J Plast Reconstr Aesthet Surg. 2012 Jul;65(7):911-6. <https://www.jprasurg.com/article/S1748-6815(12)00093-9/pdf> accessed 31 October 2019.
[xv] Marsh S, The smoke factor: things you should know. J Perioper Pract. 2012 Mar;22(3):91-4. <https://journals.sagepub.com/doi/abs/10.1177/175045891202200303> accessed 8 November 2019.
[xvi] Shah NR, Commentary On: "Surgical Smoke – A Health Hazard in the Operating Theatre: A Study to Quantify Exposure and a Survey of the Use of Smoke Extractor Systems in UK Plastic Surgery Units". Ann Med Surg (Lond). 2012; 1: 23–24. <https://www.ncbi.nlm.nih.gov/pmc/articles/PMC4523153/#bib0040> accessed 1 November 2019.
[xvii] State of California Department of Industrial Relations Division of Occupational Safety and Health, 'Memorandum' (22 January 2013) <https://www.dir.ca.gov/oshsb/documents/petition-567-dosheval.pdf> accessed 1 November 2019.
[xviii] 'THE ELECTROSURGERY TEAM' (MHRA) <https://webarchive.nationalarchives.gov.uk/20141129174044/http://www.mhra.gov.uk/home/groups/dts-bi/documents/publication/con008378.pdf> accessed 31 October 2019.
'Smoke plumes: Minimising harmful effects' (MHRA) <https://susl.co.uk/wp-content/uploads/2017/10/MHRA-Smoke-Plume-Poster.pdf> accessed 8 November 2019.
[xix] Dawn Stott, 'Smoke signals – why occupational health needs to take "diathermy smoke plume" seriously' (4 October 2019 Personnel Today) <https://www.personneltoday.com/hr/smoke-signals-why-occupational-health-needs-to-take-diathermy-smoke-plume-seriously/> accessed 30 October 2019.
[xx] https://publishing.rcseng.ac.uk/doi/pdf/10.1308/003588407X155752
[xxi] Gregory-Dawes BS, Stop smoke campaign begins with you. AORN J. 2000;72:768–70. <https://www.ncbi.nlm.nih.gov/pubmed/11098356> accessed 8 November 2019.
[xxii] Stanley K, Diathermy smoke shown to be hazardous, so why are we not protecting ourselves? J Perioper Pract. 2018 Jun;28(6):145-151. <https://journals.sagepub.com/doi/abs/10.1177/1750458918767582?rfr_dat=cr_pub%3Dpubmed&url_ver=Z39.88-2003&rfr_id=ori%3Arid%3Acrossref.org&journalCode=ppja> accessed 8 November 2019.
[xxiii] Matthews S. Preventing harm from surgical plume. Kai Tiaki: Nursing New Zealand 2016;22(6):26–27.
[xxiv] Ball K, Update for anesthetic nurses. Part 1. The hazards of surgical smoke. AANA J 2001;69(2):125–132.
Andreasson S.N. et al., (2009) Peritonectomy with high voltage electrocautery generates higher levels of ultrafine smoke particles. Eur J Surg Oncol. 2009 Jul;35(7):780-4. <https://www.ejso.com/article/S0748-7983(08)01760-5/pdf> accessed 8 November 2019.
Eickmann I et al., Surgical smoke: Risks and preventive measures (2011 ISSA) <http://prevencion.umh.es/files/2012/04/2-surgical_smoke.pdf> accessed 31 October 2019.
Pierce J et al., Laser-generated air contaminants from medical laser applications: a state-of-the-science review of exposure characterization, health effects, and control. J Occup Environ Hyg. 2011 Jul;8(7):447-66. <https://www.ncbi.nlm.nih.gov/pubmed/21726157> accessed 8 November 2019.
Benson SM et al., Proper use of surgical N95 respirators and surgical masks in the OR. AORN J. 2013 Apr;97(4):457-67; quiz 468-70. <https://doi.org/10.1016/j.aorn.2013.01.015> accessed 8 November 2019.
[xxv] '"Mandatory for all hospital theatres to evacuate diathermy tissue smoke plume"' (Parliament.UK) <https://petition.parliament.uk/petitions/237619> accessed 30 October 2019.
[xxvi] Tracey Williams, 'Let's put a stop to smoking in theatres' (April 2019 AfPP) <https://www.afpp.org.uk/filegrab/JPP-April-2019-News.pdf?ref=2224&t=a> accessed 31 October 2019.
[xxvii] EORNA RECOMMENDATION ON: PREVENTION AND PROTECTION OF SURGICAL PLUME (2018 EORNA) <https://eorna.eu/wp-content/uploads/2019/09/Prevention-and-Protection-of-Surgical-Plume-PNC-EORNA.pdf> accessed 8 November 2019.