Over a year ago, the now defunct claimant industrial disease specialist, Roberts Jackson, was sold out of administration to AWH Legal.
To read our thorough analysis on 'The Rise and Fall of Roberts Jackson', which featured in edition 249 of BC Disease News, click here.
In a new development, this week, appointed insolvency and restructuring practitioner, Quantuma LLP, filed its Administrator's Progress Report with Companies House, which, among other things, provides unsecured creditors with an updated outlook of predicted recoveries from what remains of the business.[i]
When the firm was sold, the Statement of Affairs disclosed that the business had assets worth around £3.4 million, a significant portion of which constituted money tied up in work-in-progress (WIP).
From 28 September 2018 to 29 September 2019, Roberts Jackson received around £1,015,000, which was transferred to the Administration Account.

In the same time period, Roberts Jackson, paid out around £904,500. This was predominantly made up of £500,000 in distributions to Natwest (which made available a £4,250,000 revolving credit facility) under its floating charge, £115,000 in full and final settlement of all directors' claims, £92,000 in legal fees, £75,000 in solicitor manager fees and £74,500 in administrators' fees.
With the best and worst case estimates of future receipts collected by Roberts Jackson being approximately £2,589,000 and £3,222,000, respectively, the likely assets available for unsecured creditors is likely to be between £420,500 and £562,000.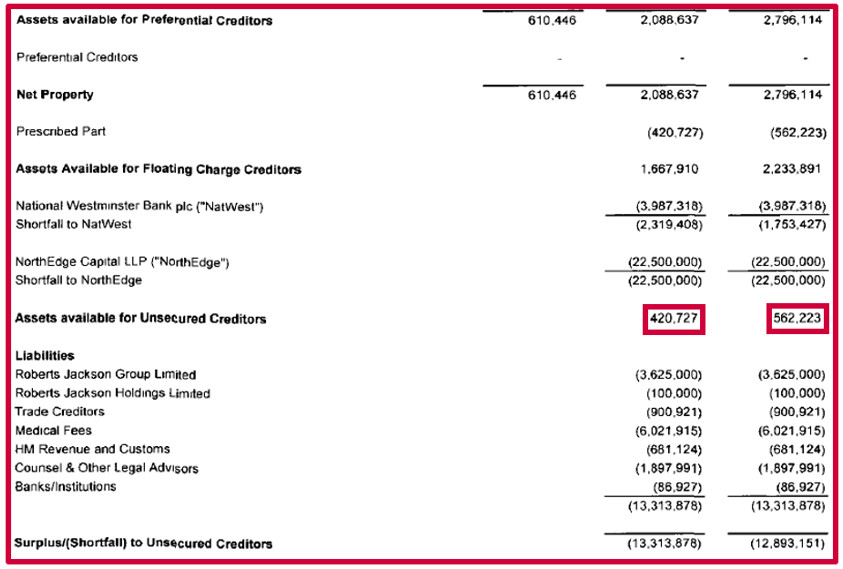 The joint administrators had initially (in the Statement of Affairs) projected that unsecured creditor claims could be in the region of £13,770,000, but have since been written down to £13,313,000. To-date, however, the Progress Report discloses that 109 claims have been received at a value of £7,471,000.
Although the dividend to be paid to unsecured creditors (including medical experts, counsel, HMRC, etc.) is yet to be finalised, the latest appraisal suggests that the rate of return will be between 3.2% (3.2 pence in the pound) and 4.2% (4.2 pence in the pound).
Meanwhile, the probable rate of return for Natwest is between 41.8% (41.8 pence in the pound) and 56.0% (56 pence in the pound).
Meanwhile, private equity investor, NorthEdge Capital, which acquired 43% of Roberts Jackson's issued share capital in 2014, holds an inter-creditor agreement governing the relationship between Natwest and itself. NorthEdge is owed £22,500,000.
[i] John Hyde, 'Creditors claim £7.5m from collapsed firm - but stand to recover a fraction' (7 November 2019 Law Gazette) <https://www.lawgazette.co.uk/news/creditors-claim-75m-from-collapsed-firm-but-stand-to-recover-a-fraction/5102082.article> accessed 7 November 2019.
https://beta.companieshouse.gov.uk/company/06895109/filing-history/MzI0ODQwNTgwNmFkaXF6a2N4/document?format=pdf&download=0