In employers' liability (EL) and public liability (PL) claims, it is not always easy to obtain signed formal statements from co-operating witnesses. Reasons for this may include (but are not limited to):
Continuing loyalty to a (former) defendant employer;
Continuing loyalty to a (former) claimant colleague;
Not wanting to appear or give evidence at Court (or to be witness summonsed);
A general dislike for litigation;
Not wanting to prejudice a prospective claim of their own;
A reluctance towards contributing evidence;
An inability to recall evidence;
A perceived lack of time to provide evidence; or
Non-contactability (e.g. through illness or absence).
In certain circumstances listed above, parties seeking to rely on witness evidence may choose to serve a 'witness summary', which either summarises evidence which is known and would otherwise be included in a witness statement [CPR 32.9(2)(a)], or summarises matters which the serving party proposes to question the witness on at trial, where evidence is not known – see CPR 32.9(2)(b).
Parties are permitted to rely on witness summaries if they are required to serve a witness statement for use at trial, but are 'unable to obtain one' – see CPR 32.9(1)(a) and (b).
They must be served by the latest date that a witness statement could be validly served in time – see CPR 32.9(4).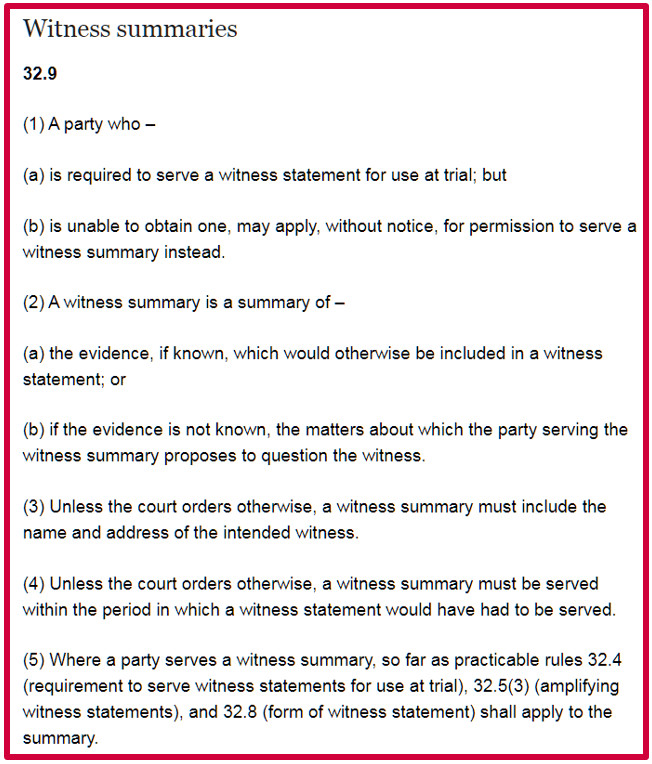 However, to what lengths must a party go before they can correctly assert that they are 'unable to obtain' a witness statement?
Taking inspiration from existing case authorities, inability is a 'matter that would normally require proof', since:
'... it is rare that a party will choose to call a witness "blind", without first obtaining a statement or proof of evidence, or some clear indication that the witness would give evidence favourable to the case of the party calling the witness' [see Warby J, at paragraph 22 of Otuo v The Watch Tower Bible And Tract Society of Britain (Relief from Sanctions 2) [2019] EWHC 346 (QB)].
What is more, inability, for the purposes of CPR 32.9(1)(b), is, as stated by Phillips J, in Scarlett v Grace [2014] EWHC 2307 (QB), a test that 'must be ... applied with a degree of rigour'.
In the recent case of Morley (t/a Morley Estates) v The Royal Bank of Scotland Plc [2019] EWHC 2865 (Ch), the claimant, to the 'surprise' of the defendant, did not ask the intended witnesses to provide statements.
In this instance, could it be said that the claimant was 'able to obtain' witness statements and therefore should be unable to rely on the witness summaries sought?
Giving judgment on this issue, Mr. Justice Kerr clarified that:
'The wording of the rule does not refer to a 'refusal' to provide a statement. Inability to obtain one can arise for other reasons, such as illness, ignorance of the witness's whereabouts, absence from the jurisdiction, confidentiality obligations, and so forth.
On the plain wording of the rule, CPR 32.9(1)(a), and applying ordinary principles of causation, a person is, in my judgment, 'unable to obtain' a statement if the court is satisfied on the balance of probabilities that had a request been made to the witnesses to provide a statement the request would have been turned down'.
Ultimately turning on the facts of the case, the claimant's application was granted.
Full text judgment can be accessed here.
N.B. Once a witness summary is served, parties may either seek to obtain a witness summons, requiring the relevant witness to attend court (though they may be 'hostile'), or alternatively, they may see to obtain a hearsay notice, if it is not intended that the witness attend court to give oral evidence.