From 1 October 2019, Practice Direction 3E will be amended to provide 'clearer guidance on the cut-off between budgeted and incurred costs'.[i]
Costs budgeting was introduced as part of the wide-scale programme of civil justice reform, rolled out on 1 April 2013.
Lord Justice Jackson, the architect of these reforms, regarded that the costs of litigation would be more efficiently spent if they were managed before the conclusion of the case, as opposed to being assessed after the conclusion of proceedings.
As a result, claimant and defendant parties must file and exchange 'costs budgets' (in Precedent H form), in respect of multi-track cases issued after 1 April 2013, pursuant to CPR 3.13.
For claims worth more than £50,000, file and exchange must take place 'not later than 21 days before the first costs and case management conference' (CCMC), while cases up to the value of £50,000 require simultaneous file and exchange with directions questionnaires.
In a recent development, reported in edition 264 of BC Disease News (here), parties must file a budget discussion report (in Precedent R form), for claims issued post-6 April 2016, 'no later than 7 days before the first CCMC'.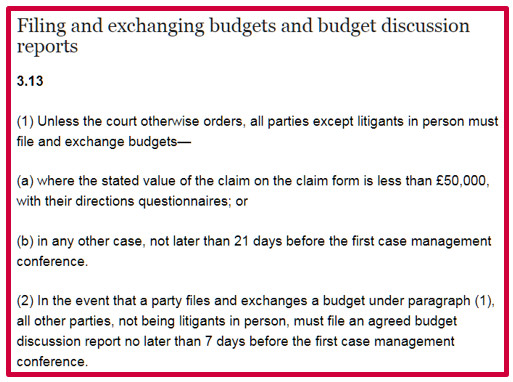 Costs budgets record both 'incurred' and 'budgeted' costs (solicitors' fees) and disbursements (court fees, expert fees, travel expenses, etc.), but there has been some ambiguity over the difference between 'incurred' and 'budgeted' costs.
The Cambridge Dictionary defines 'budget' as:
'A plan to show how much money a person or organization will earn and how much they will need or be able to spend'.[ii]
This would seem to imply, through use of the future tense, that the literal interpretation of the 'budgeted' element of a costs budget is a projection of how much money a party 'will' spend in the pursuit or defence of a claim, i.e. costs to be incurred in 'phases' following the CCMC.
However, the status quo is that 'budgeted' costs also include an estimation of costs incurred between the drafting of the budget until the date of the CCMC – a position of limbo.
It is anticipated that the revised PD 3E wording will draw a dividing line at the date of the CCMC, meaning that any costs incurred up to and including that date are classed as 'incurred', and costs to be incurred after that date are classed as 'budgeted'.
This distinction will have an effect on 'costs management orders' (CMO), directed by virtue of CPR 3.15(2), which authenticate the court's approval of 'budgeted' costs and any agreement on 'budgeted' costs between the parties. More detail on this process can be found in PD 3E para 7.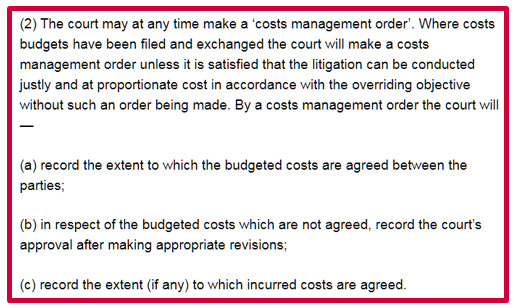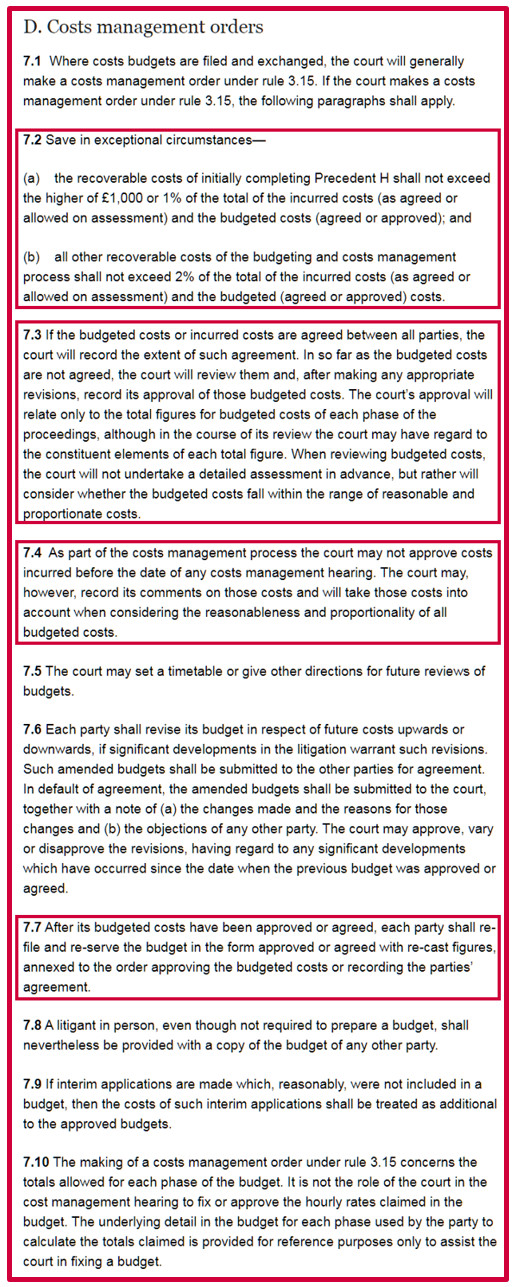 In practice, the CMO implores the Costs Judge at detailed assessment (of the bill of costs) to accept the approved and/or agreed 'budgeted costs', in the absence of 'good reason' to depart from it – see CPR 3.18(b)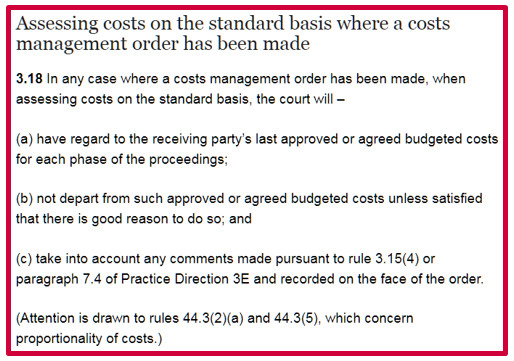 Crucially, the judge at detailed assessment may, in line with the 'natural and ordinary meaning of the words used in CPR 3.18', only depart from 'budgeted' costs, where there is 'good reason' to do so. This principle was identified by Lord Justice Davis, in Harrison v University Hospitals Coventry & Warwickshire NHS Trust [2017] EWCA Civ 792, which we scrutinised in edition 190 (here):
'... the court may have regard to costs stated already to have been incurred: and that may in turn impact on its assessment of what may be reasonable or proportionate for the future. But paragraph 7.4 of PD 3E is quite specific: as part of the costs management process the court may not approve costs incurred before the date of the budget costs management conference. What it can do is record in the CMO its comments (if any) on such costs: which are then be taken into account when considering reasonableness and proportionality: a direction now enshrined in the amended CPR 3.15 (4) and CPR 3.18 (c) with effect from 1 April 2017.
It follows ... that incurred costs are not as such within the ambit of CPR 3.18 (in its unamended form) at all. Accordingly such incurred costs are to be the subject of detailed assessment in the usual way, without any added requirement of "good reason" for departure from the approved budget'.
Thus, the impending amendment of PD 3E will simplify which CMO-governed 'phases' can be departed from, on condition that there is 'good reason' to do so, while the others remain subject to detailed assessment.
Tim Rice, Head of Costs at BC Legal confirms that 'this is a welcome amendment to the CPR, adding much needed clarification on what costs are subjected to the budgeting process and which costs are "up for scrutiny" at detailed assessment. In practice, even without this amendment, many Judges at the CCMC have been seen to move the costs which were included as estimated costs at the point of the budget being prepared, to incurred costs at the time of the CCMC.
This amendment simply clarifies the position for those preparing budgets and attending the CCMC. However, budgets prepared below £50,000.00 are served sometimes many months before a CCMC and therefore by the time of the hearing it may be necessary to file an updated budget to show any increase on the "incurred" costs.
It would be wise therefore to ensure that in the lower value claims, time is allowed prior to the CCMC to file an updated budget and in the higher valued claims not to file a budget too soon. This practice should not affect the Precedent R negotiation process as that is confined to the estimated costs in any event'.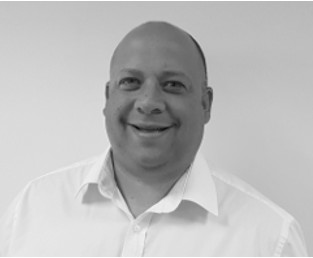 Email: This email address is being protected from spambots. You need JavaScript enabled to view it.
DD: 0121 796 5291
[i] Neil Rose, 'Cut-off between budgeted and incurred costs to be clarified' <https://www.litigationfutures.com/news/cut-off-between-budgeted-and-incurred-costs-to-be-clarified> accessed 19 September 2019.
[ii] 'Meaning of budget in English' (Cambridge Dictionary) <https://dictionary.cambridge.org/dictionary/english/budget> accessed 19 September 2019.