In April 2014, the UK Government established a new mesothelioma payment program, under s.1 of the Mesothelioma Act 2014.
The Diffuse Mesothelioma Payment Scheme (DMPS), for many individuals affected by mesothelioma, supersedes 'diffuse mesothelioma payments' (the 2008 scheme) and payment under the Pneumoconiosis etc. (Workers' Compensation) Act 1979, as lump sum compensation is higher.
However, there are circumstances in which a DMPS application is not the most advantageous course of action, which is why the 2014 scheme has not entirely replaced the existing schemes.
The older schemes are strict liability arrangements, which means that they do not require proof of negligent asbestos exposure to secure a reward. As such, they are still beneficial to claimants who cannot substantiate liability.
The DMPS entitles both living victims of diffuse mesothelioma and dependants of deceased diffuse mesothelioma victims to be compensated for work-related disease, in the absence of traceable employers' liability insurers.
If a successful application is made within 3-years of a post-25 July 2012 diagnosis (the same time limit applies to dependants), the DMPS constitutes a viable alternative to bringing a civil compensation claim – see the Diffuse Mesothelioma Payment Scheme Regulations 2014.
Last year, an e-petition to launch a similar scheme in the States of Jersey attracted 1,354 signatures, prompting the then Minister for Social Security, Deputy Carina Alves of St. Helier, to make a formal proposal to the Council of Ministers.
In edition 258 of BC Disease News (here), we reported that the Council had unanimously approved her proposal.
This week, in a material development, eligibility criteria for the Jersey scheme was published.[i]
For victims, they must:
Be at least 18-years-old;
Have resided in Jersey for the past 5-years;
Have received a diffuse mesothelioma diagnosis from a Jersey-based consultant;
Bring their claim within 12-months of diagnosis; and
Have been exposed to asbestos containing materials (ACM) in Jersey.
For dependants, they must;
Have 'ordinarily' resided in Jersey for the past 5-years;
Bring a claim within 12-months of the mesothelioma victim's death;
Be related to the deceased; and
Confirm that the deceased was eligible for the scheme on the date of death.
What does 'ordinary residence' mean?
In the case of R v Barnet LBC ex parte Shah [1982] UKHL 14, the House of Lords found that that 'ordinary residence' refers to the 'regular habitual mode of life in a particular place for the time being, whether of short or long duration'. This mode of life is persistent, 'apart from temporary or occasional absences'. For this reason, to be 'ordinarily resident' is not equivalent to being domiciled, as a person can be 'ordinarily resident' in multiple countries at the same time. The decision to take up 'ordinary residence' must be 'voluntary' and 'adopted for a settled purpose'.[ii]
In various respects, the Jersey scheme mirrors the 2008 scheme, including the 12-month constraint for advancing a claim and the age-based payment tariffs. A comparison with DMPS payment tariffs (for diagnoses from 10 February 2015 onwards[iii]) is provided in the table and graph below: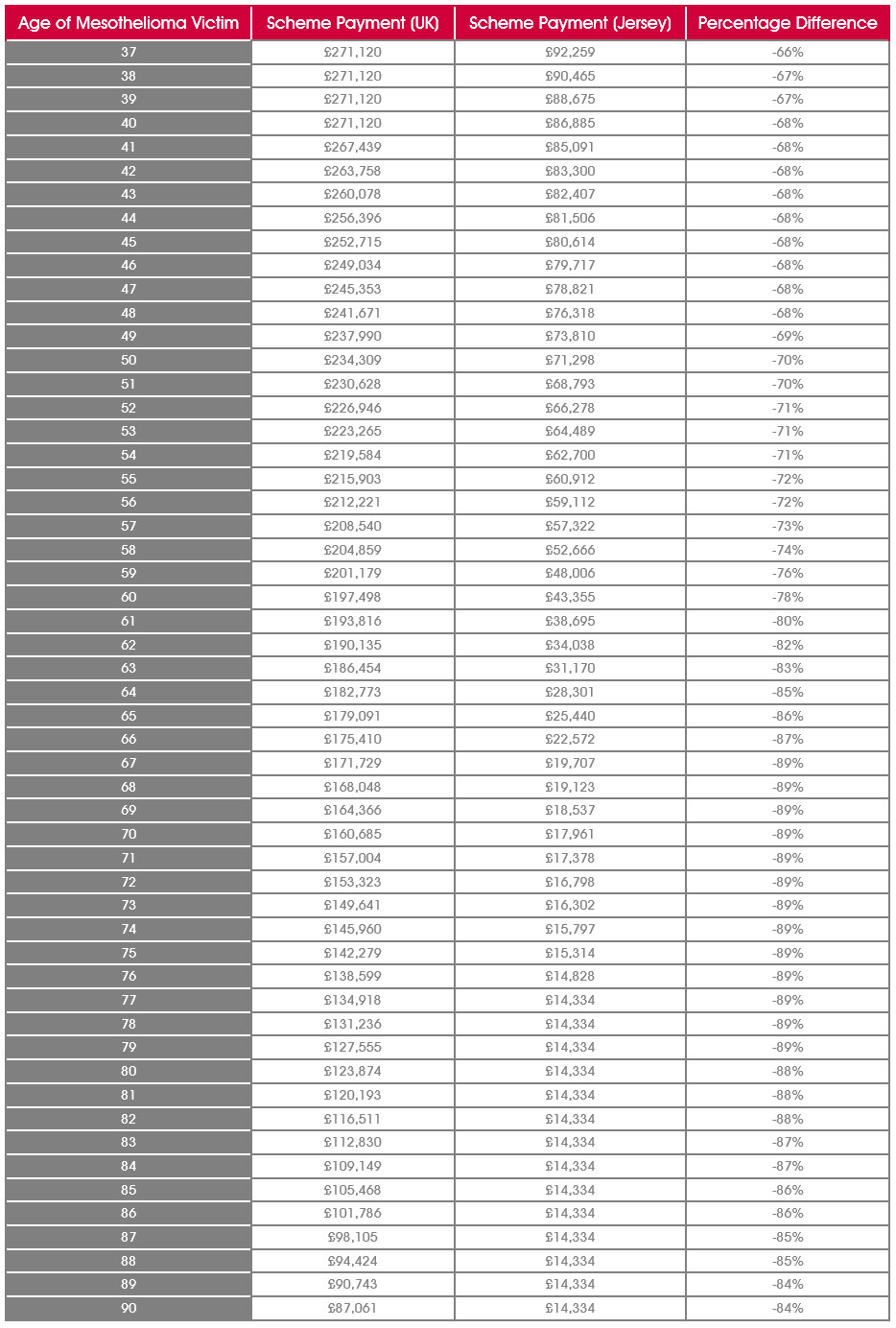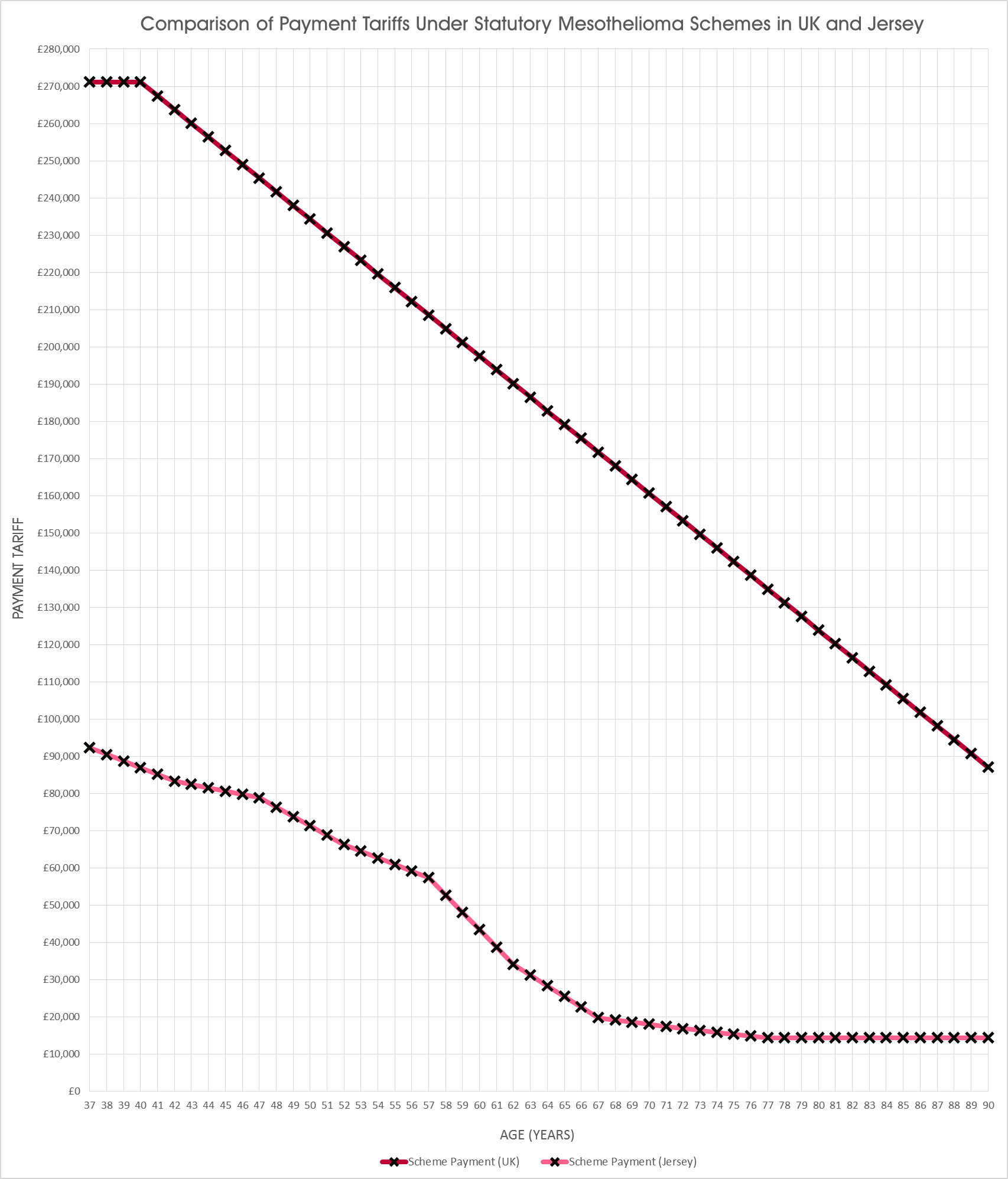 Jersey residents will be able to apply for a one-off lump-sum compensation payment from 1 October 2019. It is planned that the tariffs will increase annually, in line with Jersey inflation (RPI)
The current Social Security Minister, Deputy Judy Martin, has emphasised that:
'The aim of the new scheme is to ensure that sufferers can receive a lump sum payment quickly and easily'.
[i] 'Plans for Asbestos compensation scheme published' (12 August 2019 GOV.JE) <https://www.gov.je/News/2019/Pages/AsbestosCompensation.aspx> accessed 13 August 2019.
[ii] Home Office, 'Nationality policy: assessing ordinary residence' (25 October 2017 GOV.UK) <https://assets.publishing.service.gov.uk/government/uploads/system/uploads/attachment_data/file/655489/Nationality-policy-assessing-ordinary-residence-v2.0EXT.pdf> accessed 13 August 2019.
[iii] Top Mark Claims Management UK, 'Diffuse Mesothelioma Payment Scheme' (1 April 2018 MesoScheme.org.uk) <https://www.mesoscheme.org.uk/payment-tarrif-2015-onwards/> accessed 13 August 2019.