What is the meaning of 'a real prospect of success', when seeking permission to bring a first appeal?
Until recently, it was perceived that applications for permission to appeal to the Court of Appeal and the High Court (from a decision of a judge in the County Court or the High Court, respectively) have been made on the basis of two diverging interpretations of CPR 52.6(1)(a).

A High Court judge has previously ruled that 'a real prospect of success' defines an appeal that is 'more likely than not' to be allowed at a substantive hearing, i.e. that 'anything less than 50/50 chance of success' would constitute a 'real prospect of failure'.[i] Whereas, other Court of Appeal Judges have deemed that 'a real prospect of success' indicates an appeal that is 'realistic rather than fanciful'.[ii]
This discrepancy was highlighted at the Court of Appeal, in AV v RM (Appeal) [2012] EWHC 1173 (Fam), in which Mr Justice Moor favoured the latter, qualitative test, as opposed to the former, numerical test. Just 1 year later, AV v RM was cited and followed by another High Court Judge, Mr. Justice Moylan, in CS v SR [2013] EWHC 1155 (Fam).
Last week, the Court of Appeal handed down judgment in R (A Child) [2019] EWCA Civ 895, in an effort to 'resolve any remaining doubt' surrounding the correct threshold to surpass when seeking permission to bring an appeal.
At paragraph 31 of his judgment, Lord Justice Peter Jackson, with whom Lord Baker agreed, explained that:
'The test for the grant of permission to appeal on an application to the Court of Appeal or to the High Court or Family Court under the first limb of the relevant sub-rule is that the appeal would have a real prospect of success ... there must be a realistic, as opposed to fanciful, prospect of success. There is no requirement that success should be probable, or more likely than not'.
It would be fair to assume that the ratio in R (A Child) also applies to CPR 52.7(2)(a)(i), which uses an identical turn of phrase in governing permission to bring second appeals: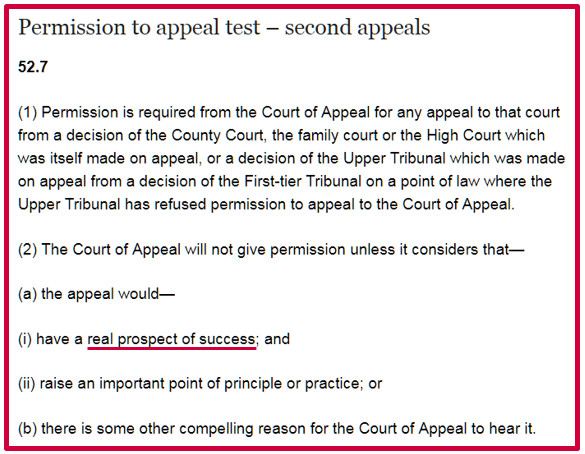 Full text judgment can be accessed here.
[i] Mostyn J in NLW v ARC [2012] EWHC 55 (Fam) (paragraph 8).
[ii] Brooke LJ in Tanfern Limited v Cameron MacDonald & Anor [2000] 1 W.L.R. 1311 (paragraph 21) following Lord Woolf MR in Swain v Hillman (Times, November 4, 1999).
See also Keith J in Hashtroodi v Hancock [2004] EWHC 3490 (QB) (paragraph 7) and Norris J in Ghassemian v Tigris Industries Inc [2013] EWHC 2170 (Ch) (paragraph 26).