According to Health Survey for England data, in 2012, approximately one-third of the adult public were sedentary (sitting or lying down) for at least 6 hours per day.
Last month, results of an economic impact study, funded by the Department for the Economy (Northern Ireland), were published in the peer-reviewed Journal of Epidemiology & Community Health. This provides an indication as to the potential impact of sedentary behaviour on a range of health conditions, in 2016/17.[i]
Researchers at Queen's University Belfast and Ulster University compared the risk of developing 5 health outcomes at low (0-3.8 hours per day) and high (6-18 hours per day) levels of sedentary behaviour. Sedentary behaviour was responsible for:
16.9% of people with type 2 diabetes;
9% of people with colon (bowel) cancer;
8% of people with endometrial (womb) cancer;
7.5% of people with lung cancer; and
5% of people with cardiovascular disease.
The researchers went on to calculate NHS spend on each cohort study participant developing their respective condition(s).
In conclusion, sedentary periods of longer than 6 hours daily contributed to an additional 11.6% (69,276) of deaths in the UK, over the course of a 1-year period, costing the NHS a total of £706 million:
'... total costs presented are likely to be a conservative estimate of the true burden of sedentary behaviour'.
The study authors have advised that measures should be taken to reduce sedentary behaviour, in order to improve population health and reduce the financial burden on the health service.
Dr Carolyn Grieg, musculoskeletal ageing and health expert at the University of Birmingham, has stated that it would not be 'overblowing', to dub long periods of sitting as the 'new smoking', in light of the latest Northern Irish study:
'... few things ... have an impact on so many different elements of our wellbeing'. [ii]
However, the NHS has analysed the study findings and highlighted several limitations, e.g. that sedentary behaviour levels were self-reported and therefore 'may not be entirely accurate'. Further, the '6 – 18 hours per day' category was 'quite broad' – for a large section of the working population, it may be impossible for many to avoid matching this high-risk criteria:
'Though it is likely that prolonged inactivity is bad for our health, we do not know from this study how much physical activity we need to offset the hours we spend sitting. A few extra minutes, or even an hour, spent standing is unlikely to have the same benefits as regular physical exercise'.[iii]
In spite of these limitations, the NHS agrees that this research supports health advice to reduce the amount of time spent sitting.
How long are people working in the UK?
The Health and Safety Executive (HSE) advises office workers to have 5-10-minute screen breaks every hour to avoid adverse health conditions.[iv]
It is generally assumed that working hours are decreasing in the UK and, on average, they are.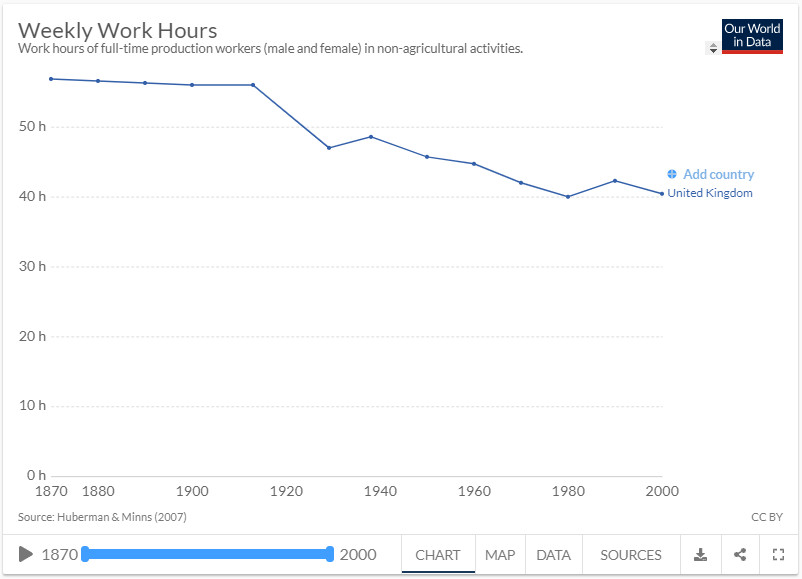 (Source: Our World Data)
However, more precise London School of Economics research has shown that in recent decades, extreme working hours are longer than they used to be (for low, medium and high-skilled employment).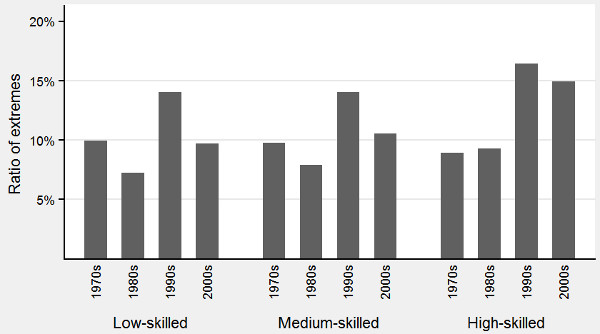 (Source: LSE)[v]
It should therefore not be assumed by employers (and their insurers) that sedentary behaviour, as a possible risk of all-cause mortality, will simply diminish over time.
[i] Heron L, O'Neill C, McAneney H, et al. Direct healthcare costs of sedentary behaviour in
the UK J Epidemiol Community Health (2019);0:1–5 <https://jech.bmj.com/content/jech/early/2019/03/08/jech-2018-211758.full.pdf> accessed 27 March 2019.
[ii] Lucy Elkins, 'Is sitting REALLY the new smoking? Alarming new research claims 70,000 deaths a year are caused by our increasingly sedentary lives - that's even more than lung cancer' (25 March 2019 Daily Mail) https://www.dailymail.co.uk/news/article-6849397/Alarming-new-research-claims-70-000-deaths-year-caused-increasingly-sedentary-lives.html> accessed 27 March 2019.
[iii] 'Does prolonged sitting really kill 70,000 people a year in the UK?' (26 March 2019 NHS) <https://www.nhs.uk/news/lifestyle-and-exercise/does-prolonged-sitting-really-kill-70000-people-year-uk/> accessed 29 March 2019.
[iv] 'Display screen equipment work: Work routine and breaks' (HSE) <http://www.hse.gov.uk/msd/dse/breaks.htm> accessed 29 March 2019.
[v] Anna S. Burger, 'Extreme working hours have radically increased in many western European countries since the start of the 1990s' (2 February 2015 LSE) <https://blogs.lse.ac.uk/politicsandpolicy/extreme-working-hours-have-radically-increased-in-many-western-european-countries-since-the-start-of-the-1990s/> accessed 29 March 2019.