In 2016, NatWest supplied Roberts Jackson with a £5 million revolving credit facility, which was deemed 'adequate ... to service its debt requirements'. Two years prior, the claimant industrial disease firm recorded peak turnover of £11.6 million in its financial statement, with £15 million NorthEdge Capital investment signalling ambition to expand.
However, it was presumed that a decline in the NIHL market, accompanied by low success rates and cashflow difficulties associated with funding a historically large volume of claims, led to its eventual collapse in October 2018. An almost instantaneous merger with AWH Legal followed. We reported on the Rise and Fall of Roberts Jackson in edition 249 of BC Disease News (here).
On 27 November 2018, a statement of the joint administrators' proposals was filed with Companies House.[i]
This revealed that the final incident, which gave rise to administration, was a dispute with the firm's after-the-event (ATE) insurance provider. Roberts Jackson was forced to settle ATE payments, due to 3rd parties under the terms of ATE policies, which had been restricted by the insurer. According to the Statement, 'significant cash-flow issues', in addition to the ATE insurer's counter-claim, 'took the directors' focus away from the management of the business'. Instructed insolvency practitioners judged that working capital was insufficient to meet liabilities.
When the company ceased trading, it was disclosed that Roberts Jackson owed £4.25 million to NatWest, £22.5m to private equity investors and £13.8m to unsecured creditors. [ii]

It is unlikely that the unsecured creditors, made up of £940,000 (trade and expense creditors), £6 million (medical fees) and £2.4 million (counsel and other legal advisers) will be paid, as the business possesses assets of just £3.4 million.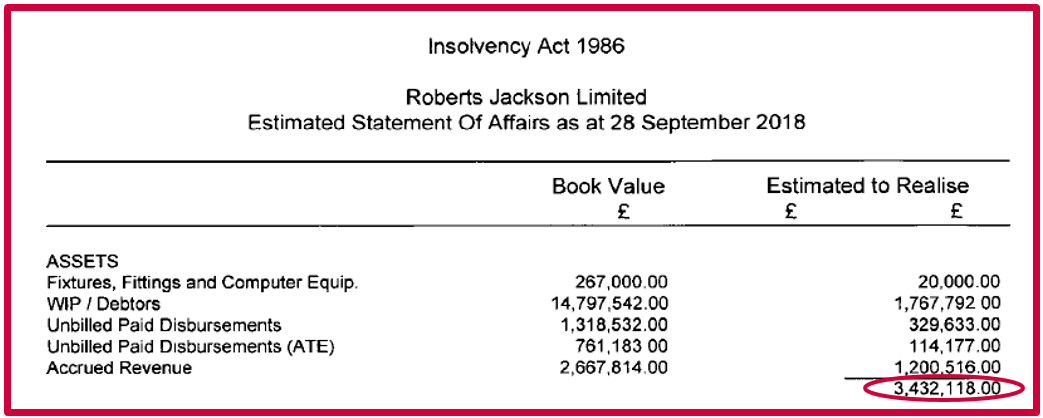 Nonetheless, the administrators considered that the sale of Roberts Jackson to AWH Legal represented the best value for creditors and the best prospect for recouping a proportion of the debts owed.
AWH has paid 500,000 in advance and has pledged to pay 10% of all profit costs and success fees from settled cases (WIP) transferred from Roberts Jackson, which have a book value of £14.8 million.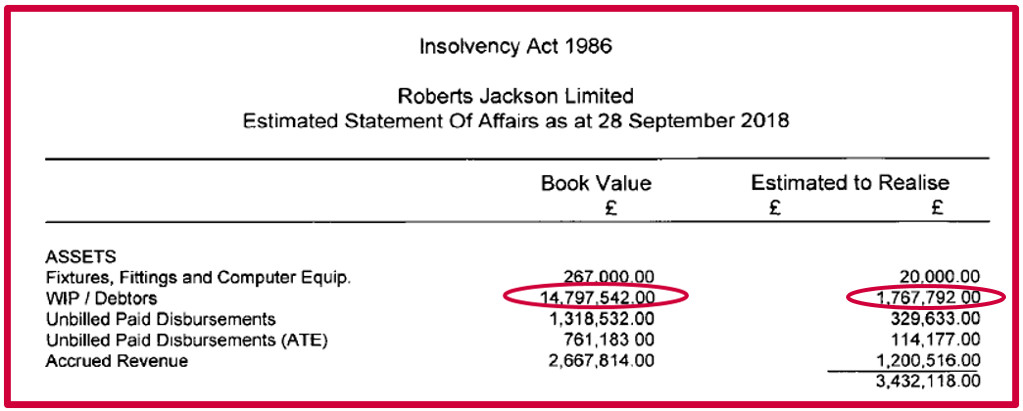 [i] Notice of administrator's proposals (12 November 2018 Companies House) <https://document-api-images-prod.s3.eu-west-1.amazonaws.com/docs/HRF_epsNgpSNTZHXHyDHxvqcvh_I2oRfMKtQNtsSVbc/application-pdf?X-Amz-Algorithm=AWS4-HMAC-SHA256&X-Amz-Content-Sha256=UNSIGNED-PAYLOAD&X-Amz-Credential=ASIAWRGBDBV3KZXJV6UF%2F20190110%2Feu-west-1%2Fs3%2Faws4_request&X-Amz-Date=20190110T102048Z&X-Amz-Expires=60&X-Amz-Security-Token=FQoGZXIvYXdzEEsaDA4OHV8jzVLkGN82ZyK3AxfD%2FwGl4g5QImy9Qz2NYlm7MISHChf0QwRDj%2B9FhDYLETR4bVKCZadz5M1wjZwiE2xs1%2FXNIlOO3wTnPOE5G3oK8bhCofWw8iLL2b4pD2CZmWdJICNrJcuQ3SW3%2BymyZDnWW3nedjw51rQK%2BHM4LSVg7DGX3ryKA4fTu1BMBpZPHAruEyDcQhnV%2BLEg9qNaeaictsgTbfKXW1hLhlqWSRsSNToacCxbo9MhZcSFUbEb1nrdKKkiCCq%2F7arjo%2BND1o6MLvE5SWNsBzkzJ84ErVHMc%2BSNlU%2BN9UDVp%2BHoHV4izzXq28f5axA62dw6iKDoqMO0KtcqAOm3y84QNOtIfGCLFEfUllrVVwSZT6358xiLXAIZVEpogxGX7rP7trJq6LJOGwt6xdvHZ2fMNaStqMSxFpqVKTXVwOjVTtWMV6ZRXuna%2Bs1jc6t7JU82M8clX9fBNBrzbpEBFEdHoRsIAcNrAgtnF9GMrje8NpOo4Bv4OX2bXwWfdhlReSuBm2RRNiCZ5y4V47ZnsKKQ0QHiBDpZxqr2HSN8JOFcW2wgKBmT4U%2BpPCSDE5vDTAYY5i7vrxAal1OeXN4olKXc4QU%3D&X-Amz-SignedHeaders=host&X-Amz-Signature=8f719b0ec39b1ab9f90b8379f8039ecff8e6161c215fc764aed85512a50af1e3> accessed 10 January 2019.
[ii] John Hyde, 'PI firm collapsed owing more than £40m after row with insurers' (30 November 2018 Law Gazette) https://www.lawgazette.co.uk/practice/pi-firm-collapsed-owing-more-than-40m-after-row-with-insurers/5068522.article> accessed 9 January 2019.