This week, reserved judgment was handed down in the case of Hague v British Telcommunications Plc (Immunotherapy: Reasonableness of Treatment: Private Dictionary Principle) [2018] EWHC 2227 (QB). Immunotherapy is an evolving field in medicine, with the potential to substantially inflate damages awards and settlements in occupational mesothelioma claims. In Hague, the judge considered whether a 2nd type of immunotherapy treatment was covered by a 'compromise agreement', after the 1st type of immunotherapy treatment was no longer successful.
The claimant was diagnosed with malignant pleural mesothelioma in June 2017, aged 75. Attributing the development of his disease to a period of historic employment with the defendant, settlement between the parties was reached for a gross sum of £220,000 (plus costs) in May 2018.
Prior to settlement, the claimant began a course of treatment within the NHS. This included talc pleurodesis and chemotherapy, which yielded a positive response.
In spite of this, the claimant's treating consultant, Dr Szlosarek, anticipated that he would need to progress to 'second line' immunotherapy treatment. As reported in edition 234 of BC Disease News (here), clinical trial success and a NICE recommendation led to the immunotherapy drug, pembrolizumab (Keytruda), being made available for routine NHS use in patients with non-small cell lung cancer (NSCLC). For mesothelioma patients, pembrolizumab is only available on the private healthcare service.
After 4 cycles of pembrolizumab therapy, the claimant exhibited a partial response. However, his condition began to deteriorate in July 2018, shortly after settlement was reached. Consequently, pembrolizumab therapy was discontinued after 7 cycles.
Following the publication of clinical trial results, in the MAPS2 study (mentioned here), Dr Szlosarek recommended that the claimant receive a combination of ipilimumab and nivolumab (Opdivo) immunotherapy drugs. He interpreted, from median survival advantage data, that this could extend the claimant's life by 4 months.
Presently unavailable on the NHS, private costing of combination therapy was calculated at £21,714.68.
Accordingly, the claimant sought a declaration from the court that the defendant was 'obliged to continue to pay the private costs of immunotherapy treatment ...' The hearing, in respect of the claimant's application, was heard before Master Thornett, on 2 August 2018.
Was the proposed combination treatment encompassed within the 'compromise agreement'?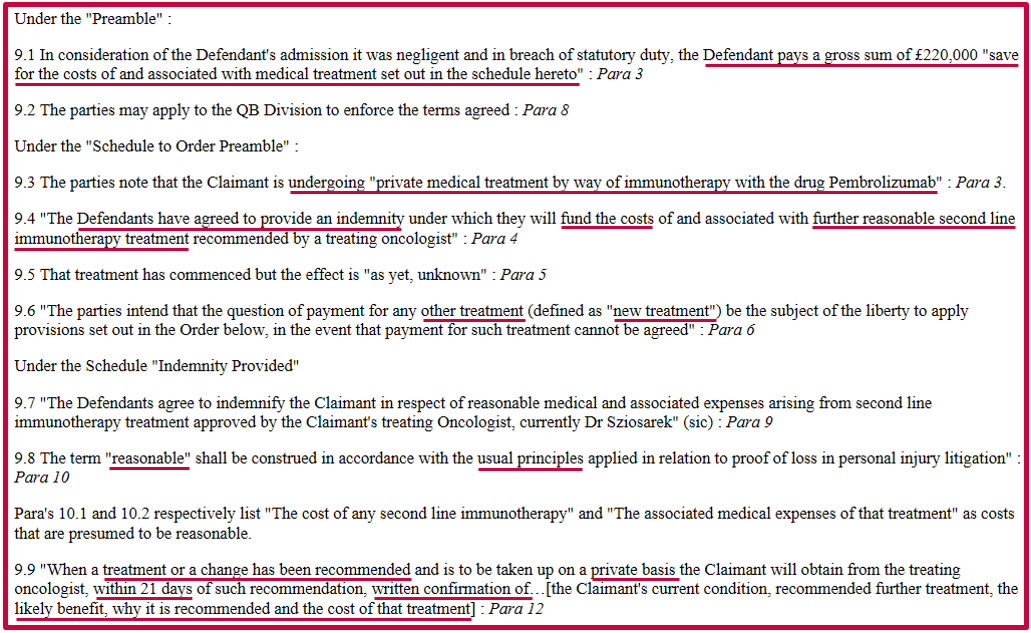 WHAT IS 'SECOND LINE TREATMENT'?
Different interpretations of 'second line therapy' brought into question the scope and extent of the defendant's liability to pay for 'new treatments', such as ipilimumab and nivolumab combination therapy.
Defendant counsel submitted that, where pembrolizumab therapy was a failed 'second line' treatment, ipilimumab and nivolumab therapy constituted a 'third line' treatment, falling outside of the agreement.
By contrast, claimant counsel submitted that ipilimumab and nivolumab therapy was a continuation (or re-treatment) of 'second line' pembrolizumab therapy and was therefore consistent with and contemplated by the agreement.
Further, counsel for the claimant emphasised that so-called 'third line' therapy is not defined in the National Cancer Dictionary of Cancer Terms, which otherwise describes 'second line' therapy as:
'Treatment that is given when initial treatment (first line therapy) doesn't work or stops working'.
On this issue, Master Thornett rejected the defendant's submission. Although 'second line' treatment was not defined in the terms of the agreement, it was clear that 'second line' treatment was 'not expressly limited to Pembrolizumab but continuing immunotherapy treatment generally'. Surgery, for example, would have been classed as a 'third line' treatment.
AN ALTERNATIVE, 'DICTIONARY MEANING'?
In the alternative, the judge found that telephone attendance notes, included within the hearing bundles, constituted an agreement 'to limit indemnity to Second Line treatment but as might entail at least three known varieties of immunotherapy'.
Authority to rely on evidence outside of the 'compromise agreement' itself was taken from 'The Interpretation of Contracts', Lewison (6th ed.), which suggested that 'the court can in limited circumstances have regard to contemporaneous extrinsic material when parties to a contract have given their own dictionary meaning to a word or phrase as a matter of common intention'.
In one attendance note, prepared by the claimant's solicitor, he recorded:
'He has agreed to put in a clause saying that we can have "second line immunotherapy". He says he takes that to be as follows:
"By that I mean Pembrolizumab, Nivolumab and/or Ipilimumab".
He did not want to be specific however. He has just agreed to "Second line immunotherapy"'.
The attendance notes conveyed a 'common intention as to definition' and it was clear that indemnity had not been limited to pembrolizumab therapy.
Therefore, the claimant was entitled to claim indemnity for the ipilimumab and nivolumab combination therapy, subject to the test of 'reasonableness'.
WAS THE PRESCRIPTION OF IPILIMUMAB AND NIVOLUMAB THERAPY 'REASONABLE'?
The defendant relied on a report, produced by Dr Patricia Fisher, on 31 July 2018. This discussed the merits of nivolumab-only and nivolumab plus ipilimumab therapy and found no support for the application of either.
She emphasised that there was 'no clinical trial evidence to guide oncologists on third line [or continuing 'second line'] treatment when patients have received chemotherapy followed by immunotherapy due to the fact that, to date, very few mesothelioma patients have been treated in this way'. Indeed, in the MAPS2 study, patients had only received chemotherapy prior to the clinical trial, i.e. no previous immunotherapy treatment.
Dr Fisher predicted that sequential immunotherapy treatment would provide 'diminishing clinical benefit but also carry increasing levels of toxicity', carrying a response rate of 11%.
As a result, she deemed that further lines of immunotherapy, as suggested by Dr Szlosarek, was 'entirely outside the emerging evidence base and therefore without clinical foundation'. Further, it lacked 'rational or scientific support' and should therefore been considered 'unreasonable'.
Nevertheless, in a letter dated 13 August 2018, Dr Szlosarek provided further clarification on the scope and application of MAPS2 to the present case. Although 'broadly in agreement' with the report of Dr Fisher, he based his recommendation on his 'experience drawn from privately funded treatment of mesothelioma' and considered combination treatment to be a 'viable clinical strategy'.
Moreover, he referred to 2 of his own patients with aggressive mesothelioma, whom he had, albeit anecdotally, treated in this way. 1 of these patients improved from a performance status of 2 to 1, with complimentary CT and MRI scans, while the other patient's results are pending evaluation of a CT scan.
Additional support was taken from two other recent studies (Baas et al, 2018 and Calabro et al, 2018) into combination immunotherapy, as well as supportive evidence of nivolumab plus ipilimumab treatment in a uveal melanoma patient, a condition which shares many characteristics with mesothelioma.
CONCLUSIONS ON 'REASONABLENESS'
Master Thornett concluded that, although there may have been 'little if any support from formal clinical research studies', there was 'some evidence to justify combined immunotherapy'. Indeed, Dr Fisher conceded that one of Dr Szlosarek's patients appeared to have 'done well', following treatment.
The judge criticised Dr Fisher's dismissal of Dr Szlosarek's 'comparison and justification by analogy with uveal melanoma'. She failed to assert that the proposed treatment method was inadvisable:
'… where the parties have expressly agreed to be bound by the reasonable opinion of the treating oncologist, I conclude the Defendant is unable simply to introduce alternative medical opinion in order to gainsay the opinion of the agreed oncologist'.
According to Master Thornett:
'There needs to be a more convincing evidential basis to conclude treatment is unreasonable, typically because the evidence establishes that the risks so obviously outweigh the potential benefits'.
A 'convincing evidential basis' does not require a supportive clinical base. Anecdotal evidence of personal practice was to be expected where there was no existing NHS practice or NICE recognition. Even though this was the 'lowest form of evidential hierarchy', it did not constitute a point for 'implied adverse criticism', or arguments of 'unreasonableness'.
Both parties cited the case of Najib v John Laing Plc [2011] EWHC 1016 (QB) in submissions, wherein Davies J applied the test of reasonableness to the ratification of photodynamic and drop therapy in a claimant with mesothelioma. There was no known risk, nor known benefit of this treatment. Nevertheless, the claim was allowed. Master Thornett, in comparing Najib and Hague, reasoned:
'In contrast to the treatment in Najib, there is evidence both as to justification and potential benefit from not only an experienced relevant clinical practitioner but the very practitioner contemplated in the Agreement: the Claimant's treating oncologist'.
Further treatment was therefore found to be 'reasonable', thereby allowing the judge to grant an order in the claimant's favour in the terms of the draft sought.
Full text judgment can be accessed here.