On 4 August 2017, the Claims Management Regulation Unit (CMRU), managed by the Ministry of Justice under Part 2 of the Compensation Act 2006, published their 2016/17 annual report. [i]
BC Legal last discussed the CMRU in edition 151 (here). In the latest document, the government body discussed 'notable decreases' in nuisance personal injury calls over the past year and a total turnover of £726m, a reduction on last year's £751 million turnover. Of this £726 million, 25% is made up of turnover from the personal injury industry.
The following diagram, taken from the CRU Annual Report breaks down the 2016/2017 turnover by industry: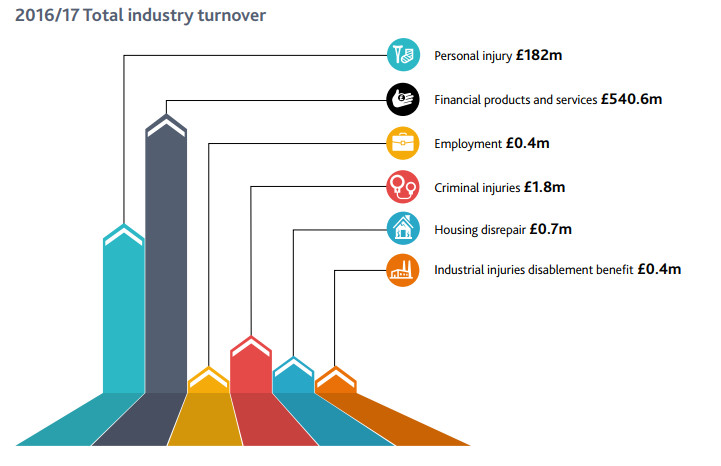 As can be observed in the table below, personal injury turnover figures have mirrored the total turnover trend over the past 5 years. After the industry briefly recovered from suffering a major decline in 2013/14, turnover has persistently fallen. For example, this year's turnover of £182 million is just 49% of the personal injury turnover calculated during the period of 2012/13.[ii]
The initial reduction was attributed to reforms, introduced by the Legal Aid, Sentencing and Punishment of Offenders Act 2012, such as the prohibition of referral fees, which sought to moderate the cost of civil litigation, premiums associated with motor insurance and numbers of spurious claims for personal injury.[iii]
Meanwhile, claims for industrial injury disablement benefit in this year's report equate to approximately 0.2% of the cumulative turnover, equating to £726 million.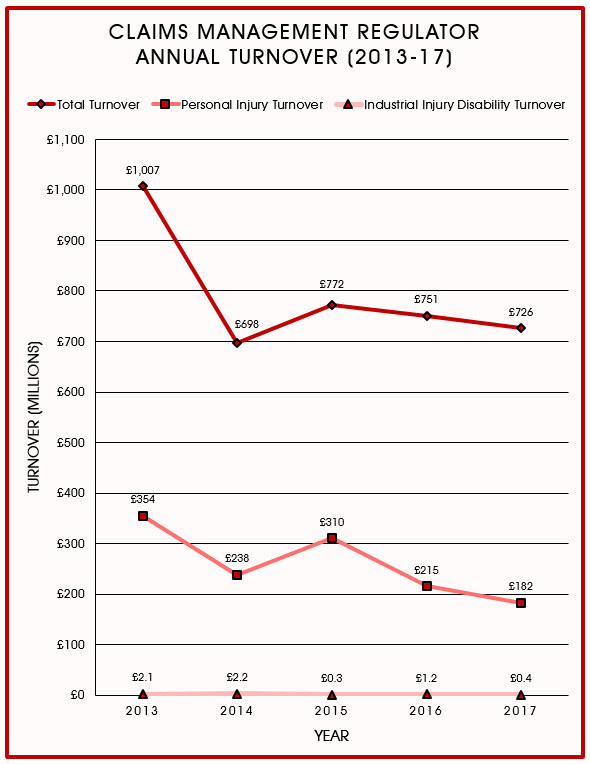 What is more, the report states that: 'Applications from businesses intending to operate in the personal injury sector were down by 47%...' Imminent reforms, such as the rising of the small claims limit for soft tissue whiplash claims, to £5,000, are suspected to be the cause of deteriorating commercial interest, causing 'future uncertainty and difficulties in business planning'. It is interesting to note, however, that while only a small number of businesses, working with a 'panel of solicitors', continue to maintain their dominant share in the personal injury market, small to medium sized businesses have, upon establishing themselves with 'single solicitors', brought stability to the sector. Nonetheless, 'For many of these smaller CMCs, personal injury work is now subsidiary to other ancillary business activities, such as accident management, vehicle recovery, storage, repair and vehicle hire'.
Indeed, the number of authorised CMCs has fallen, overall, by 23% (from 979 totalled in 2015 to 752 in the report published this month). More than 100 of these CMCs were affiliated with the personal injury industry. When put into perspective, though, prior to the implementation of the ban on referral fees, there were 2,316 authorised personal injury CMCs.[iv]
The image below, taken from the CRU Annual Report shows the total number of authorised CMCs by sector over the past 3 years.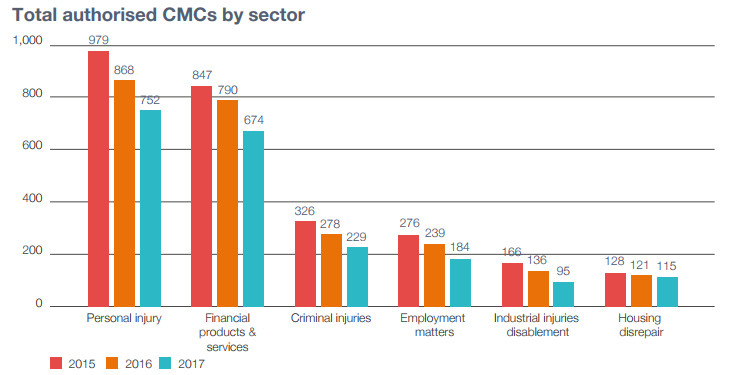 Looking to the future, the report infers that the 'emergence and decline of noise induced hearing loss activity', in recent times, has seen a 'significant growth' of holiday sickness claims. As yet, it is unclear whether the necessary shifting of resources to tackle malpractice in this area will need to be a permanent measure, but the CMRU have established a dedicated team and a prepared program of CMC audit, regardless.
[i] Ministry of Justice, 'Claims Management Regulator: annual report 2016 to 2017' (4 August 2017) <https://www.gov.uk/government/publications/claims-management-regulator-annual-report-2016-to-2017> accessed 8 August 2017.
[ii] Ministry of Justice and Lord Faulks QC, 'Claims Management Regulation Annual Report 2014 to 2015' (13 July 2015) <https://www.gov.uk/government/publications/claims-management-regulator-annual-report-2014-to-2015> accessed 8 August 2017.
[iii] John Hyde, 'Personal injury sector shrinks as reforms bite' (7 August 2017 Law Society Gazette) <https://www.lawgazette.co.uk/news/personal-injury-sector-shrinks-as-reforms-bite/5062392.article> accessed 8 August 2017.
[iv] Neil Rose, 'Number and turnover of personal injury CMCs continues to tumble' (7 August 2017 Legal Futures) <http://www.legalfutures.co.uk/latest-news/number-turnover-personal-injury-cmcs-continues-tumble> accessed 8 August 2017.