For many months, we have reported that fixed recoverable costs (FRC) could be imposed across the fast track and in most money claims up to the value of £100,000 by late Autumn (potentially October) of 2022.
However, such speculation can now be viewed as premature, as officials at the Ministry of Justice (MoJ) have assured various sources that widespread FRC extension is intended to take effect in April of 2023.[i]
In order to meet this pushed back deadline, the Government is aiming to secure the Civil Procedure Rule Committee's (CPRC) agreement on new rules (with the CPRC costs sub-committee overseeing the drafting of such rules) to supplement FRC reform by the end of 2022.
Practitioners can now begin adjusting their business models to accommodate changes commencing in less than a year.
In edition 345 of BC Disease News (here), we reported on the Minutes of the CPRC's meeting on 4 March 2022. We disclosed that there would be a 'further consultation' on qualified one-way costs shifting (QOCS) 'in due course'.
Incidentally, the MoJ has since launched its Consultation on changes to the Qualified One-Way Costs Shifting (QOCS) regime in personal injury cases.
The purpose of this Consultation is seemingly to ensure that the impending extension of FRC does not exacerbate existing issues with QOCS emanating from Ho v Adelkun [2021] UKSC 43 (read our case analysis here) and the earlier decision of Cartwright v Venduct Engineering [2018] EWCA Civ 1654 (find our summary of the judgment here).
The collective effect of these case authorities is that, in personal injury claims where defendants obtain orders for costs in their favour and QOCS applies, set-off of those costs against opponents' orders for costs is impermissible. Costs orders in favour of defendants may only be enforced up to the level of damages awarded to claimants. However, damages do not extend to settlement figures in accepted Part 36 Offers or Tomlin Orders, as these do not constitute an 'order for damages and interest', under CPR 44.14(1).
Ultimately, the Consultation states that:
'… the combined outcome of both of these cases is to undermine the effectiveness of QOCS and part 36 in resolving disputes'.
Commentators have forecasted that defendant Part 36 Offers will be increasingly ignored or rejected as a result, with the punitive costs consequences of claimants failing to beat offers at trial fundamentally extinguished.
'The Government considers that the most effective way of addressing issues around QOCS is by amending Section II of Part 44 as follows:
Allow that a claimant's entitlement to costs is considered to be part of the overall fund against which set-off can be applied; and
Extend costs orders to deemed orders, so a defendant can enforce a deemed order for costs (especially following acceptance of a Part 36 offer) without the permission of the court'.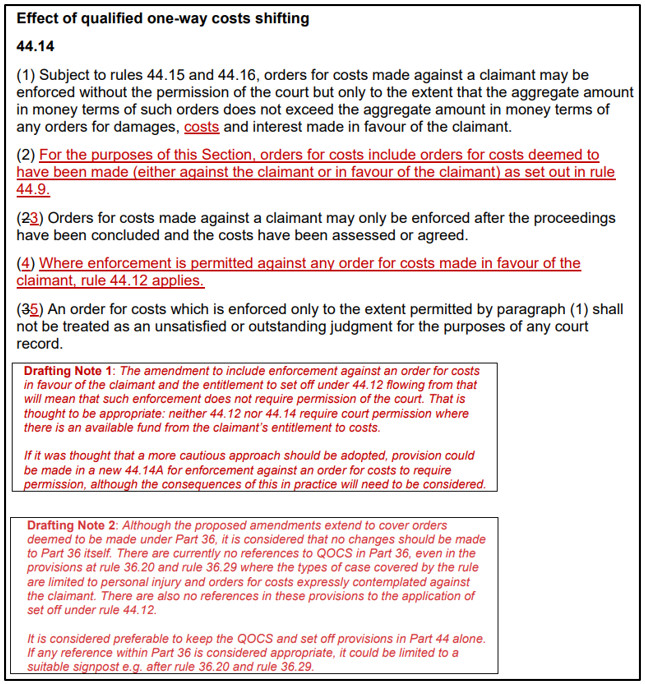 Meanwhile, the MoJ has published another Consultation on extending fixed recoverable costs (FRC): how vulnerability is addressed.
Confronting an issue previously recognised by the Civil Justice Council (CJC), in 2020, this Consultation endeavours to ensure that parties or witnesses classified as 'vulnerable' are not disadvantaged in bringing or defending claims that are within the scope of FRC.
It does so by proposing to bestow judges the discretion to determine whether the extent of a relevant person's vulnerability gives rise to sufficient extra work (in pursuit or defence of a claim), which would justify an exceptional award of additional costs. This clear and simple process of establishing vulnerability would allow for a 20% minimum uplift on FRC (maximum uplift uncapped) and would only apply retrospectively, i.e. judges would need to be satisfied that extra work 'has been incurred' and not simply that it 'may need to be'.
In short, the 'vulnerability rule' has been drafted to preserve access to justice, whilst maintaining the integrity of FRC.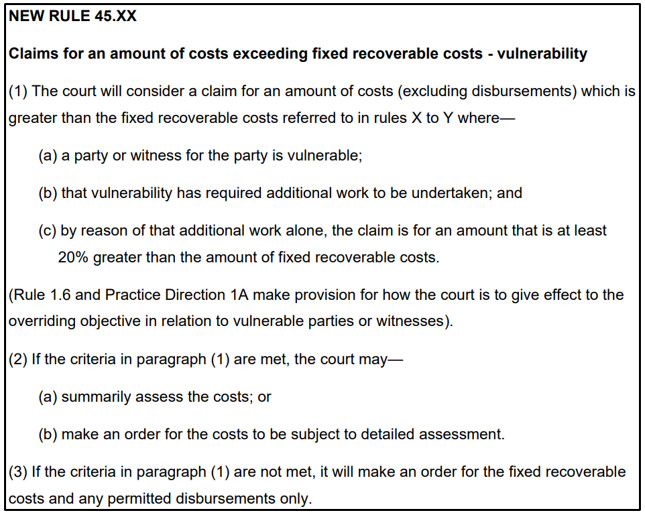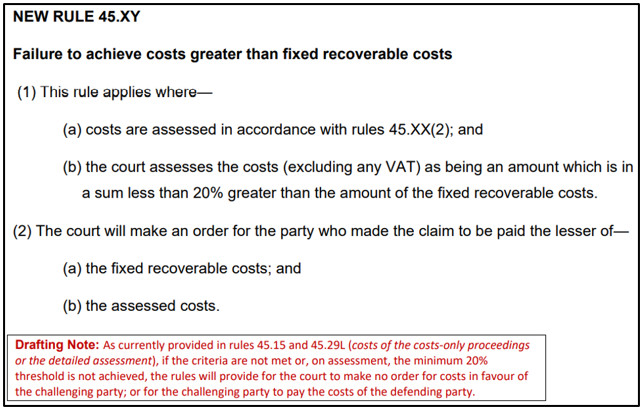 The deadline for This email address is being protected from spambots. You need JavaScript enabled to view it. to either of these Consultations is 20 June 2022.[ii]
[i] Neil Rose, 'Government puts back fixed costs extension by six months' (10 May 2022 Legal Futures) <https://www.legalfutures.co.uk/latest-news/government-puts-back-fixed-costs-extension-by-six-months> accessed 11 May 2022.
John Hyde, 'Fixed costs extension earmarked for April 2023' (10 May 2022 Law Gazette) <https://www.lawgazette.co.uk/news/fixed-costs-extension-earmarked-for-april-2023/5112440.article> accessed 11 May 2022.
[ii] Ministry of Justice, 'CONSULTATION ON ISSUES ARISING FROM THE CIVIL PROCEDURE RULE
COMMITTEE CONSIDERATION OF THE IMPLEMENTATION OF FIXED RECOVERABLE
COSTS IN CIVIL CASES'(May 2022 GOV.UK) <https://assets.publishing.service.gov.uk/government/uploads/system/uploads/attachment_data/file/1073754/qocs-and-frc-vulnerability-consultation-cover-note.pdf> accessed 11 May 2022.