Towards the end of 2018, we reported (here) that claimant firm, Roberts Jackson Solicitors, had collapsed, only to be immediately sold out of administration to alternative business structure (ABS), AWH Legal, an acquisition vehicle which offers legal services through the trading name, AWH Solicitors.
When AWH Legal announced that it had 'merged' with the now defunct occupational disease practice, it was claimed that this outcome represented the best value for creditors seeking to recoup a proportion of the total debt figure, which stood at £40 million and was broken down as follows:
£4.25 million (revolving credit facility) to NatWest;
£22.5 million (floating charge) to private equity (PE) investor, NorthEdge Capital; and
£13.8 million to unsecured creditors (including medical experts, counsel, HMRC, etc.).

£940,000 (trade and expense creditors);
£6 million (medico-legal expert fees);
£2.4 million (counsel and other legal advisers), etc.
The Statement of the Joint Administrators' Proposal (read our assessment here), filed by appointed Joint Administrators, Andrew Hosking and Sean Bucknall, of the insolvency and restructuring practitioner, Quantuma LLP, revealed that the straw that broke the camel's back had been a dispute with its after-the-event (ATE) insurance provider. Roberts Jackson was forced to settle payments owed to 3rd parties under the terms of ATE policies and, in the wake of 'significant cash-flow issues', the firm's working capital was insufficient to meet liabilities.
When the firm was sold, the book value of Roberts Jackson's work-in-progress (WIP) was £13.4 million (written down to £4.9 million by expert assessors, Zebra LC).

It was estimated that a total of £3.4 million in total assets could be realised, with AWH agreeing to pay 10% of all profit costs and success fees from settled cases, 50% of the recoverable value of disbursements, 90% of the recoverable value of debtors and 60% of the recoverable value of accrued revenue.

We last provided an outlook on the financial fate of Roberts Jackson's creditors in edition 294 of BC Disease News (here), in conjunction with the filing of a Notice of Administrator's Progress Report with Companies House.
At the time, Roberts Jackson had received £1,015,000 and paid out around £904,500. Further, the best- and worst-case estimates of future receipts were around £2,589,000 and £3,222,000, respectively.
Hence, the probable rate of return for NatWest was between 41.8% (41.8 pence in the pound) and 56.0% (56 pence in the pound), while the predicted dividend for unsecured creditors was between 3.2% (3.2 pence in the pound) and 4.2% (4.2 pence in the pound).
At the end of April, Legal Futures gave fresh insight into creditor recoveries, which have yet worsened.[1]
Across the circa 300 active Roberts Jackson files remaining, it was considered that approximately £35,000 was retrievable (10% entitlement under sale agreement). With this in mind, AWH made an offer of £20,000 in full and final settlement of the balance, which was accepted by the Administrators.
As at 27 March 2022, the latest Notice of Administrator's Progress Report projected the 'Estimated Final Position' on receipts to equal £1,437,197 – see the 'Estimated Outcome Statement' screenshot below.
On this basis, the anticipated rate of return for the bank is anticipated to be just 20.0% (20 pence in the pound), while unsecured creditors are set to collect a dividend of 1.5%. (1.5 pence in the pound). In short, the pre-pandemic worst-case estimates have been halved.
Meanwhile, NorthEdge Capital, which acquired 43% of Roberts Jackson's issued share capital in 2014, will not receive any of the £22.5 million due.
N.B. The unsecured creditor payout is still calculated with reference to a written down stake of £13.3 million. Up to now, though, 109 claims have been lodged at a value of £8.2 million.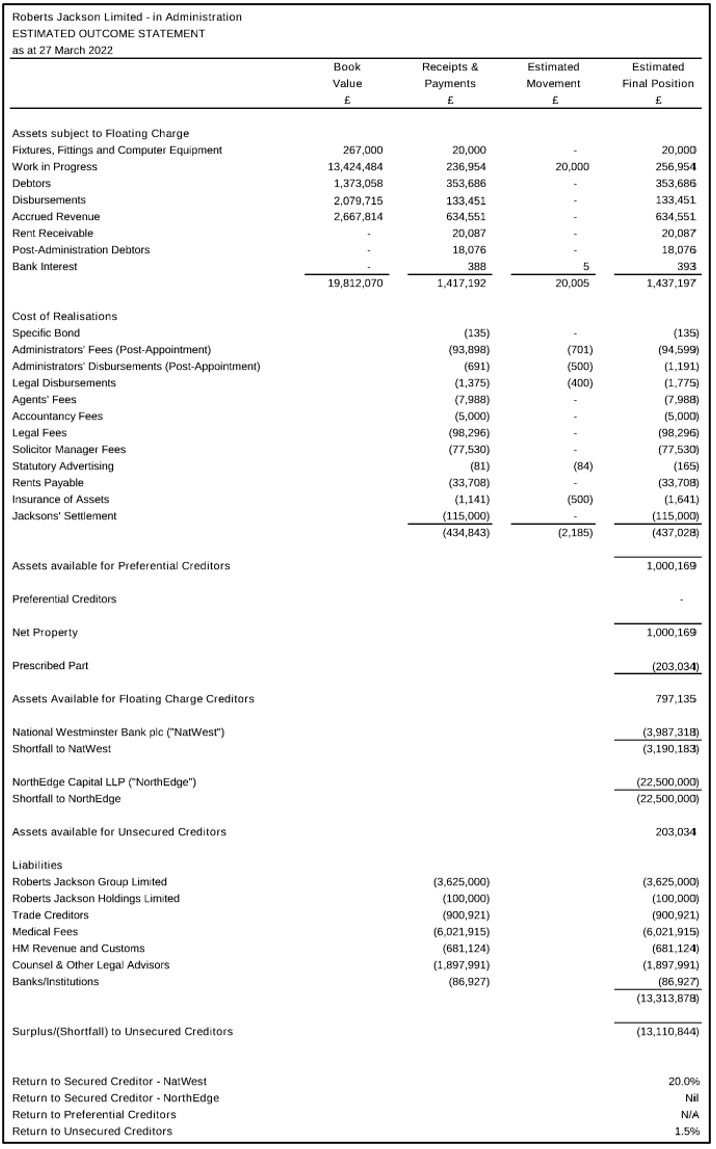 [1] 'Bleak outlook for creditors owed £40m after PI firm collapse' (27 April 2022 Legal Futures) <https://www.legalfutures.co.uk/latest-news/bleak-outlook-for-creditors-owed-40m-after-pi-firm-collapse> accessed 28 April 2022.