Respirable crystalline silica (RCS) is the 'next asbestos'. This was the All Party Parliamentary Group (APPG) for Respiratory Health's claim in its 40-page Report (dated March 2020), which we shared the details of in edition 307 of BC Disease News (here).
With an estimated 600,000 British workers exposed to RCS every year, the Report warned of a 'profound lack of awareness among construction workers' and started a 'long overdue' conversation about the risk of developing silicosis, which can increase the risk of tuberculosis, kidney disease, arthritis, chronic obstructive pulmonary disease (COPD), lung cancer and chronic bronchitis.
In the case of silicosis, duration and level of exposure typically affects the severity and latency of the condition. Symptoms may take 10 to 20 years to emerge and can be fatal.
Among a host of recommendations, the Government was asked by the APPG to make silicosis a reportable condition under The Reporting of Injuries, Diseases, and Dangerous Occurrences Regulations (RIDDOR) 2013; create a compulsory national silicosis register by amending The Health Protection (Notification) Regulations 2010; introduce new health and safety Regulations to afford RCS the same level of protection as asbestos; halve the workplace exposure limit (WEL) for RCS in the UK from 0.1mg/m3 to 0.05mg/m3 in EH40/2005; and raise the volume of HSE inspections (and compliance reports) to ensure the implementation of compulsory mask use, dust extraction and water suppression on building sites.
Earlier this year, it was disclosed that the APPG was conducting a one-year update of 'Silica – the Next Asbestos?' – the 2020 Report.
The APPG's Policy Adviser and Secretariat has announced that the follow-up report will explore the advantages of various technological advances designed to protect workforces that were unknown to the APPG at the time of the original Report's publication. Thus, by 4 March 2022, businesses and stakeholders within the construction sector were invited to submit evidence to assist the APPG's inquiry into the latest developments in risk reduction strategies.[1]
Speaking of new technologies, in recent weeks, various health and safety news websites have been reporting on the launch of the world's first 'real-time detector' of RCS particulates in airborne dust mixtures.
The Air XS Silica Monitor has been developed by industry leading British manufacturer, Trolex, which boasts over 60 years of experience in the safety instrumentation field.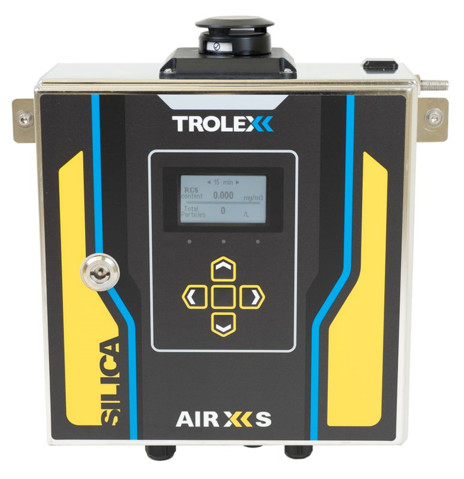 (Source: Health and Safety Event)
Set to 'revolutionise worker safety within the construction industry', the 'easy-to-use' Air XS is able to distinguish RCS from other airborne particulates and can track increasing/decreasing concentrations of RCS in a dusty workspace over time. It displays the presence of RCS mass by volume and alerts workers when rising exposure levels become hazardous. It also allows for the programming of customised on-device exposure limit thresholds and warnings [short-term exposure limits (15-minute STEL) and time-weighted averages (eight-hour TWA)], where necessary.
Configuration of the Air XS is not complicated, with accurate monitoring at the disposal of users deploying minimal training. Only five-minutes-per-month of device maintenance is required.
Promoting his company's 'exciting product', Trolex CEO, Glyn Pierce-Jones, asserts that:
'The Air XS is a global-leading solution to an increasing health problem in many industries. Real time silica monitoring is the safest and most cost-effective way to promote workers' health in the industries associated with RCS. The Air XS will substantially reduce the number of surveys needed onsite, improve processes create smart ventilation and extraction systems and identify inefficiencies'.[2]
The spotlight on RCS in the workplace is intensifying and pressure on employers to safeguard workers against the potential dangers of RCS inhalation is growing.
It will therefore be interesting to observe industrial uptake of health and safety monitoring devices, like the Trolex Air XS, moving forwards. However, the construction sector is saturated with 'small and micro businesses' (90% of workers are employed by companies whose workforce totals 7 people or fewer) and these businesses are less likely to endorse protective health and safety measures.
[1] 'APPG calls for evidence on silicosis risk reduction' (11 February 2022 Agg-Net) <https://www.agg-net.com/news/appg-calls-for-evidence-on-silicosis-risk-reduction> accessed 4 April 2022.
'Parliamentary Group calls for evidence on silicosis risk reduction' (11 February 2022 Stone Specialist) < https://www.stonespecialist.com/news/health-safety-ethical-environmental/parliamentary-group-calls-evidence-silicosis-risk> accessed 4 April 2022.
[2] 'The Air XS Press Release' (21 March 2022 Health & Safety Event) <https://www.healthandsafetyevent.com/news/the-air-xs-press-release> accessed 30 March 2022.