At the end of last month, new general guidance on e-bundles was dispensed by Lord Justice Haddon-Cave (Senior Presiding Judge), Sir Andrew McFarlane (President of the Family Division) and Mr. Justice Johnson (Judge-in-charge of Live Services), which updates and replaces previous guidance, published on 20 May 2020,[i] but will naturally be subject to any specific guidance or directions provided by the courts in individual cases.
Its purpose is to ensure a level of e-bundle consistency for the efficient preparation and management of affected court hearings.
Verbatim, the guidance states, as follows:
E-bundles must be provided in pdf format.
All pages in an e-bundle must be numbered by computer-generated numbering, not by hand. The numbering should start at page 1 for the first page of the bundle (whether or not that is part of an index) and the numbering must follow sequentially to the last page of the bundle, so that the pagination matches the pdf numbering. If a hard copy of the bundle is produced, the pagination must match the e-bundle.
Each entry in the index must be hyperlinked to the indexed document. All significant documents and all sections in bundles must be bookmarked for ease of navigation, with a short description as the bookmark. The bookmark should contain the page number of the document.
All pages in an e-bundle that contain typed text must be subject to OCR (optical character recognition) if they have not been created directly as electronic text documents. This makes it easier to search for text, to highlight parts of a page, and to copy text from the bundle.
Any page that has been created in landscape orientation should appear in that orientation so that it can be read from left to right. No page should appear upside down.
The default view for all pages should be 100%.
If a core bundle is required, then a PDF core bundle should be produced complying with the same requirements as a paper bundle.
Thought should be given to the number of bundles required. It is usually better to have a single hearing e-bundle and (where appropriate) a separate single authorities e-bundle (compiled in accordance with these requirements), rather than multiple bundles (and follow any applicable court specific guidance – see e.g. CPR PD52C Section VII (external link, opens in a new tab)).
The resolution of the bundle should not be greater than 300 dpi, in order to avoid slow scrolling or rendering. The bundle should be electronically optimised so as to ensure that the file size is not larger than necessary.
If a bundle is to be added to after it has been transmitted to the judge, then new pages should be added at the end of the bundle (and paginated accordingly). An enquiry should be made of the court as to the best way of providing the additional material. Subject to any different direction, the judge should be provided with both (a) the new section and, separately, (b) the revised bundle. This is because the judge may have already marked up the original bundle.
E-bundles have been extensively used throughout the pandemic, where hearings have been conducted remotely.
Pursuant to the Queen's Bench (QB) Guide (2021),[ii] court users must provide paper copies of application or hearing bundles unless otherwise ordered, but may also file corresponding application or hearing bundles in electronic format (e-bundles) using electronic working and in accordance with Practice Direction (PD) 51O para 10.3 – see para 3.41 of the QB Guide.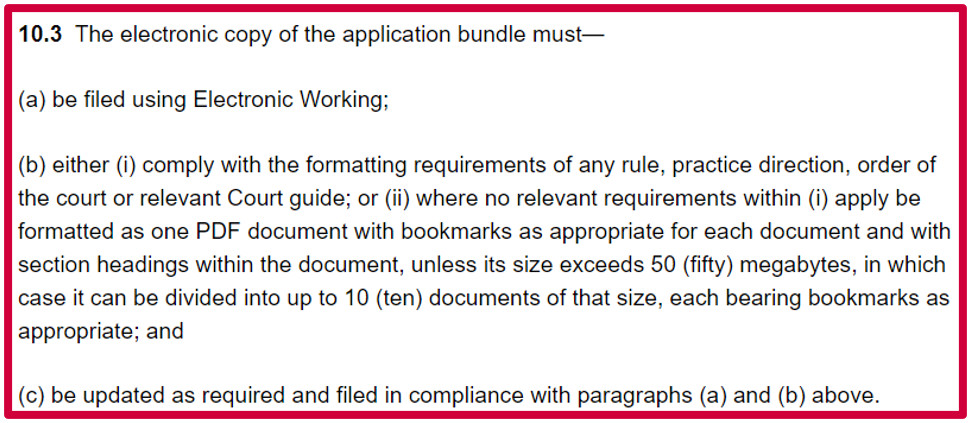 [i] 'General guidance on electronic court bundles' (29 November 2021 Courts and Tribunals Judiciary) <https://www.judiciary.uk/announcements/general-guidance-on-electronic-court-bundles/> accessed 3 December 2021.
[ii] This affects asbestos disease actions that are issued (post-1 July 2019) out of the Central Office of the Queen's Bench Division in London, at the Royal Courts of Justice, and fall under the Electronic Working Pilot Scheme (EWPS).