A fortnight ago, The Daily Mail, The Times and The Mirror provided an update on the Government's defence of a £3.7 million non-freezing cold injury (NFCI) claim, shrouded by allegations of 'fundamentally dishonest' behaviour.[i]
We first reported on the case in edition 330 of BC Disease News (here), following a pre-trial application hearing, in which the Ministry of Defence (MoD) was granted permission to rely on new video and surveillance evidence in support of its position that the claimant, Mr. Muyepa, had 'overegged and exaggerated' his symptoms.
Contrary to claimant's protestation that the MoD was employing 'ambush' tactics, His Honour Judge Auerbach considered it to be 'at least arguable' that this evidence 'could potentially have an appreciable impact on the final quantum of the award that the court makes' and posed a 'real risk of unfairness', were the application to be rejected.
A 10-day trial is scheduled to take place later this year.
In the meantime, the media has disclosed that the MoD recently appeared before His Honour Judge Kimbell QC, at the High Court, with the intention of withdrawing its admission of breach of duty, amending its defence and putting forward a new witness statement.
The MoD's revised case is that the claim is 'entirely fraudulent' and this submission primarily rests on the new witness, who maintains that, prior to being examined by military doctors at the Institute of Naval Medicine, the claimant engaged in discussions about how he could pack ice blocks around his feet to fake his condition, thus 'fooling' the Institute's diagnostic infrared thermography tests.
Clearly, the Government would not owe a duty of care to an employee injured vis-à-vis an elaborate scam of his own engineering.
In preparation for trial, instructed medical experts will be asked to investigate the legitimacy of the MoD's latest accusation of foul play, or more narrowly, to scrutinise whether the machinery used to inspect the claimant's physical health could have been tricked in this way.
For now, the claimant denies all aspersions cast against him and is pressing on with his claim.
As stated earlier this year, should the claimant be awarded the level of damages requested, this would result in the highest ever recorded MoD payout, in respect of a NFCI.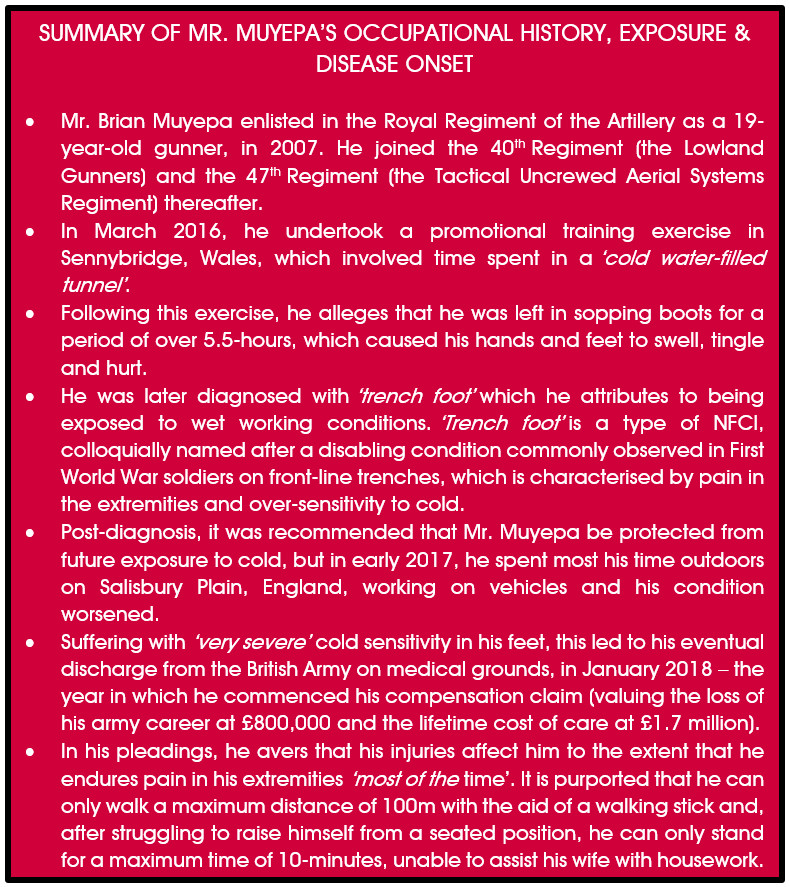 [i] James Gant, 'Soldier, 32, who is suing the MoD for £3.7m over trench foot that left him "struggling" to walk "faked condition by packing his feet in ice blocks", High Court hears' (19 October 2021 Daily Mail) <https://www.dailymail.co.uk/news/article-10106933/Soldier-32-suing-MoD-3-7m-trench-foot-faked-condition-High-Court-hears.html> accessed 20 October 2021.
Chris Hughes, 'Ex-soldier suing MoD for record £3.7m over trench foot accused of faking condition' (19 October 2021 The Mirror) <https://www.mirror.co.uk/news/uk-news/ex-soldier-suing-mod-record-25250669> accessed 20 October 2021.
Jonathan Ames, 'Soldier claiming £3.7m for trench foot "packed ice in boots to fool medical tests"' (19 October 2021 The Times) <https://www.thetimes.co.uk/article/soldier-claiming-3-7m-for-trench-foot-packed-ice-in-boots-to-fool-medical-tests-h6xsv9nxj> accessed 20 October 2021.