In edition 333 of BC Disease News (here), we reported that the widows of deceased Symphony Orchestra members had commenced legal action against the BBC, arguing that the corporation negligently exposed its musicians to asbestos in the course of their employment at the Maida Vale Studios, in London.
At the time, we contemplated that claimant firms could resort to targeting (former) BBC employees as a means of farming new claims, just as Irwin Mitchell did previously, in 2006.[i]
Incidentally, last week, an article in The Observer disclosed that the public service broadcasting network was being sued once more.[ii]
On this latest occasion, damages are being sought by the widow of set builder, Richard Evans, who contracted fatal asbestos-related cancer decades after his 23-years of service with the BBC ended.
Mr. Evans principally worked at the BBC's former headquarters, the Television Centre in White City (west London), from 1965 until 1988.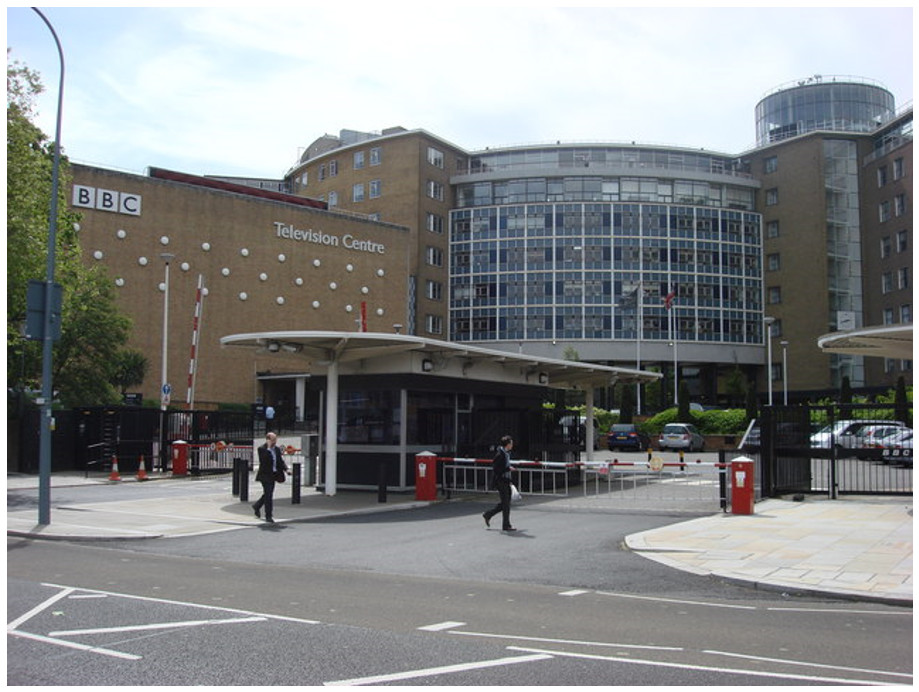 [Source: Wikimedia Commons – Oxyman (12 May 2009) 'BBC Television Centre, entrance on Wood Lane']
In a statement supplied by him prior to his death, he recounted how his job role typically entailed cutting open bags of asbestos-containing Artex plaster, scooping the material into a bucket and (sometimes using his hands) mixing together with water to create a thick paste. He would then spread the paste onto flattages (scenery outlines built by carpenters) ready for him to paint. During the mixing process, dust was created that could 'clearly be seen' on his hands, forearms, overalls and in the atmosphere around him. He also inhaled asbestos dust when the scenery was broken up post-filming.
Leigh Day Solicitors is acting for Ms. Evans in this case. This happens to be the same firm that is handling the London Symphony Orchestra claims.
Senior Solicitor, Harminder Bains, has spoken out on the BBC's 'appalling' management of its asbestos risk. In particular, she pointed to the lack of warning of the dangers of working with Artex, even though the dangers of asbestos were well-known at the time. She also underscored the lack of provision of protective respiratory equipment, which could have reduced the deceased's risk of developing asbestos-related disease.
Contrary to these accusations, a spokesperson the BBC made the following statement:
'The health and safety of all those that work for the BBC or use BBC buildings is a primary concern and the BBC manages asbestos in its buildings in accordance with the applicable regulations and statutory requirements. Given that there is an ongoing legal case we are unable to comment further'.
It is understood that the BBC has in fact already made an admission to the High Court that it exposed Mr. Evans to asbestos.
Unsurprising, therefore, is the fact that Ms. Bains foresees more claims arising with comparable factual background:
'Tragically, given that we now know that there was asbestos in several BBC premises, there must be other former BBC staff who lost their lives because of this. On top of that Mr Evans was not the only set builder working with Artex therefore there may be many others in the profession who have been exposed'.[iii]
[i] 'Risk of asbestos exposure, BBC staff warned' (12 October 2006 Irwin Mitchell) <https://www.irwinmitchell.com/news-and-insights/newsandmedia/2006/october/risk-of-asbestos-exposure-bbc-staff-warned-jq-599904> accessed 22 July 2021.
[ii] Denis Campbell, 'BBC sued for set builder's death in claim over asbestos' (20 September 2021 The Guardian) https://www.theguardian.com/media/2021/sep/19/bbc-sued-for-set-builders-death-in-claim-over-asbestos> accessed 23 September 2021.
[iii] 'Dr Who set builder exposed to asbestos while working at the BBC' (21 September 2021 Leigh Day) <https://www.leighday.co.uk/latest-updates/news/2021-news/dr-who-set-builder-exposed-to-asbestos-while-working-at-the-bbc/> accessed 23 September 2021.