Last week, Gordon Exall shared segments of the High Court's recent judgment, in the case of Sheard v Cao Tri Do [2021] EWHC 2166 (QB), on his Civil Litigation Brief blog.[i]
The purpose of doing so was to inform readers that Gestmin SGPS SA v Credit Suisse (UK) Ltd [2013] EWHC 3650 (Comm) had once again featured in the course of personal injury proceedings. Gestmin, of course, is the leading authority on the 'fallibility' of human memory and reliance on memories as evidence in civil litigation.
In Sheard, the claimant was seeking damages for losses arising out of alleged clinical negligence.
When the trial of liability took place before HHJ Robinson, he was 65-years-old, a care home resident and disabled. He gave oral evidence under cross-examination and it became apparent that there were gaps in his recollection of events (specifically with regards to his consultation with the defendant GP).
The principal question for the judge, therefore, was whether he could treat the claimant's evidence as accurate and reliable.
His impression was that the testimony put forward was 'unquestionably truthful in the sense that the claimant genuinely believed it', having been swayed by the claimant's unfailingly polite, calm, measured and unflustered manner.
Perhaps the most influential factor, though, was the fact that during cross-examination, the claimant conceded of his own volition that his recall was far from perfect:
'The fact that the claimant was readily prepared to confess to memory failings in relation to some issues gives me confidence in accepting the accuracy of his declared memory in relation to others'.
Understanding the characteristics, behaviours and competencies of dependable witnesses can often prove critical in long-tail disease claims, where documentary evidence is hard to come by years after the alleged exposure/incident occurred.
This has been recognised by the civil justice system, with the key Gestmin principles now having been enshrined in paragraph 1.3 of the Appendix to Practice Direction 57AC.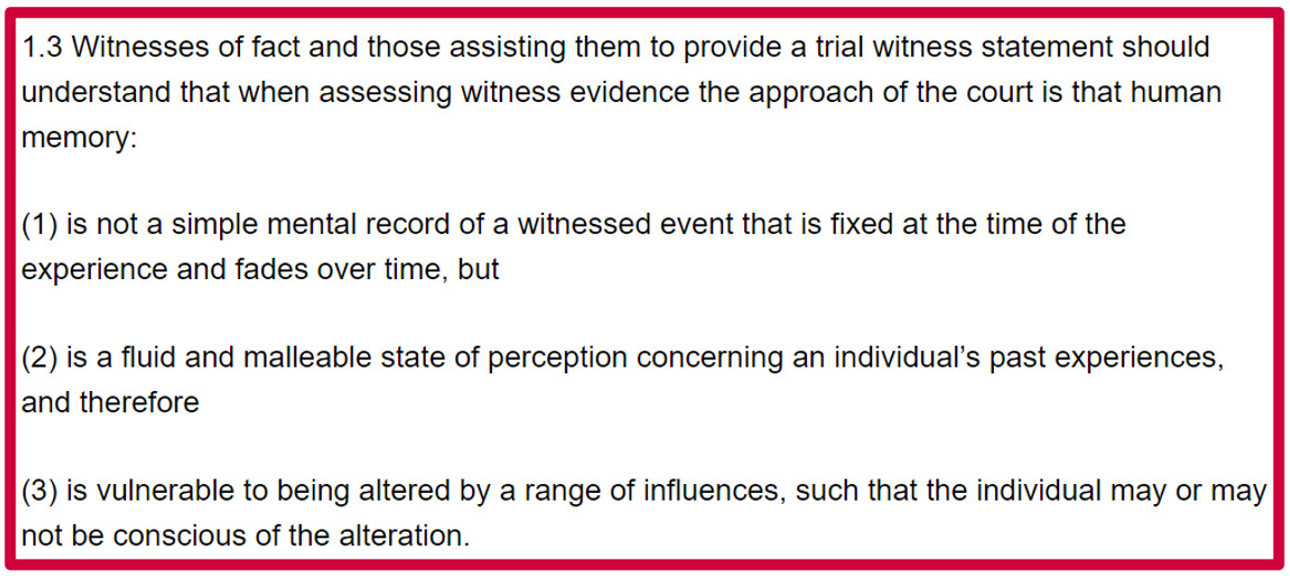 Perhaps self-explanatory, but what the ruling in Sheard adds here is that a person who can demonstrate a clear demarcation between what they definitively know and do not know will likely be seen as a more persuasive witness.
Full text judgment can be accessed here.
[i][i] Gordon Exall, 'PROVING THINGS 213: CLINICAL NEGLIGENCE, WITNESS EVIDENCE AND MEDICAL NOTES' (3 August 2021 Civil Litigation Brief) <https://www.civillitigationbrief.com/2021/08/03/proving-things-213-clinical-negligence-witness-evidenec-and-medical-notes/> accessed 3 August 2021.