On 20 December 2019, Master Thornett granted an application for default judgment in the absence of a defendant's acknowledgment of service. Judgment was entered on liability with damages to be assessed.
The defendant then made an application to set aside judgment in default, pursuant to CPR 13.3 and the court ruling on this application was published last month: Alli-Balogun v On the Beach Ltd & Ors [2021] EWHC 1702 (QB).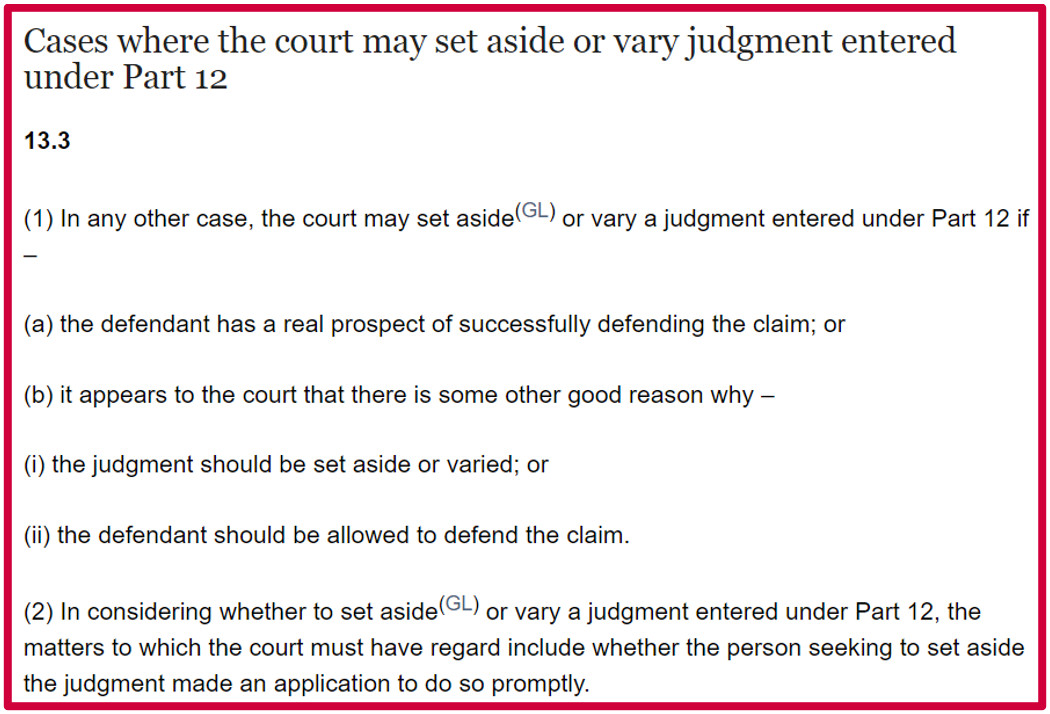 Though the outcome of this case is of no particular significance, the dicta of Mr. Justice Jacobs on factors that affect the chances of a defendant party reversing default judgment is worth delving into.
Before doing so, it is necessary to consider past case law on this subject. Previously, Eder J, in Intesa Sanpaolo SPA v Regione Piemonte [2013] EWHC 1994 (Comm), 'broadly accepted' a host of principles articulated by counsel on CPR 13.3 applications, which were as follows:
'i) The court's power to set aside a default judgment pursuant to CPR 13.3 is discretionary.
ii) The burden rests upon the defendant to satisfy the court that there is good reason why a judgment regularly obtained should be set aside: ED&F Man Liquid Products Ltd v Patel [2003] EWCA Civ 472. Furthermore, depriving the claimant of a regular judgment which the claimant has validly obtained in accordance with CPR 12 is not something which the court will do lightly.
iii) In particular, CPR 13.3(2) gives added emphasis to the need for a defendant to show that it has acted "promptly" in seeking to set aside. More specifically:
a) "Promptly" in this context means "with alacrity" or "with all reasonable celerity in the circumstances": Regency Rolls Ltd v Carnall [2000] EWCA Civ 379.
b) Promptness will always be a factor of considerable significance and, if there has been a marked failure to make the application promptly, a court may well be justified in refusing relief, notwithstanding the possibility that the defendant may well succeed at trial: Standard Bank plc v Agrinvest International Inc [2010] EWCA Civ 1400per Moore-Bick LJ at [22].
c) It follows that, by contrast with the test for summary judgment under CPR 24, under CPR 13.3 the merits of any proposed defence are just a factor which can be taken into account – and an unimportant or irrelevant factor where the failure to act promptly is particularly egregious.
d) Promptness is suchan important factor because of the public interest in the finality of litigation, the need under the CPR to act expeditiously, and the requirement to have regard to the proper allocation of courts' resources: Mullock v Price [2009] EWCA Civ 1222, per Ward LJ at [28].
iv) As regards the time period in which applications have been deemed to be "prompt", the limit appears to be some way short of the 11 months that have elapsed in this case. Thus, 30 days has been deemed to be too long: Khan v Edgbaston Holdings [2007] EWHC 2444 (QB), per HHJ Coulson QC. It has been suggested that 59 days is "very much at the outer limit of what could possibly be acceptable": Hart Investments v Fidler [2006] EWHC 2857'.
Eder J's only caveat here, was that there is no 'arbitrary time limit' and that every case 'must ultimately turn on its own facts'.
Fast-forwarding in time, how does Alli-Balogun evolve on these established principles (albeit they were not cited)?
Well, in a way that was consistent with recognised case authorities (including Standard Bank), Jacob J maintained that decisions as to whether judgments should remain in place is a discretionary one and that claimants will ordinarily not be lightly deprived of a default judgment.
Given that White Book commentary, at paragraph 13.3.1, states that the power to set aside judgment is to 'avoid injustice', Jacobs J opined that real prospects of a successful defence on liability supersede 'promptness', or any other discretionary consideration, when conducting such an exercise. Does this somewhat contradict paragraph (iii)(b) of the Intesa Sanpaolo judgment, above?
The High Court judge also affirmed that demonstrating real prospects of defending a claim can be influential for applications, but may not necessarily be sufficient to overturn default judgment. For instance, His Honour Judge Hodge QC, in Praetura Asset Finance Ltd v Hood [2019] EWHC 2231 (Comm), commented that CPR 13.3(1)(a) requires more than 'merely an arguable defence' and imports a threshold test 'similar to that applicable on an application for summary judgment'.
One way for a defendant to show the court that it has real prospects is to put forward a draft defence, which had not been done in Alli-Balogun.
Accordingly, Jacobs J went on to discuss the impact of an absent draft defence on the likely outcome of applications under CPR 13.3.
He could not accept claimant counsel's position that deciding not to exhibit a draft defence would be fatal to every application of this kind, despite the fact that prior cases have described such actions as a 'ready inference of negligence' – see Saldanha v Fulton Navigation Inc [2011] EWHC 1118 (Admlty).
Compared to Intesa Sanpaolo, in which Eder J remarked that the failure to serve a draft defence was 'most unsatisfactory' – a stance later echoed in Davila v Davila [2016] EWHC B14 (Ch) – Jacobs J took a non-dismissive approach. He was guided by paragraph 13.4.1 of the White Book, which indicates that a draft defence is 'preferable', but does not expressly 'require' parties to present one.
Despite his seemingly relaxed attitude, the judge accepted that a draft defence can be potentially important, because it enables the court to see clearly what, if any, facts are relied upon by a party in support of its defence:
'That is in turn important because, as the authorities make clear, the assessment of "real prospect of success" does not require the court to accept at face value the factual case advanced by a party: the court can assess whether that factual case itself has a reasonable prospect of success'.
In this instance, it was concluded that the non-existent draft defence was a partial reflection of the fact that the defendant was unable to set out a factual case as to what had happened and therefore failed to prove a real prospect of a defence on the issue of liability.
Whether or not it is a matter of fact that, only in exceptional circumstances will defendant parties not be hampered by the lack of a draft defence [per Walker J, in Albesher v Ryan & Ors [2016] EWHC 541 (Comm)], is still up for debate. What is clear, is that Alli-Balogun casts some doubt on the assertion that a draft defence is typically needed to set aside default judgment, under CPR 13.3(1)(a).
Full text judgment can be accessed here.