His Honour Judge Sephton QC (sitting as a High Court judge), in a recent judgment reported by Gordon Exall's Civil Litigation Brief, has expounded on the definition of 'substantial injustice', which is the principal defence to a finding of 'fundamental dishonesty', under s.57 of the Criminal Justice and Courts Act 2015.[i]
Iddon v Warner was a clinical negligence case, which regarded a missed diagnosis of breast cancer.
The claimant sought substantial damages, on the basis that the defendant's negligence caused her to undergo surgical procedures (mastectomy and axillary dissection) that would otherwise have been unnecessary and left her with 'debilitating chronic pain that … blighted her life'.
When the claimant originally commenced proceedings, she expressed that damages would not exceed £25,000. On account of her 'avoidable pain, suffering and loss of amenity', it was specified that the medical procedure in question had left her with a grossly abnormal appearance that was unlikely to be improved, alongside 'ongoing symptoms of pain and reduced movement in the left arm and increased risk of lymphoedema'. The Schedule of Loss claimed compensation for loss of earnings, care, travel and miscellaneous expenses totalling £76,634.07 (minus general damages and future losses). At the time, the defendant denied liability.
Post-issue, the claimant subsequently obtained permission to increase the value of her claim to over £200,000 and served amended Particulars of Claim, adding:
'Severe chronic post-surgical pain and associated dysesthesia and numbness in the left chest wall, left shoulder/arm and both hips causing severe disability, fatigue and psychological injury'.
A 2nd Schedule of Loss claimed a total of £941,182.03.
It was not long after this that the defendant made an open admission of liability.
By consent, District Judge Stonier then entered judgment for the claimant for damages to be assessed and ordered the defendant to make interim payments to the sum of £105,000 (plus costs).
The crux of the claimant's case was that the injuries she sustained had 'very significantly disabled' and rendered her 'quite incapable of the sporting activities she used to enjoy'.
However, internet searches on Google and Facebook led to the discovery that the claimant had in fact been 'carrying on with her life [strenuous] running and swimming like she did before'. She had participated in 3 open water swimming events, including the Great North Swimrun and the Great Scottish Swim Aquathon.
As a result, the defendant amended its defence to plead s.57 'fundamental dishonesty'.
At the High Court hearing, HHJ Sephton QC concluded that the claimant had been 'fundamentally dishonest in relation to her claim'.
It was not doubted that she had 'suffered serious and distressing consequences because of the defendant's breach of duty'. Nevertheless, she attempted to inflate the value of her case, by lying repeatedly about how serious her condition was (even after she was 'found out') and persuading others to lie in support of her account. The reality was that 'she did not suffer from chronic pain of any significance'.
Seeing that her 'very grave' dishonesty 'went to the heart of her claim' [per HHJ Moloney QC, in Gosling v Hailo (29 April 2014)], as opposed to being 'incidental' or 'collateral', and 'substantially affected' the presentation of her case [per Knowles J, in LOGOC v Sinfield [2018] EWHC 51 (QB)], it was 'amply justified' by the adjective, 'fundamental'.
Moving on to consider the claimant's argument that there was 'substantial injustice' in applying the finding of 'fundamental dishonesty', the judge reasoned that the 'context in which the statute was enacted' was relevant.
He agreed with Knowles J, at paragraph 65 of LOCOG, when he said that:
'… substantial injustice must mean more than the mere fact that the claimant will lose his damages for those heads of claim that are not tainted with dishonesty'.
Additionally, he deemed that the test of 'substantial injustice' should factor in 'the damage done to our system of justice by dishonest claims in general and by this claim in particular'.
On this basis, HHJ Sephton QC was not persuaded that the claimant would suffer 'substantial injustice' if her claim were to be dismissed.
It was inconsequential that the claimant (1) had apologised for her dishonesty, (2) had shown remorse, (3) would not have sufficient funds to obtain the therapy that she wanted, (4) would not receive compensation from a liable tortfeasor and (5) would have to sell her current home, which was purchased with the interim payments.
Many of these eventualities were perceived to be 'inevitable corollaries of the operation of the [2015] statute'. Specifically regarding the repayment of interim payments (and the potential loss of investment), this is a risk outlined by CPR 25.8(2)(a).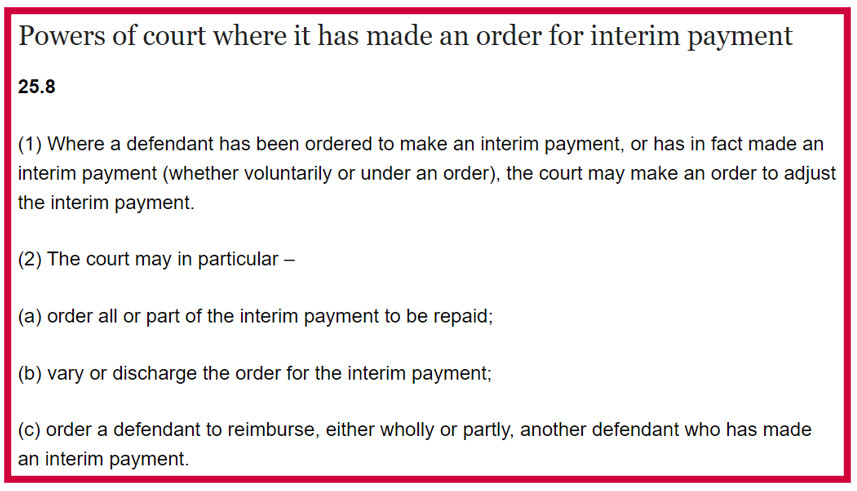 All in all, 'the culpability and extent of her dishonesty' far outweighed any injustice in dismissing her claim:
'… the dismissal of this claim seems to me to be exactly the evil to which Parliament directed its mind in enacting section 57'.
But for dismissing the claimant's claim, an award of £70,050.32 would have been appropriate (so the claimant may have lost her investment in any event because the interim payments already exceeded the claim value).
Full text judgment can be accessed here.
[i] Gordon Exall, 'CLEAR FINDINGS OF FUNDAMENTAL DISHONESTY: NO SUBSTANTIAL INJUSTICE IN APPLYING THE PRINCIPLE: CLAIMANT IN AT THE DEEP END' (5 March 2021 Civil Litigation Brief) <https://www.civillitigationbrief.com/2021/03/05/clear-findings-of-fundamental-dishonesty-no-substantial-injustice-in-applying-the-principle-claimant-in-at-the-deep-end/> accessed 3 June 2021.