When the Civil Litigation (Expenses and Group Proceedings) (Scotland) Act 2018 was passed by ministers in Holyrood (the devolved Scottish Parliament) and received Royal Assent, the infrastructure for introducing the nation's qualified one-way costs shifting (QOCS) protection equivaled was created, thanks to s.8.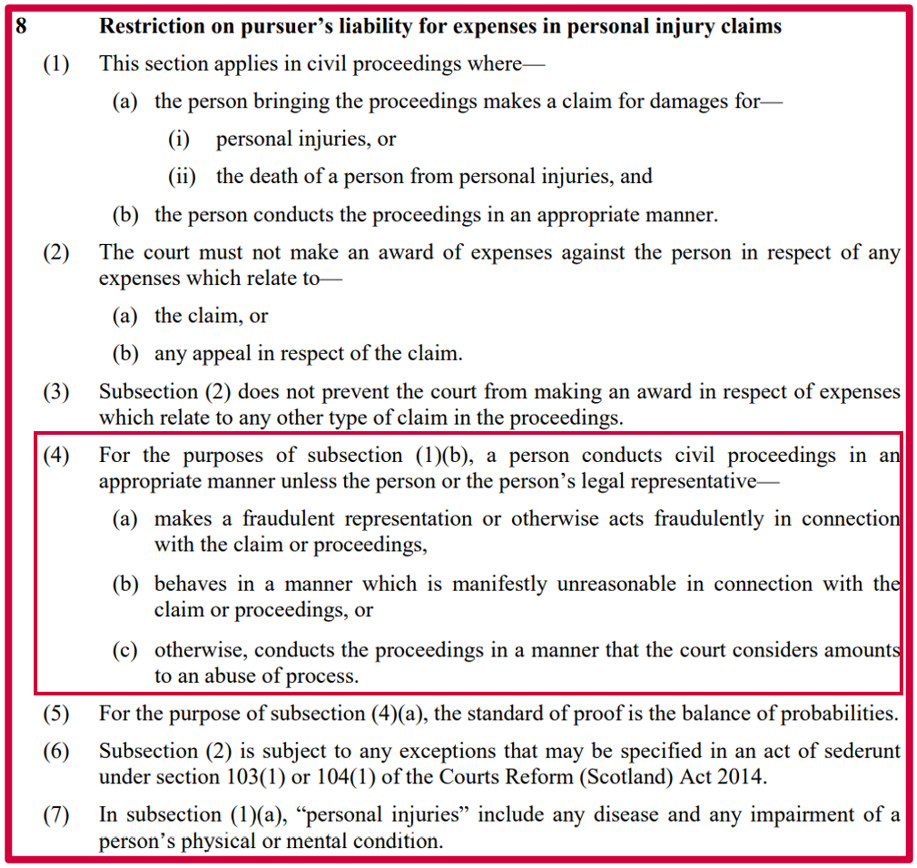 Of course, QOCS protection has been an integral part of personal injury litigation in England and Wales as an instrumental component of the Jackson reforms, to the extent that successful defendants to claims advanced after 1 April 2013 have, subject to a number of exceptions, not recovered their costs from unsuccessful claimants. Such exceptions include (but are not limited to) when:
The claim is 'fundamentally dishonest', for the purposes of CPR 44.16(1), on the balance of probabilities.
The claim is struck out, pursuant to CPR 3.4(2), for (a) disclosing no reasonable grounds for bringing or defending proceedings (b) abusing of the court's process, or obstructing the just disposal of proceedings, or (c) failing to comply with rule, practice direction or court order.
The claimant refuses a defendant's Part 36 offer to settle, but fails to do beat it at trial (liability for the defendant's costs is capped at the level of the claimant's damages plus interest).
The claimant is partially successful in a multi-defendant claim, i.e. one defendant is found liable and another is not (costs order enforced can be enforced up to the level of damages ordered at trial/paid under consent orders/paid under provisional damages orders) – see Cartwright v Venduct Engineering Limited [2018] EWCA Civ 1654, last reported here.
The claimant is facing a Part 20 counterclaim, e.g. in the case of a road-traffic accident (RTA) – the defendant bringing the counterclaim would also be entitled to QOCS protection – see Ketchion v McEwan(2018), last reported here.
The claimant brings a 'mixed claim', which contains both personal injury and non-personal injury elements – application of costs is discretionary and will depend on the individual facts of the case – see Brown v Commissioner of Police of the Metropolis & Anor[2019] EWCA Civ 1724, last reported here.
In Scotland, however, costs (or 'expenses') principles similar to QOCS do not currently apply to any personal injury claim because the effect of s.8 of the 2018 Act is still yet to commence – the provision essentially lays dormant.
From 30 June 2021, though, the Civil Litigation (Expenses and Group Proceedings) (Scotland) Act 2018 (Commencement No. 4 and Transitional Provision) Regulations 2021 changes the status quo, bringing s.8 into force and restricting pursuers' liability for their expenses [see s.8(4) of the Act for exceptions, where allegations of 'fraudulent misrepresentation' or 'acts fraudulently', may, on the advice of the Association of Personal Injury Lawyers (APIL), be approached in a way that is less 'hesitant' and more consistent with CPR 44.16(1) 'fundamental dishonesty', in England and Wales[i]].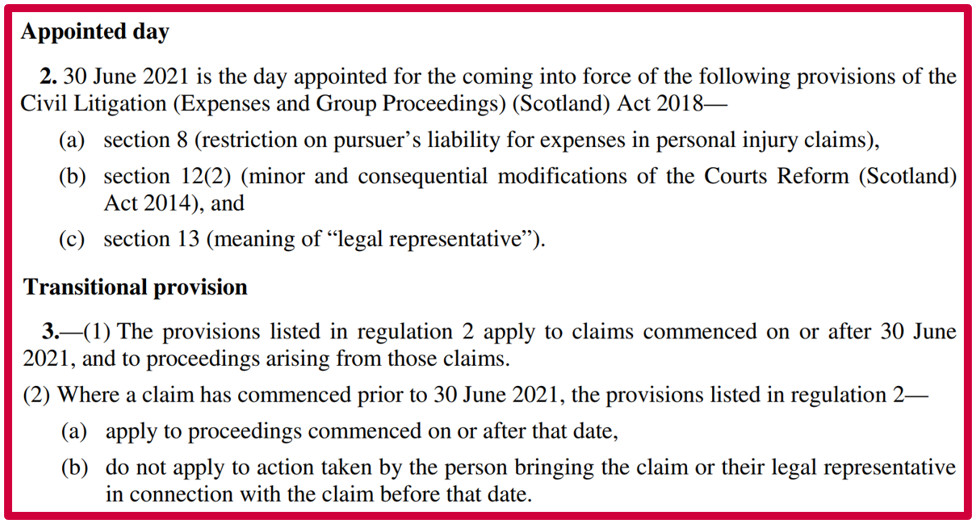 In conjunction with these Regulations (laid before Parliament on 10 March), the 'Act of Sederunt (Rules of the Court of Session 1994, Sheriff Appeal Court Rules and Sheriff Court Rules Amendment) (Qualified One-Way Costs Shifting) 2021'[ii] will comprehensively establish how the scheme will apply to personal injury claims – for instance, if a Tender (Scottish Part 36 Offer) is made but is not beaten at trial.[iii]
This complementary Act of Sederunt should be presented sometime in the near future.
[i] Steven Smart, 'Only time will tell what the impact of new legal costs measures will be' (17 May 2021 The Scotsman) <https://www.scotsman.com/news/opinion/columnists/only-time-will-tell-what-the-impact-of-new-legal-costs-measures-will-be-steven-smart-3236054> accessed 18 May 2021.
[ii] 'New Rules' (Scot Courts) <https://www.scotcourts.gov.uk/rules-and-practice/rules-of-court/new-rules> accessed 11 May 2021.
[iii] 'QOCS with a kilt – Restriction on pursuer's liability for expenses in Scotland' (14 May 2021 Brodies) <https://brodies.com/insights/insurance-and-risk/qocs-with-a-kilt-restriction-on-pursuers-liability-for-expenses-in-scotland/> accessed 14 May 2021.