In lieu of the fact that last month, the Health and Safety Executive (HSE) announced that it would be undertaking inspections of engineering workplaces from May to September 2021, leading occupational health expert consultancy, Bureau Veritas, has advised that the sector places a specific emphasis on tightening 'existing procedures on limiting the risks to health associated with welding fume and metalworking fluid exposure'.[i]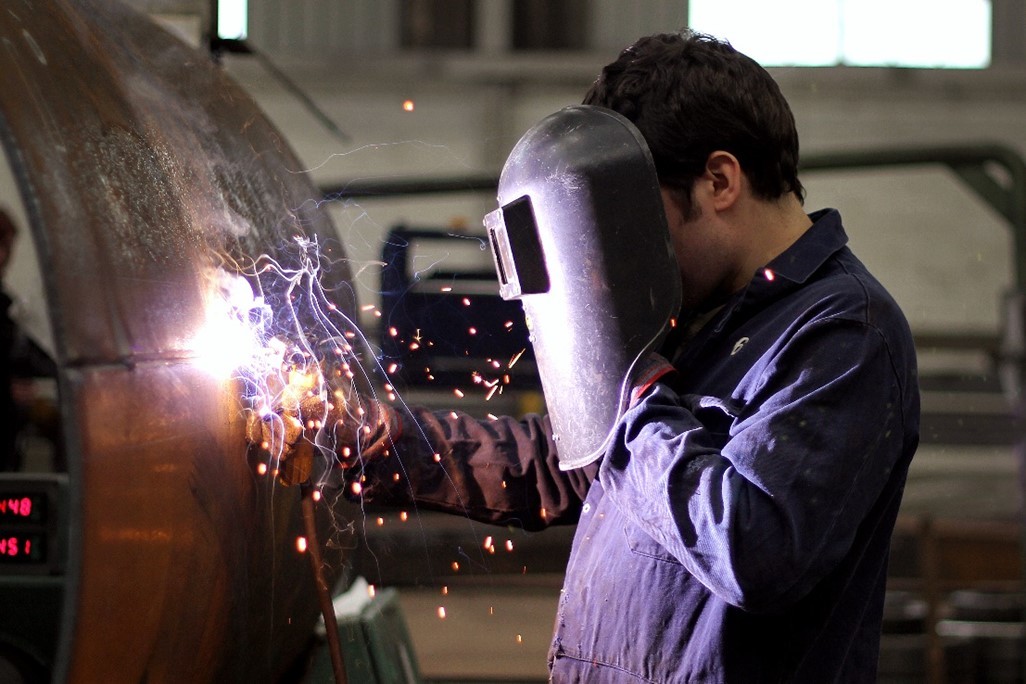 Source: Flickr – Barnshaw's Metal Bending Ltd (23 June 2011) 'Welding on a rolled plate at Barnshaws Hamilton, Scotland'
Annually, it is estimated that welding fumes are attributable to over 150 cancer-related deaths – we assessed HSE's decision to reclassify welding fumes as a human carcinogen in edition 275 of BC Disease News (here). In addition, prolonged occupational exposure to welding fumes and metalworking fluid can cause hypersensitive pneumonitis – around 40 to 50 welders are hospitalised every year with pneumonia (a type of pneumonitis), as a result of inhaling the by-products of welding processes. We have also previously reported (here) a link between metalworking fluid and bladder cancer.
However, it is not just welding fumes and metalworking fluid that pose a risk to employees in this line of work, with plasma cutting, arc air gouging, burning, and grinding also emitting potentially hazardous levels of dust, noise (see here), vibration and UV radiation.
A workplace exposure limit (WEL) of 1.0 milligrams per cubic metre (mg/m3) had formerly been in place for metalworking fluid.
However, this was withdrawn in 2003, given reports of ill health at levels of exposure below the WEL. In fact, the Advisory Committee on Toxic Substances concluded that it was impossible to establish a 'no adverse effect level' of metalworking fluid, with HSE acknowledging that cases of occupational asthma were occurring at atmospheric concentrations generally below 1.0 mg/m3.
In spite of the fact that a 'no adverse effect level' of metalworking fluid exposure does not presently exist, Bureau Veritas is recommending that businesses employ quantitative risk assessments, adhering to the US National Institute for Occupational Safety and Health's (NIOSH) recommended exposure limit (REL) of 0.5 mg/m3, alongside qualitative assessments of exposure control, i.e. ensuring that an occupational hygiene programme in place. Indeed, workplace air monitoring assessments can provide 'invaluable data and insight'.
Joe Marais, of Bureau Veritas, explained that:
'By taking steps such as ensuring that testing of Local Exhaust Ventilation systems are carried out in accordance with industry guide HSG 258, and effectively communicating to employees what control measures they need to use and why employers can safeguard employee wellbeing and ultimately save lives'.
[i] 'CALLS FOR ENGINEERING FIRMS TO ADDRESS EMPLOYEE EXPOSURE TO WELDING FUMES AND METALWORK FLUIDS' (24 February 2021 Bureau Veritas) <https://www.bureauveritas.co.uk/newsroom/calls-engineering-firms-address-employee-exposure-welding-fumes-and-metalwork-fluids> accessed 26 February 2021.