Lateral epicondylitis, or tennis elbow, is a condition that causes pain on the distal (outer) part of the elbow, where the tendons of the forearm attach to the lateral epicondyle of the humerus (long bone in the upper arm) and extensor muscles of the forearm.[i]
It is a common musculoskeletal disorder of the upper extremities between the ages of 35 and 54, affecting both sexes.
Thought to be caused by cumulative overuse or overloading of the muscles and tendons responsible for extending, straightening and stabilising the wrists and fingers, this repetitive strain injury (RSI) is also believed to be exacerbated by rotation, gripping and grasping activities. However, the aetiology and pathophysiology of lateral epicondylitis is still poorly understood, even to this day.[ii]
Diagnosis of lateral epicondylitis is typically characterised by inflammation of the Extensor Carpi Radialis Brevis (ECRB) tendon / the common extensor tendon and in more serious cases, the onset of degenerative tendinopathy, whereby microscopic tears of the tendon start to form. If mechanical forces render the weakened tendon unable to self-repair, then its structure, composition and mechanical properties may change, in a process called mechano-transduction.[iii]
Severity and duration of the condition is wide-ranging, but the average duration of a typical episode can last from 6 to 24 months, with around 90% of patients reporting recovery within 1 year.[iv]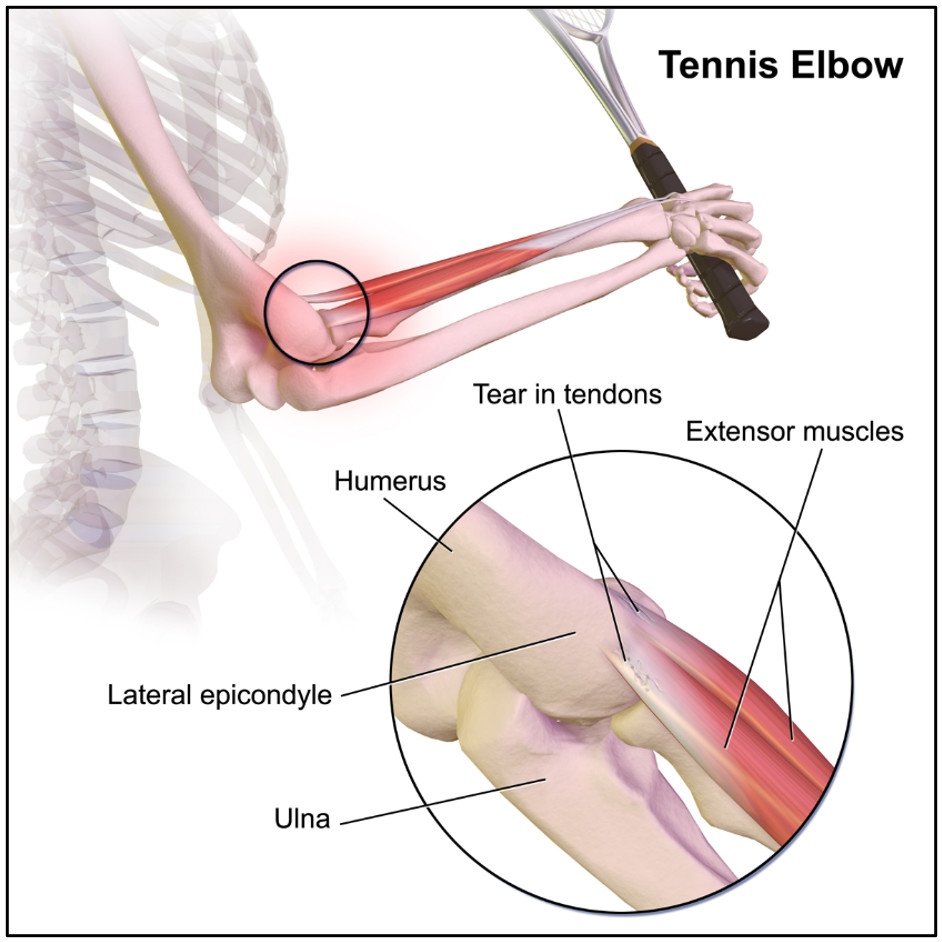 [Source: Wikimedia Commons – BruceBlaus (10 November 2015) 'Tennis Elbow']
Towards the tail end of last year, the Administrative Appeals Tribunal of Australia held Comcare liable for compensation, pursuant to the Safety, Rehabilitation and Compensation Act (SRC Act) 1988 – a scheme covering workplace injuries and diseases developed by Australian Government and Australian Capital Territory Government employees – after a worker at the Tasmanian Department of Human Services developed 'lateral epicondylitis of the right arm'.

The Tribunal found that the worker's use of a computer mouse, when carrying out data entry tasks in the course of her employment, 'significantly contributed' towards the injury – the legal threshold entitling the claimant to compensation.[v]
Initially, in 2018, the claim was unsuccessful, but on appeal, in Mansfield and Comcare (Compensation) [2020] AATA 3917, the Tribunal overturned the original decision, with Deputy President Greg Melick AO SC submitting written reasons, on 6 October 2020.
The claimant's workplace ergonomic assessment revealed that clicking and navigating with a computer mouse 'constituted 67-100% of her total work time, 40 to 60 minutes in the hour or one lift every 15 seconds'.
Occupational Physician, Dr. Andrew Porteous, presented the claimant's ultrasound scan, which was diagnostic of lateral epicondylitis, as it showed a full centimetre tear in the elbow tendon. However, he was not convinced that the claimant's employment was responsible for this condition, instead attributing damage to 'pre-existing constitutional factors', namely an 'age-related degenerative change':
'… this condition became symptomatic when she just happened to be at work. In my opinion, it is independent of work activities she was doing'.
In support of his expert opinion, he cited a National Institute for Occupational Safety and Health (NIOSH) study, published in 1997.[vi] Though conceding that this 'quite old' (but still 'relevant') study did not expressly conclude that there was no relationship between computer mouse work and lateral epicondylitis, the key omission in what was an 'extensive' paper on epicondylitis and elbow injuries (92,576 injuries in total) reinforced his epidemiological understanding that there was no evidence of an increased risk, nor evidence of a causative relationship.
By stark contrast, Dr. Pemmulu and Phyiotherapist, Mr. James Thomas, considered that the caimant's condition was linked to computer mouse usage.
Assessing the experts' opinions in the round, the Tribunal found that there had been 'significant advances in computer technology' since the NIOSH study and that, whilst the NIOSH study did indeed state that there was no evidence of any connection between data processing work and lateral epicondylitis, the Tribunal acknowledged that it said nothing about any specific connection with computer mouse work.
Whereas, a more recent 2012 study, conducted by the Swedish Council on Health Technology Assessment, offered constructive evidence to suggest a 'significant relationship' between elbow pain and long-term computer mouse usage, according to the Tribunal.[vii] Dr. Porteous' primary criticism, that this study predominantly centred on subjective (and therefore prone to bias) self-reported data, did not undermine its observation.
Similar findings were posited in a 2012 report, compiled by the Health Council of the Netherlands.[viii] Deputy President Melick was satisfied that epicondylitis fell under the definition of 'hand/arm complaints' and that, compared to a baseline of no computer mouse use:
5 hours of mouse use per-week increased incidence by 2.2%;
10 hours of mouse use per-week increased incidence by 4.6%;
15 hours of mouse use per-week increased incidence by 7.4%;
20 hours of mouse use per-week increased incidence by 10.5%; and
30 hours of mouse use per-week increased incidence by 17.4%.
The Dutch report had been informed by an 'extensive' body of literature with differing outcomes, including:
In summary, the Tribunal was not satisfied that there was sufficient evidence to justify that the claimant's lateral epicondylitis was constitutional, not least because Dr. Porteous' position was guided by an 'assumption' that there was no other cause.
Legal practitioners have, in the wake of this decision, highlighted 'the importance for employers to ensure they have strong evidence to refute any causative link between lateral epicondylitis and repetitive activities'.
Such refutative evidence may come from a raft of publications that were not discussed in the Australian Tribunal hearing.
For example, in 2008, the UK Government (the Ministry of Defence) published a 'Synopsis of Causation on Lateral Epicondylitis of the Elbow', which determined that:
'No association has been demonstrated between epicondylitis and work with visual display units or use of a computer mouse'.[xv]
Moreover, Wærsted et al. (2010) previously found 'insufficient evidence' for a causal relationship between epicondylitis and keyboard or mouse time.[xvi]
Dr. Merrill J Mirman (DO), in 1992, was the first clinician to document increasing numbers of patients with 'mouse elbow', which was essentially a diagnosis of lateral epicondylitis ('myofascial pain syndrome of the Extensor Carpi Radialis Brevis'). This came at a time when RSI in typists had been branded an 'epidemic' ­– see Alexander & Ors v Midland Bank Plc [1999] EWCA Civ 1918.
Ultimately, though, the hype was never fully realised and rare RSI claims, commenced by office workers in modern times, are generally staunchly defended. We will therefore monitor the impact of causation arguments, submitted in Mansfield, with great interest.
If lateral epicondylitis can be caused by repetitive use of a computer mouse, then display screen equipment (DSE) assessments, under The Health and Safety (Display Screen Equipment) Regulations 1992, may play an increasingly important role in dispelling breach.
Encouraging good working posture (having forearm support, smooth movements when using mouse or keyboard, relaxed shoulders, etc.) has been shown to reduce muscular loading of the forearm extensor muscles,[xvii] while OH specialists have been known to recommend the purchase of vertical mice with side-functioning keys and voice-activated software, in order to overcome standard mouse use as an 'exacerbating factor' of lateral epicondylitis.[xviii]
[i] 'TENNIS ELBOW (Lateral Epicondylitis)' (July 2020 Upper Limb Clinic) <https://upperlimb.co.uk/app/uploads/2020/07/Tennis_elbow_July_2020.pdf> accessed 12 January 2021.
[ii] Johns N and Shridhar V, Lateral epicondylitis: Current concepts. Aust J Gen Pract. 2020 Nov;49(11):707-709. doi: 10.31128/AJGP-07-20-5519. <https://www1.racgp.org.au/getattachment/3e1753b6-8cb6-4b58-83f8-88dd40755ac6/Lateral-epicondylitis.aspx> accessed 13 January 2021.
[iii] Cook JL and Purdam CR, Is tendon pathology a continuum? A pathology model to explain the clinical presentation of load-induced tendinopathy Br J Sports Med. 2009;43:409–416 <https://bjsm.bmj.com/content/bjsports/43/6/409.full.pdf> accessed 13 January 2021.
[iv] Smidt N et al., Lateral epicondylitis in general practice: course and prognostic indicators of outcome. J Rheumatol. 2006 Oct;33(10):2053-59. Epub 2006 Aug 1. <https://www.jrheum.org/content/jrheum/33/10/2053.full.pdf> accessed 13 January 2021.
[v] Lauren Bishop and Claire Tota, 'Tribunal finds significant relationship between lateral epicondylitis and computer use' (14 December 2020 HBA Legal) <https://www.hbalegal.com/tribunal-finds-significant-relationship-between-lateral-epicondylitis-and-computer-use/> accessed 4 January 2021.
[vi] U.S. DEPARTMENT OF HEALTH AND HUMAN SERVICES (NIOSH), 'Musculoskeletal Disorders and Workplace Factors: A Critical Review of the Epidemiologic Evidence for Work-Related Musculoskeletal Disorders of the Neck, Upper Extremity and Lower Back' (July 1997 CDC) <https://www.cdc.gov/niosh/docs/97-141/pdfs/97-141.pdf> accessed 6 January 2021.
[vii] Swedish Council on Health Technology Assessment, 'Occupational Exposures and Neck and Upper Extremity Disorders: A Systematic Review' (March 2012 PubMed) <https://www.ncbi.nlm.nih.gov/books/NBK285323/pdf/Bookshelf_NBK285323.pdf> accessed 6 January 2020.
[viii] Committee on the Identification of Workplace Risks: A Health Council of the Netherlands Committee, 'Computer use at work' (20 December 2012 Health Council of the Netherlands) <https://www.healthcouncil.nl/binaries/healthcouncil/documents/advisory-reports/2012/12/20/computer-use-at-work/advisory-report-computer-use-at-work.pdf> accessed 13 January 2021.
[ix] Kryger LI et al., Does computer use pose an occupational hazard for forearm pain; from the NUDATA study. Occup Environ Med. 2003;60(11):e14 <https://oem.bmj.com/content/oemed/60/11/e14.full.pdf> accessed 12 January 2021.
[x] The Health and Work Development Unit, 'Upper limb disorders – Occupational aspects of management: A national guideline' (1 January 2009 NHS Health Network) <https://www.nhshealthatwork.co.uk/images/library/files/Clinical%20excellence/Rev_UPPER_LIMB_DISORDER_GUIDELINE_webnavigable.pdf> accessed 12 January 2021.
[xi] Lassen CF et al., Elbow and Wrist/Hand Symptoms Among 6,943 Computer Operators: A 1-year Follow-Up Study (The NUDATA Study) Am J Ind Med. 2004 Nov;46(5):521-33. doi: 10.1002/ajim.20081. <https://www.researchgate.net/profile/Lars_Brandt/publication/8227305_Elbow_and_wristhand_symptoms_among_6943_computer_operators_A_1-year_follow-up_study_The_NUDATA_study/links/5a8696d6458515b8af892ff9/Elbow-and-wrist-hand-symptoms-among-6-943-computer-operators-A-1-year-follow-up-study-The-NUDATA-study.pdf> accessed 12 January 2021.
[xii] Tornqvist EW et al., The influence of working conditions and individual factors on the incidence of neck and upper limb symptoms among professional computer users. Int Arch Occup Environ Health. 2009 May;82(6):689-702. <https://link.springer.com/article/10.1007/s00420-009-0396-7> accessed 13 January 2021.
[xiii] Ijmker S et al., Software-recorded and self-reported duration of computer use in relation to the onset of severe arm-wrist-hand pain and neck-shoulder pain. Occup Environ Med. 2011 Jul;68(7):502-9. <https://www.ncbi.nlm.nih.gov/pmc/articles/PMC3112366/pdf/oemed56267.pdf> accessed 13 January 2021.
[xiv] Juul-Kristensen B et al., Computer users' risk factors for developing shoulder, elbow and back symptoms. Scand J Work Environ Health. 2004;30(5):390-398 <https://www.sjweh.fi/download.php?abstract_id=827&file_nro=1> accessed 13 January 2021.
[xv] Pedersen LK and and Jensen LK, Relationship between occupation and elbow pain, epicondylitis. Ugeskr Laeger. 1999 Aug 23;161(34):4751-5. <https://www.researchgate.net/profile/Lilli_Kirkeskov/publication/12800834_Relationship_between_occupation_and_elbow_pain_epicondylitis/links/59a7f88a0f7e9b41b78b42ce/Relationship-between-occupation-and-elbow-pain-epicondylitis.pdf> <https://pubmed.ncbi.nlm.nih.gov/10500464/> accessed 12 January 2021.
[xvi] Wærsted M et al., Computer work and musculoskeletal disorders of the neck and upper extremity: A systematic review. BMC Musculoskeletal Disorders. Volume 11, Article Number: 79 (2010) <https://bmcmusculoskeletdisord.biomedcentral.com/track/pdf/10.1186/1471-2474-11-79.pdf> accessed 12 January 2021.
[xvii] Waugh EJ et al., Computer Use Associated With Poor Long-Term Prognosis of Conservatively Managed Lateral Epicondylalgia. J Orthop Sports Phys Ther. 2004 Dec;34(12):770-80. <https://www.jospt.org/doi/pdf/10.2519/jospt.2004.34.12.770> accessed 12 January 2021.
Lindegård A et al., The impact of working technique on physical loads – an exposure profile among newspaper editors. Ergonomics. 2003 May 15;46(6):598-615. <https://www.tandfonline.com/doi/abs/10.1080/0014013031000071360> accessed 12 January 2021.
[xviii] Anne Harriss and Leigh Turvey, 'Understanding the effects of tennis elbow' (1 August 2011 Personnel Today) <https://www.personneltoday.com/hr/understanding-the-effects-of-tennis-elbow/> accessed 13 January 2021.