In the UK, the Compensation Recovery Unit (CRU), as part of the Department for Work and Pensions (DWP), facilitates the reclaiming of state money from individuals and companies (and their insurers), which has been spent on victims of personal injury.[i] There are 3 main pieces of primary legislation that entitle costs recovery by these means.
The Security (Recovery of Benefits) Act 1997 makes compensators liable to repay social security benefits.
The Road Traffic (NHS Charges) Act 1999 permits the NHS to treat road traffic accident (RTA) victims and recover hospital charges from compensators.
Part 3 of the Health and Social Care (Community Health and Standards) Act 2003 allows the NHS to recover costs incurred through treating injured patients that successfully sue 3rd parties in negligence.
However, s.150(5) of the 2003 Act expressly stipulates that NHS charges cannot be recouped in respect of claimants who are treated for primary diseases (i.e. not diseases that spur from an accident), e.g. those caused by tortious exposures in the workplace.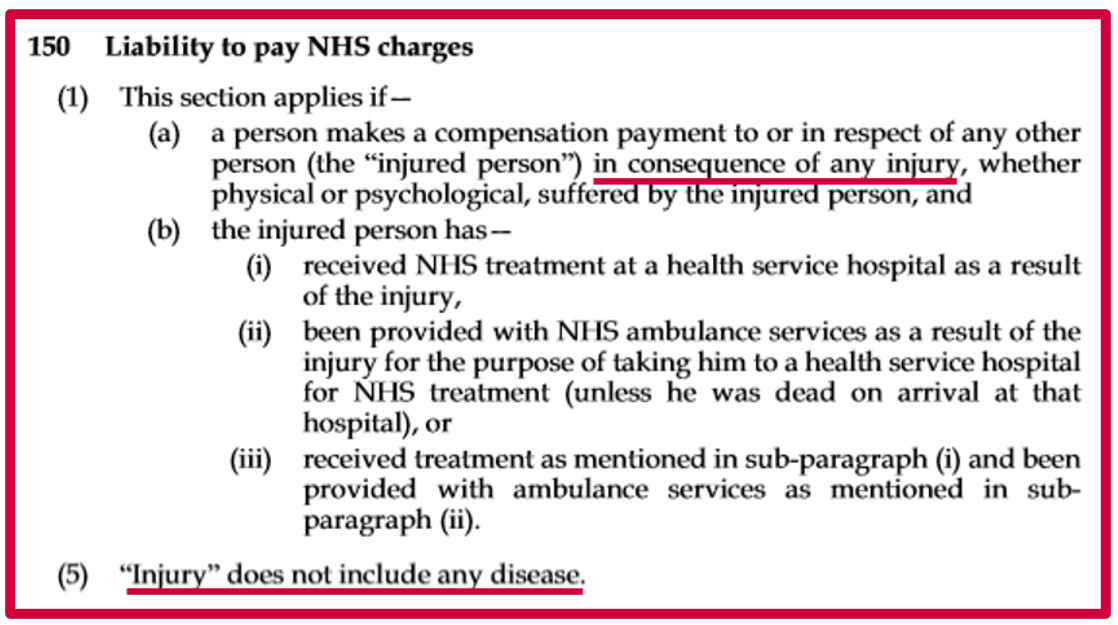 Whilst certain UK jurisdictions have attempted to change the status quo [see the Supreme Court's assessment of the Recovery of Medical Costs for Asbestos Diseases (Wales) Bill,[ii] which we discussed in edition 57 of BC Disease News (here)] the established statutory position is that the NHS has no mechanism through which it can request that negligent employers (and their insurers) foot the bill for treatment of industrial diseases, thus burdening the taxpayer.
Nevertheless, as we first discussed in edition 226 (here), and then again in edition 233 (here), steps have been taken to develop legislation that extends the scope of NHS costs recovery in Scotland.
In 2018, it was stated that the 'Proposed Recovery of Medical Costs for Industrial Disease (Scotland) Bill', as contemplated by Stuart McMillan MSP, would 'enable Scottish Ministers to recover, from the party responsible for causing an industrial disease, certain costs incurred by the NHS in providing care and treatment to those suffering from that disease'.
It was believed that this would encompass a range of diseases that fall under the industrial injuries disablement benefit (IIDB) scheme, including asbestos-related conditions, skin conditions, respiratory conditions, deafness, and asthma.
Following the publication of responses to the Government's consultation and a final proposal, a Member's Bill was introduced, on 9 March 2020: the Liability for NHS Charges (Treatment of Industrial Disease) Scotland Bill.
This Bill has now embarked on the 1st of 3 stages of scrutiny in the devolved Scottish Parliament (it has been allocated to the Health and Sport Committee), on the road to becoming an enforceable Act.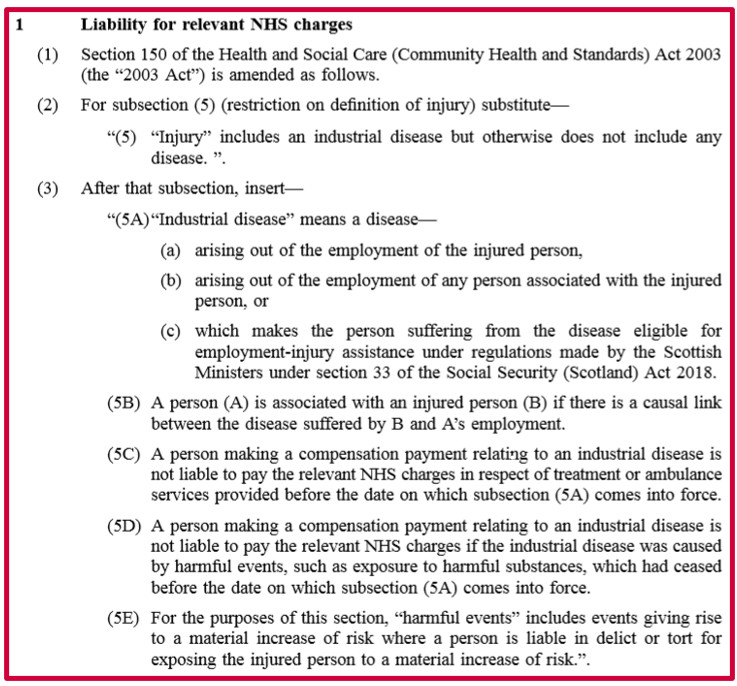 Inspecting the Bill's provisions (some of which are pictured above), it is worthwhile to consider its constituent elements in greater detail.
'Industrial disease', as defined by s.1(3) of the Bill, must arise out of employment. There must be a causal connection, but this is not restricted to 'primary exposure'. 'Secondary exposure' to an injurious exposure source is envisioned by the Bill.
What is more, costs recovery would be confined to the treatment of an industrial disease whose cause of action occurs after the commencement of the date that the Act is enforced, which means that it would not have retrospective effect. Perhaps this is key, given that retroaction was considered to be a 'serious flaw' of previous proposals to enact analogous (albeit narrower) legislation: the Recovery of Medical Costs for Asbestos Diseases (Wales) Bill and the Recovery of Medical Costs for Asbestos Diseases (Scotland) Bill.[iii]
Furthermore, owing to the 'reserved' nature of insurance, only negligent employers would be directly liable. It is not to be assumed that insurance policies will automatically indemnify risk of this kind. Accordingly, employers would be given 1-year between royal assent and enforcement to obtain additional insurance cover (and also for the Government to prepare CRU for new administrative arrangements), if necessary.
Seeing that many industrial disease patients will be suffering with conditions that were caused by historic periods of tortious exposure, potentially by companies that no longer exist, an exhaustive cost/benefit analysis (operational costs versus estimated money recouped) will undoubtedly be required.
Thompsons Solicitors, which handles 80% of Scottish asbestos-related disease claims, says that just 10% of claims are met by self-insured or uninsured businesses.[iv] Scotland's leading asbestos charity, Action on Asbestos, calculates that the annual cost of treating asbestos-related disease on the NHS exceeds £20 million.
Looking to the future, legal commentators theorise that the earliest that an Act could be passed is this Autumn, but it is foreseeable that parliamentary debate on this matter could continue into next year.[v]
We will continue to survey the policy-making environment in the coming months, as talk of this Bill reverberates in other political chambers of the UK.
[i] 'Recovery of benefits and lump sum payments and NHS charges: technical guidance' (23 March 2020 GOV.UK) <https://www.gov.uk/government/publications/recovery-of-benefits-and-or-lump-sum-payments-and-nhs-charges-technical-guidance/recovery-of-benefits-and-lump-sum-payments-and-nhs-charges-technical-guidance> accessed 15 June 2020.
[ii] Melanie Davidson, 'Case Comment: Recovery of Medical Costs for Asbestos Diseases (Wales) Bill – Reference by the Counsel General for Wales [2015] UKSC 3' (17 April 2015 The Supreme Court) <http://ukscblog.com/case-comment-recovery-of-medical-costs-for-asbestos-diseases-wales-bill-reference-by-the-counsel-general-for-wales-2015-uksc-3/> accessed 15 June 2020.
[iii] Andrew Gilmour, 'New legislation proposed for NHS charges in industrial disease claims in Scotland' (23 March 2020 BLM) <https://blmpolicyblog.com/2020/03/23/new-legislation-proposed-for-nhs-charges-in-industrial-disease-claims-in-scotland/> accessed 15 June 2020.
[iv] 'Proposed New Law which will Recover Millions for NHS Scotland' (Clydeside Action on Asbestos) <https://www.clydesideactiononasbestos.org.uk/about-action-on-asbestos/campaigns> accessed 15 June 2020.
[v] Omar Yassin, 'Scottish Bill introduced to enable recovery of NHS charges in industrial disease claims' (27 March 2020 Kennedys) <https://www.kennedyslaw.com/thought-leadership/article/scottish-bill-introduced-to-enable-recovery-of-nhs-charges-in-industrial-disease-claims> accessed 15 June 2020.