A week ago, The Telegraph reported that a study, part-funded by the Italian Ministry of Health, had detected that former professional footballers under the age of 45 were susceptible to a near 5-fold risk of developing amyotrophic lateral sclerosis (ALS), otherwise known as motor neurone disease, compared to the general population.[i]
The newspaper article cited the relevant academic article, which had been published in the Amyotrophic Lateral Sclerosis and Frontotemporal Degeneration journal, on 22 April 2020.[ii]
In fact, we previewed this discovery last year (here), shortly before preliminary (and unconfirmed) findings were shared at the American Academy of Neurology (AAN) Annual Meeting, in May 2019.
The investigation was primarily incentivised by a cluster of ALS-related footballer deaths.
On the assumption that an occupational health risk may exist, the researchers were given access to archived 'Italian soccer cards' and selected a large cohort of ex-professionals, who played between 1959 and 2000. Once chosen, they were subjected to long-term monitoring and follow up.
In total, 34 cases of ALS emerged, between 1959 and 2018.
Given that the expected number of cases was 17.8, based on typical ALS incidence per 100,000 people per year, the sample of footballers as a whole (without filtering by age or playing position) had a 91% increase in risk [standardised incidence ratio (SIR) of 1.91] of contracting the disease.
However, the most unexpected and potentially damaging statistic recorded was that the risk of disease was even higher (SIR of 4.66) in test subjects under the age of 45, with the mean age at diagnosis being 45.0 years.
To put this into context, ALS diagnosis in the general population ordinarily occurs at a mean age of 65.2 years, i.e. the average sufferer is found to have developed the condition when they are 20.2 years older than the average footballer who took part in this study.
Of course, it is possible that footballers, who were still active in the 1990's (and unlikely to have been older than 60 in 2018), could have developed ALS later in life, which would have raised the mean age at diagnosis. Alternatively, they may not have developed ALS at all, perhaps implying that the disease risk is lower in the modern game.
So, will this latest Italian study, as The Telegraph article claims, 'gather further momentum' for the UK campaign to have neurodegenerative disease among (ex-)professional footballers formally recognised as an industrial disease by the Industrial Injuries Advisory Council (IIAC)?
The Council's prevailing position on disease prescription, published in an Information Note (dated May 2016), acknowledged a link between professional sport and ALS, but also caveated that:
'No study outside the Italian football league[[iii]] has strongly suggested an increase in risk in professional soccer players'.
In this way, the latest study, while confirmatory, is unlikely to change the status quo by itself.
Nonetheless, earlier this year (here), we reported that the IIAC had admitted that it may be forced to re-evaluate the relative risk (to see if the risk of disease is more than doubled), if 'robust' evidence is adduced in support of a disease-exposure relationship.
This admission was made in direct response to the University of Glasgow's landmark Football's InfluencE on Lifelong health and Dementia risk (FIELD) study [see edition 295 (here)], which, amid a whole host of outcomes, concluded that ex-professional footballers had exhibited a 4-fold increase in risk of motor neurone disease.
When viewed in conjunction with FIELD, therefore, the independent scientific advisory body may be compelled to apply the findings of the Italian study to footballers in the UK.[iv]
The greatest barrier to prescription of ALS in footballers continues to be the biological ambiguity of reported findings. As the 2016 Information Note concluded:
While it is hypothesised that risks of dementia and PD [Parkinson's disease] in sportspeople could arise from repeated head trauma, and some evidence exists for this, no evidence has been found so far to suggest that repeated head trauma can increase the risk of ALS, the pathology for which is located partly in the brain but also in the nerves supplying muscles in the periphery of the body.
To this day, the hypothesised neurodegenerative impact of sub-concussive head trauma, e.g. the repeated heading of footballs, remains a purely theoretical notion.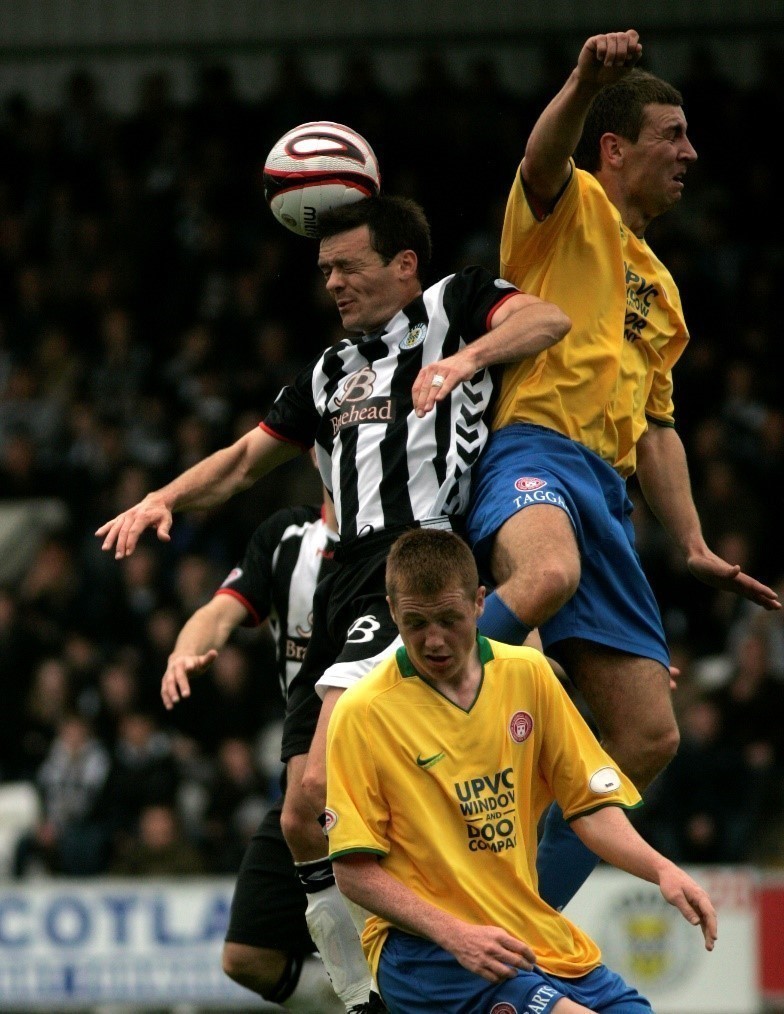 [Source: Wikimedia Commons – Alasdair Middleton (23 May 2009): 'Header (St Mirren 0-1 Hamilton Academical May 2009']
[i] 'Italy finds former footballers under age of 45 almost five times more likely to have MND than norm' (27 April 2020 The Telegraph) <https://www.telegraph.co.uk/football/2020/04/27/italy-finds-former-footballers-age-45-five-times-likely-have/> accessed 30 April 2020.
[ii] Pupillo E et al., Increased risk and early onset of ALS in professional players from Italian Soccer Teams. Amyotroph Lateral Scler Frontotemporal Degener. 2020 Apr 22:1-7. <https://www.tandfonline.com/doi/full/10.1080/21678421.2020.1752250> accessed 20 April 2020.
[iii] Belli S and Vanacore N, Proportionate mortality of Italian soccer players: Is amyotrophic lateral sclerosis an occupational disease? Eur J Epidemiol. 2005;20(3):237-42. <https://link.springer.com/article/10.1007%2Fs10654-004-6879-7> accessed 1 May 2020.
Chio A et al., Severely increased risk of amyotrophic lateral sclerosis among Italian professional football players. Brain. 2005 Mar;128(Pt 3):472-6. <https://academic.oup.com/brain/article-pdf/128/3/472/2037569/awh373.pdf> accessed 1 May 2020.
Taioli E, All causes mortality in male professional soccer players. Eur J Publ Health. 2007 Dec;17(6):600-4. <https://academic.oup.com/eurpub/article-pdf/17/6/600/1284970/ckm035.pdf> accessed 1 May 2020.
[iv] 'Deciding which diseases should be covered by Industrial Injuries Disablement Benefit (IIDB): Some frequently asked questions' (GOV.UK) <https://assets.publishing.service.gov.uk/government/uploads/system/uploads/attachment_data/file/448786/iiac--iidb-prescribed-disease-decisions-faq-july-2015.pdf> accessed 2 May 2020.